[The excitement of esports, beyond traditional sports] Part 1 | Histor…
2021-03-31
Since when did humankind start to love someone fight? Fighting doesn't necessarily mean fist-fighting. People enjoy watching players compete fiercely. That was the fight of ancient gladiators, and so is the modern sport. Let's look into esports, the most advanced form of fighting.
| World's first game competition
Before talking about the PC cafe and 'StarCraft', let's first go to the 1970s. On October 19, 1972, a tournament was held at Stanford University with a game called 'Space War'. The winning prize was only an annual subscription to the Rolling Stone magazine, but it was recorded as the first video game competition. In 1980, there was also a video game competition in which more than 10,000 people participated. The National Space Invaders Championship, hosted by Atari, was the first large-scale video game competition.
<(left) Space War' and (right) Space Invaders (Source = Wikipedia)>
| From PC café to local broadcasting
The 1990s was a period of cataclysm in the gaming world. Thanks to the internet network, online games boomed. In the late 90s of Korea, the great success of 'StarCraft' led many PC cafes to appear all over the country. At that time, many teenagers used to run to the PC cafes after school. Not only that, but with the government's IT industry promotion policy of 'one PC in one household' at the time, more and more people began to enjoy PC games at home.
As more people enjoyed games and large-scale competitions held, professional gamers began to become a hot profession. "The Terran Emperor" Lim Yo-hwan, "Storm Zerg" Hong Jin-ho, and "The Genius Terran" Lee Yun-yeol are the iconic players of that time. Their appearance brought more people's attention to the game league. There is an episode that shows how popular they were then. On July 17, 2004, the first final round of 'StarCraft Sky Pro League 2004' was held at Gwangalli Beach in Busan. A whopping 100,000 people flocked to this venue. Considering that 15,000 people gathered at the All-Star Pro Baseball Stadium in Busan at that same time, this was a remarkable number. After that, Ongamenet, the world's first esports broadcasting station, was established, and many people were able to watch esports matches on various cable TV and local broadcasts.
In the late 2000s, esports got itself as a complete form of a league. In addition to 'StarCraft', various game competitions such as <Warcraft III> and <Counter Strike> began, expanding the esports industry.
| From Twitch to the Asian Games
In the 2010s, 'League of Legend'> took over the position of 'StarCraft'. While Blizzard's ambitious 'StarCraft 2' failed to gain as much popularity as its predecessor, 'League of Legends' became the rising star of esports, thanks to the development of new streaming service platforms Twitch and YouTube. These platforms made watching esports matches more accessible to more people than ever before. Even nowadays, you can easily see people watching esports on their smartphones in subways or restaurants. As the number of viewers increased, the business model improved, and the industry continued to grow globally.
Esports was selected as a demonstration sports for the 2018 Asian Games in Jakarta-Palembang. In details, a total of six games were selected, including 'League of Legend'>, 'Pentastorm', 'Clash Royale', 'PES 2018', 'Starcraft 2', and 'Hearthstone'. It is expected to be selected as an official sport in the 2022 Asian Games in Hangzhou, China.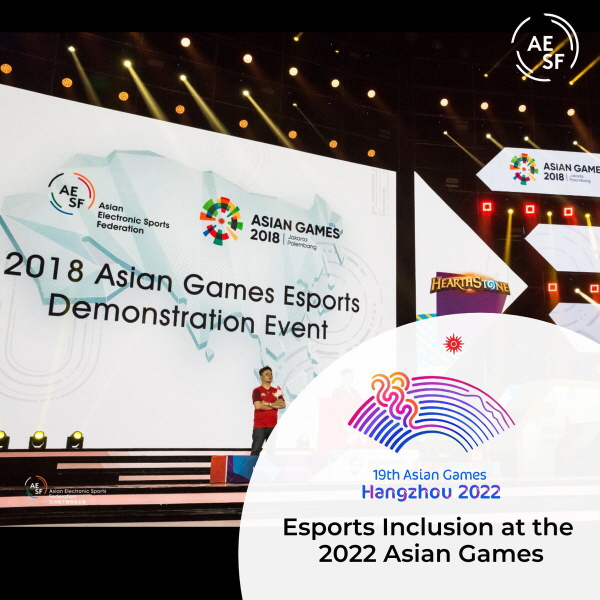 <Source: Asian Electronic Sports Federation's official website>
| Abolition and resurrection of WCG
WCG is currently recognized as the world's largest esports competition. It was launched with a vision to create a better world under the slogan 'Beyond the Game, More than Sports'. After starting its first competition in Korea in 2001, the WCG was held globally in the United States, China, Italy, Germany, and Singapore. More than 100,000 visitors visited the WCG event every year, and it became the 'Olympics of esports'. However, with the decision to abolish it in 2014, the WCG was on the verge of disappearing into history. The main sponsor's performance deterioration and the change in the game environment due to mobile games' rise was the reason.

In 2020, there was great concern that the WCG could not be held due to the spread of COVID-19. After many contemplations, the committee decided to hold the tournament in an on-tact manner, adopted the online tournament system, and established separate relay facilities in Korea and China. A total of 6,803 participants participated in the 'WCG 2020 CONNECTED Grand Finals' with four official titles <Warcraft® III: Reforged™>, <Crossfire>, <EA SPORTS™FIFA ONLINE 4>, and <Honor of Kinds>. The tournament was broadcasted throughout 17 platforms in 4 languages, boasting its global standard.

WCG succeeded in the resurrection as the tournament was held for two consecutive years in 2019 and 2020. Global esports fans eagerly expect what WCG will present this year.

EDITOR's COMMENT
#WCG
WCG, a global esports festival enjoyed by gamers around the world, has a vision of creating a better world by bringing 'fun' to eliminate conflicts. WCG hosts new and various events to make it a global festival that everyone can enjoy, uniting the world as one. Since 2000, WCG was held annually until 2013, and after a six-year hiatus, WCG 2019 was successfully held in Xi'an, China, marking the re-emergence of WCG as a global esports. WCG 2020 CONNECTED has created an esports festival that has evolved to the next level by offering real-time spectating through safe and enhanced online communication through two-way live broadcasts in Korea and China and various contents everyone can enjoy.
#Smilegate #e-Sports #e-Sports History #WCG #WCG2019 #WGC 2020 #Game Competition #Game League #e-Sports League
Related Contents