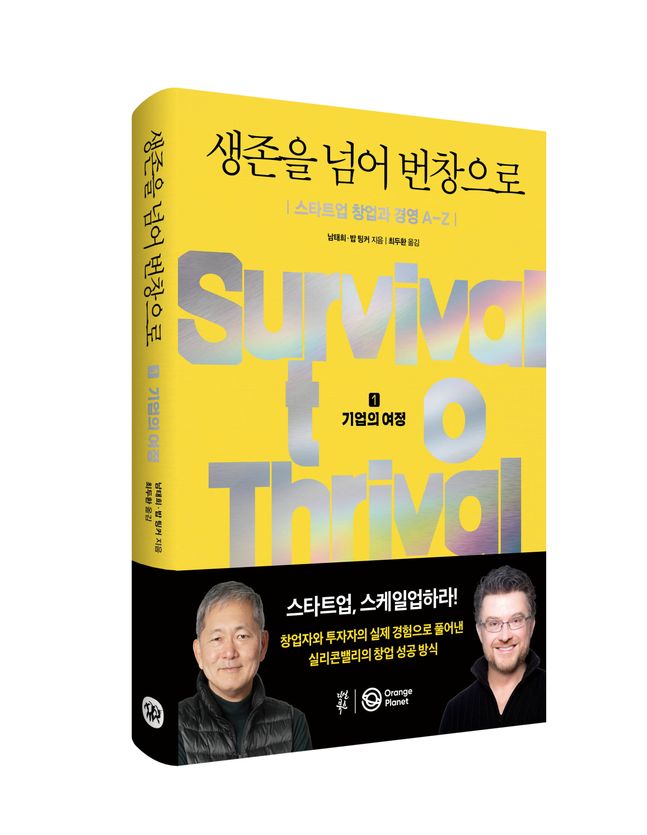 "Orange Planet", a Smilegate startup foundation, publishes '…
2021-12-31
■ Business startup and management overall know-how from foundation all the way to becoming a unicorn
■ "Silicon Valley's Pay It Forward Culture Shared" written by Taehee Nam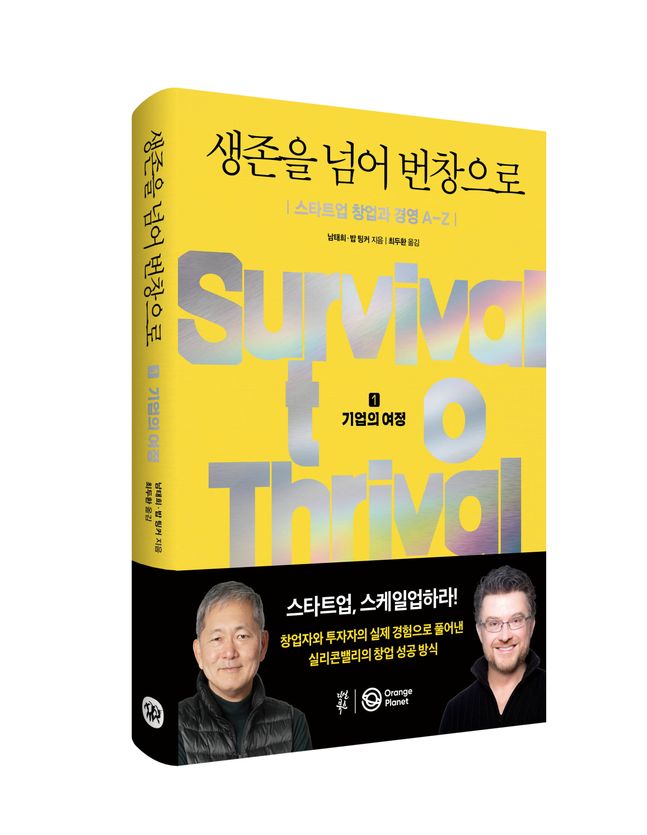 Orange Planet, a Smilegate startup foundation, announced on December 20 that it has published a new book called 'Survival to Thrival'.
'Survival to Thrival' is a book that deals with the overall business startup and management of business-to-business (B2B) startups. CEO Taehee Nam and CEO Bob Tinker, who are reputable investors in Silicon Valley, were the co-authors of the book, and the former president of KT Corporation, Doohwan Choi, was responsible for the translation. Orange Planet was responsible for planning and publishing the book jointly with the publisher Dasan Books.
Orange Planet organized a meet and greet session with the author and translator on December 10 to celebrate the publication of the book 'Survival to Thrival'. During the session, CEO Nam Taehee said: "There is a special entrepreneurial spirit called 'Pay It Forward' at the Silicon Valley. It is a culture where seniors with much experience in startups, etc. give advice on business management to juniors who are just starting, and help them grow. We hope that this book will serve as a guide to those who are starting with a startup."
Translator Doohwan Choi shared his story of translating the book by adding: "The phenomenon of numerous startups being established and disappearing quickly is not only found in Korea but a global phenomenon. It is important to have an eye for discerning the factors that impede the growth of companies. There are only a handful of books in Korea that share insight into B2B startup establishment and management. We hope that this book will be helpful to young entrepreneurs by becoming a part of their journey in establishing, managing, and creating a corporate culture."
Author Taehee Nam is the CEO of Storm Ventures, a B2B corporate-focused investment company located in Silicon Valley. He boasts a portfolio outstanding enough to have participated as an early investor in 12 unicorn companies. In particular, he was involved in the investment of approximately 1,000 companies, including leading IT companies such as Yahoo, PayPal, etc. from 1993 to 2000 at the Venture Law Group, a law firm that specializes in venture investment.
He also attracted attention for designing the 'go-to-market fit' model, a growth model that guides early-stage startups to develop into IPOs based on his experience in majoring in applied mathematics while being enrolled at Harvard University.
Translator Doohwan Choi served as a president of POSCO ICT, and led the way for the industrialization of new technologies by applying them to industrial sites by focusing on advanced technology R&D. In particular, he also demonstrated his competence in startup management by establishing Neowave, a startup, and developing new optical communication technology, which brought success to the company and thereby got the company listed on KOSDAQ. In 2019, he was awarded the 'Korea Electronics and Engineering Award', which is the highest honor in the field of electronic engineering, and he is currently serving as a director of the Smilegate Hope Studio Foundation.
The head of the center, Sangbong Seo, expressed the intent of publishing by saying: "I hope this book will serve as a wonderful compass for those who want to establish and run B2B/B2C startups. Orange Planet will continue to act as a strategic cradle in the future for creating a healthy ecosystem in the growth process of startups."
Meanwhile, Orange Planet has provided support to a total of more than 280 startups since 2014 and generated more than 4,000 jobs in the process. In particular, ever since being launched as an independent corporation in September, it has evolved into a differentiated startup support platform for young entrepreneurs, with a three-dimensional support process from the startup preparation stage all the way to becoming a unicorn. It is focusing on establishing sustainable growth ladders in the startup ecosystem.
Related Contents