SundayToz's Play Links Begins Global Service of "Bubble Tumble"
2021-07-07
※ The article was written on July 7th, 2021
■ Play Link's first game "Bubble Tumble" will be released through Facebook Instant Games
■ CEO Lim Sang-beom, "We plan to continue releasing new games based on experience and know-how on Facebook Instant Games"
■ Play Links aims to diversify game service genres overseas such as puzzle and racing genres
 

[2021-0707] SundayToz (CEO Kim Jeong Sub, www.sundaytoz.com) announced on the 7th that its subsidiary Play Links (CEO Lim Sang-beom) has started overseas service of its new game "Bubble Tumble".
"Bubble Tumble" is the first work of "Play Links", a new subsidiary of SundayToz, and will be serviced globally through Facebook Instant Games. "Bubble Tumble" is a one-touch shooting-style puzzle game where users burst droplets of the same color. The game has added to the fun by implementing the story of Coco, the main fireman character, and animation-style graphics.
The scalability, competition, and ranking contents make this game optimal for Facebook Instant Games users which can be enjoyed on mobile devices, PCs, and tablets. In addition, marketing support will be provided by the popular social casino games "Slotmate" and "Electric Slot", which have gained huge popularity in North America since their launch in 2019.
Play Links CEO Lim Sang-beom said, "Bubble Tumble is expected to attract new users through Facebook Instant Games through our experience and know-how. We plan on expanding our line-up beyond our social casino games".
Play Links is a new game company that formed as a result of a merger between SundayToz Play and Lynx Games. SundayToz recorded 17.3 billion won in sales and 4.4 billion won in operating profit in 2020. Lynx Games has recorded 13.5 billion won in sales. This merger is expected to have a synergy effect especially with Lynx Games turning a profit in the 1st quarter. "Play Links", which has "Slot Mate" and "Electric Slot" ranking #1 and #2 in the casino category on Facebook Instant Games, will be rolling out new games including the puzzle and racing genre to the global market.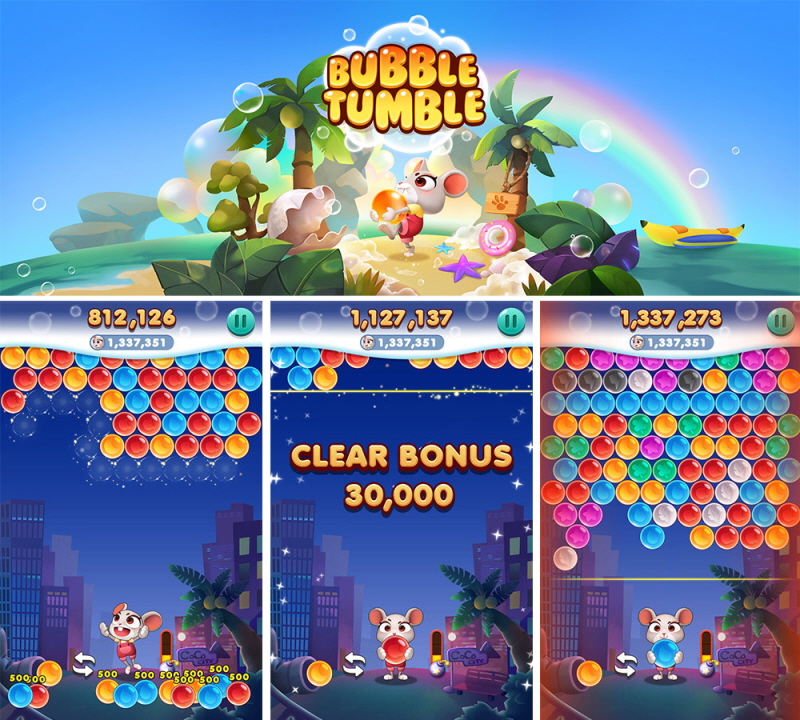 <Bubble Tumble on Facebook Instant Games>
#Smilegate #SundayToz #Play Links #Bubble Tumble #Facebook Instant Games #Shooting-style Puzzle Genre #Slot Mate #Electric Slot
Related Contents