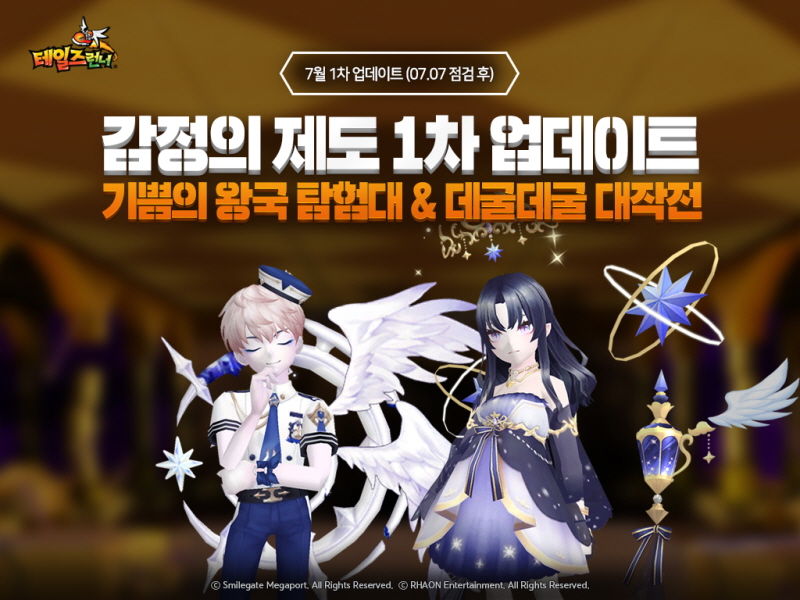 Smilegate's "Tales Runner" Officially Opens "Emotion Islands" Channel!
2021-07-07
■ A cool adventure for 3 months on Emotion Islands! Many rewards for new and returning users
■ Two new maps, the "Kingdom of Joy Expeditions" and "Operation Daegul-daegul"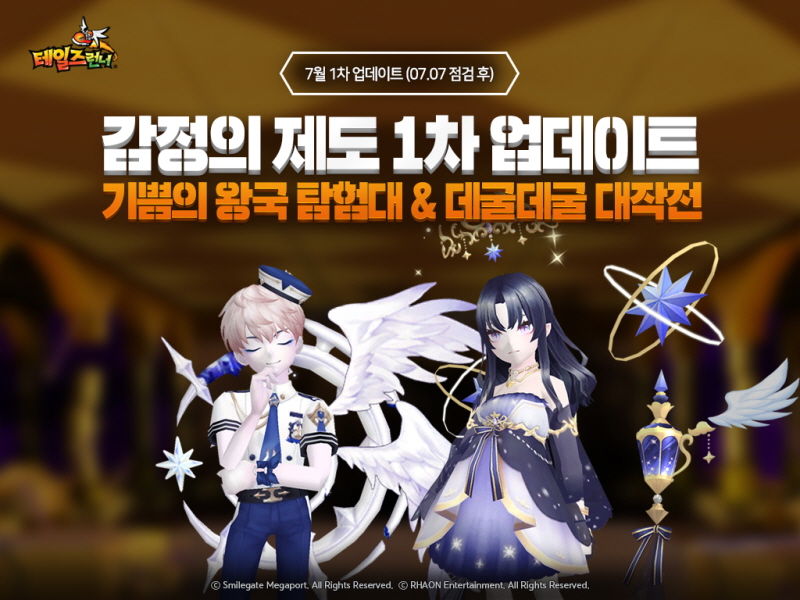 [2021-0707] Smilegate Megaport (CEO Ina Jang) announced on the 7th (Wednesday) that it will update its new channel "Emotion Islands" for summer vacation and feature summer stories on its popular online racing game "Tales Runner" (developer RHAON Entertainment).
The new event channel "Emotion Islands" is about runners following Elims Smile to Emotion Islands in search for the "Stone of Sadness". Emotion Islands is home to Queen Sabrina of Fairytale Kingdom and features the 26th new character Xionel. It will be open until October 6th with a variety of fun elements including a new character and six new game modes.
A new mini game called "Treasure of the Sea" has been added to the main channel of Emotion Islands, which you can participate with play points obtained from the event channel. Every user who plays at Emotion Islands can earn the "Sailor Mate" outfit and have a chance to obtain new legendary items such as the "Emotion Islands coin", "Emotion Islands box", and "Treasure of the Sea box".
The update added two new maps, "Kingdom of Joy Expedition" and "Operation Daegul-daegul". The Kingdom of Joy Expedition is a 4-on-4 running map that explores the Kingdom of Joy located at the center of Emotion Islands. The map is divided into four sections, each with unique characteristics. They require a high level of concentration due to their high difficulty level. It cumulates each player's points to determine which team is the winner.
"Operation Daegul-daegul" is also a 4-on-4 map that assigns each character as a leader, swordsman, knight, and supporter to convoy the ball of happiness safely. The swordsman and knight defeat obstacles while the leader and supporter carry the ball safely. In addition, the new event maps in Emotion Islands can be enjoyed with a friend through the newly introduced "group system".
New items were added with the opening of Emotion Islands. The "Emotion Islands box", "Deep Sea Relics box", and "First Capsule" were added, which you can use to obtain the "I-ran set" and "Serendipity set".
The personal lottery board 3 added Emotion Islands items and new items. Each time you draw, 50 Emotion Islands coins will be deducted, and items such as the "Casiopea set", palm tree tubes, swimming Ppakyi, coconut water, and cheese hamsters can be obtained. Attendance rewards have also been improved for new and returning users with items such as this month's costume set and seven main boxes.
Smilegate Megaport team leader Kim Yu-jin said, "We have a lot of benefits this summer for those who love Tales Runner. We are preparing many more fun contents and events in the future, so please look forward this update".
RHAON Entertainment PD Park Han-soo said, "I am happy to bring you Emotion Islands. I hope you will enjoy a cool summer with excitement through Tales Runner".
For more information on the update, visit Tales Runner's official website (http://tr.game.onstove.com/). "Tales Runner" has been serviced since the summer of 2005 and currently is a steady-selling online game with 17 million users.
#Smilegate #Smilegate Megaport #Online Racing Game #Tales Runner #RHAON Entertainment #Emotion Islands #Summer Theme Update #Kingdom of Joy Expedition #Operation Daegul-daegul
Related Contents