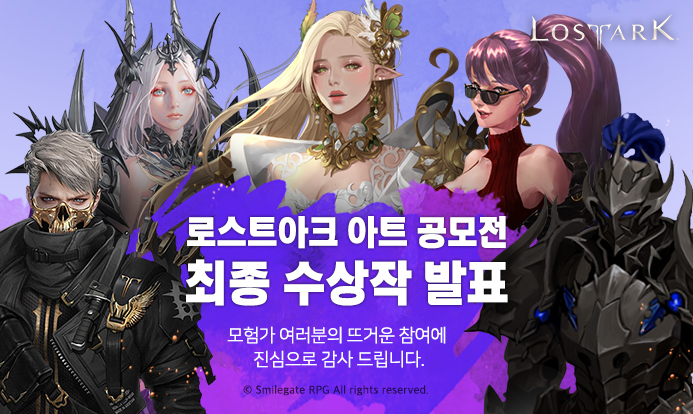 Smilegate RPG announces final winner of Lost Ark Art Contest
2020-04-29
 
■ Winners of LoastArk Art Contest announced. Fifty-nine artworks competed.
■ 800 artworks submitted and 240K voted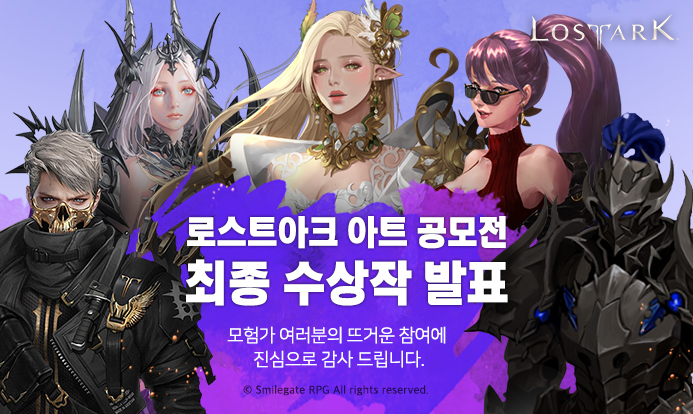 [2020-0429] Blockbuster hack-and-slash MMORPG "Lost Ark" developed and serviced by Smilegate RPG (CEO Chi Wongil) announced the finalists of the "Lost Ark Art Contest".
The contest was held with prize money of 35 million won in three categories: avatar, vehicle & pet, and open. From April 8th to 26 Lost Ark users voted among 59 finalists, and the final winner was decided based on the vote results.
In the five people were awarded, one in each class in the avatar category. One Grand Prix, one grand, three excellence prize was awarded in vehicle and pet category. Winners received exclusive rewards and prize money, and also got an opportunity to reflect the designed work in the actual game.
The contest, which was held with the meaning of "With All RPG FANS," received a warm response from Lost Ark fans throughout the period. Eight hundred artworks were submitted in the preliminaries, and over 240K voted during the finals.
The artworks delighted the eyes of Lost Ark fans with a high level of completeness and various ideas. In the avatar and vehicle & pet sectors, creative concepts and outstanding artworks competed fiercely. In the open category, various forms using Lost Ark, not only digital works, but also murals, sculptures, cosplay, and goods designs, were presented.
"I would like to express my sincere gratitude to all of the Lost Ark fans who have given so much interest and support to this contest," said Chi Wongil, the representative of Smilegate RPG. "It was a very pleasing two months. Congratulations to all the winners. Lost Ark will alter with all its fans."
For more information about Lost Ark and the contest, please visit the Lost Arc official website (http://www.lostark.co.kr).
#Smilegate #Smilegate RPG #Lost ARK #Blockbuster Hack & Slash MMORPG #Lost ARK Art Contest #Lost ARK Contest #Lost ARK Art Contest Final Winner #With All RPG FANS
Related Contents