The "New Normal" User-participatory Donation Culture
2021-01-14
| Game Companies Spreading "Joy", Users Spreading "Hope"
 
Among donations at the end of last year and beginning of this year, Smilegate's virtual creator, SE:A, held a 24-hour relay donation concert on December 29th, 2020. There have been celebrities who have had online donation concerts, but a virtual character holding a donation event is unprecedented.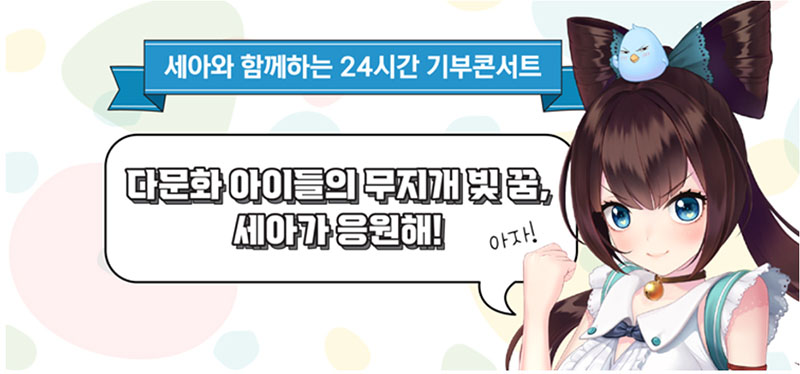 <The 24-hour relay donation concert held by virtual creator SE:A>
The broadcast had 200,000 viewers and donations amounted to 28 million won after 24 hours, showing the magnitude of SE:A's influence. The donations were delivered to Smilegate Foundation, Smilegate's social contribution foundation, and used for IT infrastructure support at "Haemil School", a multicultural alternative education institution. SE:A announced in a live broadcast in July of last year that she would donate all donations made to the broadcast as well. Donations collected from July to August were donated to the homeless as suggested by viewers, and donations collected from late August to November will be delivered to "Haemil School".
Smilegate Foundation is leading the way of creating new donation culture through new donation methods from its willing users. The game company spreads joy and users can light-heartedly participate in donation events to spread hope to those in need.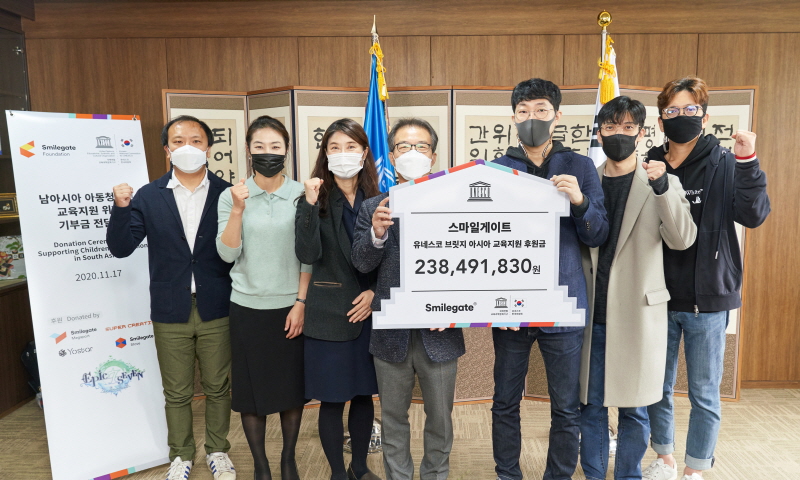 <Epic Seven global user donation campaign, UNESCO sponsorship ceremony>
Epic Seven, a mobile game representing Smilegate, and its users also participated in donating last September. Epic Seven sold packages in the game to support South Asian children's education and donated its entire sales amount to UNESCO from app stores excluding platform fees. 30,691 users bought the package, raising around 240 million won which was used to support basic literacy education for children in South Asian countries.
SundayToz, which frequently carries out donation campaigns, participated in this event. SundayToz raised about 270 million won by matching the in-game donations of users in 9 of its mobile games where about 1.04 million users participated. SundayToz allowed users to select which cause they would like to support and donations went to support online learning environments of low-income families and meals for underfed children in the winter.
| Online volunteering
COVID-19 has changed the volunteering trend. Before COVID-19, volunteers physically visited places in need of help. Smilegate staff volunteering in Goseong to build new roofs for people affected by the forest fire in May of 2019 is an example.
COVID-19 has made face-to-face volunteer work difficult, so donations and volunteer work are being brought online. In fact, Smilegate Foundation has had a 15% increase in online donations compared to 2019 on issues such as care for blind spots and learning & emotional support for vulnerable children. Smilegate Foundation and its increased donations show that users and individuals still care about supporting a good cause.
Volunteering at the multicultural "School of Global SARANG" was also conducted online. Online mentoring and small gatherings were provided to unprivileged children in blind spots. Smilegate staff showed active participation amounting to 2102 hours of small gatherings and online mentoring over the past year.
These types of "ontact" volunteer work have been very effective in supporting creative environments and multicultural online content creation support for children.
It is a suitable method of volunteering because it utilizes advanced IT technologies and leverages its strengths as a gaming company, perfect for tech-savvy children nowadays. The children at Lila Children's Welfare Center, organized by Smilegate Foundation, experienced their first indirect volunteering since COVID-19. Various programs were done through the computer where they could share warm affection for a moment.
Participation of Smilegate staff has increased as methods of volunteering became ontact. Smilegate staff volunteer an average of 15 hours per year, doubling that of staff in other domestic companies.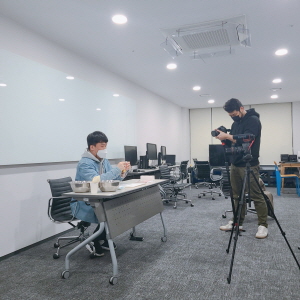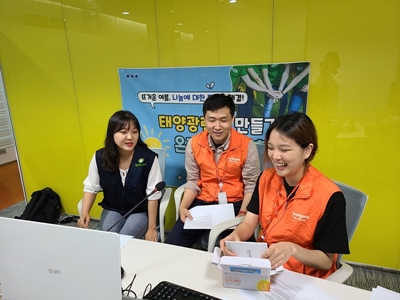 <Staff volunteers online on how to make macarons (left), how to make a solar-powered lantern (right)>
Smilegate Foundation manager Kwon, Yeon ju said "Everyone had a hard time with COVID-19 but it was a critical time to help children and teenagers in need. As a game company, we will try our best to spread joy, hold social responsibility with our users, and find "new normal" ways to carry on donations and volunteer work online and in games".
The way of donating has changed but the desire to share love has stayed the same. Smilegate Foundation will continue to form a new online donation culture where donators can actively and continuously participate.
EDITOR's COMMENT
#Smilegate Foundation
Established in 2002, Smilegate developed the online FPS game "CROSSFIRE" overcoming failures and challenges. CROSSFIRE started its service in China in 2008, surpassing 1 million simultaneous users and became a popular global game. The company started giving back to society for the help it received as a young company, establishing the Smilegate Foundation in 2012. Since then, it has been making efforts to share "hope" for a better society (Better World) where children and teenagers can be respected for their diversity.
#Smilegate #Smilegate Foundation #Virtual Creator SE:A #24-hour Relay Donation Concert #Ontact Donation #Ontact Volunteering #Donation to Vulnerable Class #Care for Children in Blind Spots
Related Contents