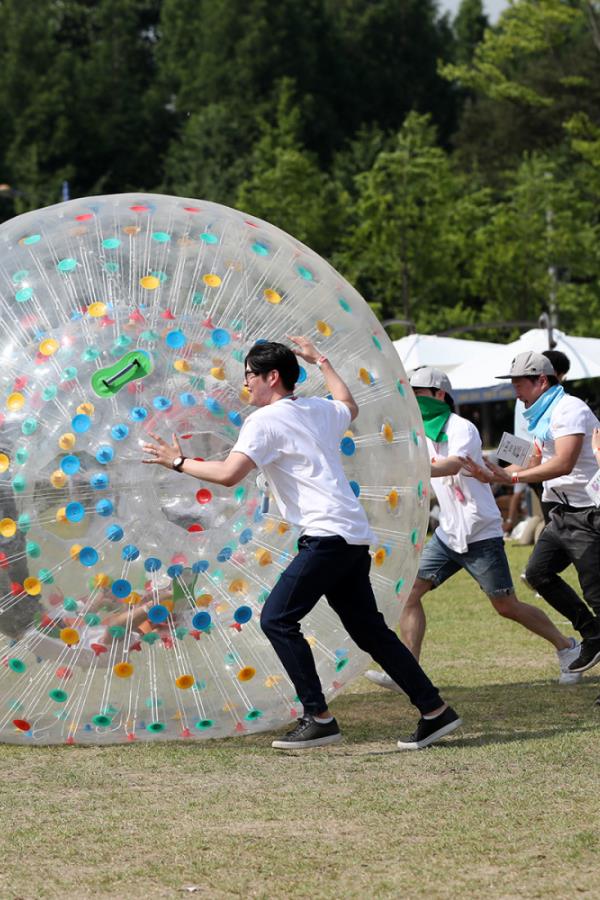 Me, You, and Us! Five Stories at Smilegate, Bonding through Communicat…
2018-10-26
Silicon Valley, located in Southeastern San Franciso, California, is the global center of the software industry. As Silicon Valley companies are drawing more attention, so is their corporate culture.
These companies are known for innovation in technology and business. Such innovations are made possible through a horizontal organizational structure that allows for freedom of communication and thought. Responsibility and authority given to individuals that allow wins of a company to be seen as wins of individuals are also big motivating factors.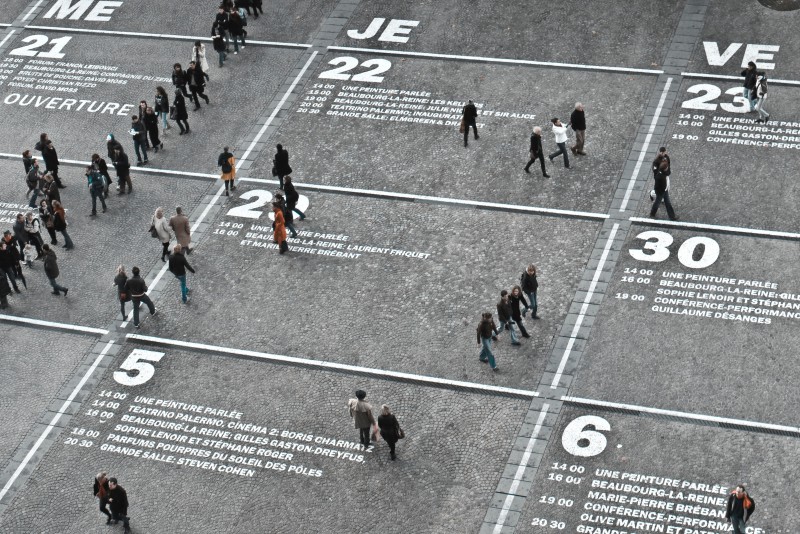 One of the most important motivating factors for a company to advance forward is the company and its employees having the same goal, aka forming a bond. Smilegate is implementing various corporate cultural programs to strengthen the bond between executives and employees. Divided into nine affiliate companies, Smilegate must pay more attention on understanding each other and forming a bond through active communication.
| #1 Communication channel between employees – Club "Smile Rock"
In March, Smilegate held a town hall meeting for all of its employees and announced the launch of clubs. Expected participation was around 10%~20% but it turned out to be more popular than expected.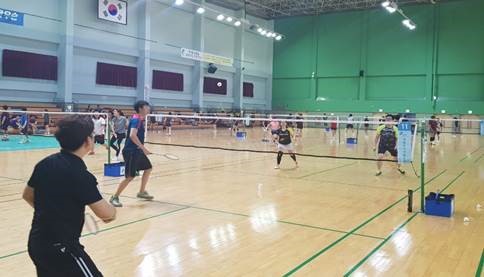 <The badminton club. They sometimes hold matches with clubs of other game companies>
Within just 6 months, Smilegate had 60 clubs and over 900 members. That's about half the size of the company. There is a wide variety of clubs available for unique and energetic employees. There are clubs for sports, plastic models, flower arrangement, dance, fishing, orchestra, scuba diving, Zumba dance, board game research, yoga, vocals, etc.
Smilegate provides support at the company level for operation of these clubs. Executives in charge of corporate culture meet with young clubs' leaders to listen to their opinions and provide them with club space inside the company.
The employees have said, "The support of personal hobbies from the company is a big motivational factor and allows for natural communication with other constituents".
| #2 Communication channel between the company and family of employees – Smile Tong: Paper
Smilegate published "Smile Tong" the paperback, company newsletter last July. Its rather analog style of communication contrary to the trend of online/mobile communication in the IT high-tech industry as a gaming company has drawn attention.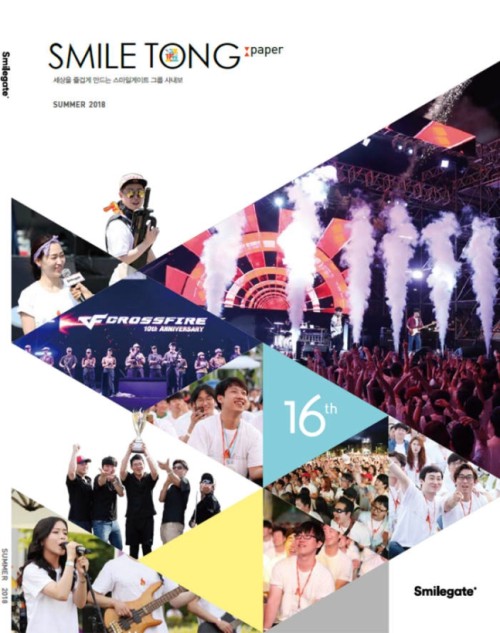 <Smilegate company newsletter Smile Tong: Paper>
Communication with the families of employees is just as important as it is with employees. So, Smilegate delivered the printed newsletter to every home. There were various examples of communication resulting from the newsletter on the company's bulletin board. "I found out that there was a neighbor who worked for Smilegate after I saw the newsletter in his mailbox", and "I was able to find out what kind of company my son/daughter works at" were some of the examples.
The offline newsletter was supposed to be a one-time special event, but it will be published regularly starting next year due to the positive feedback.
| #3 Expanding the communication channel – Smile Square
Smilegate has also provided a means to increase communication between employees and organizations. "Smile Square" has been established on the company bulletin board where executives and employees can freely post their wishes and opinions.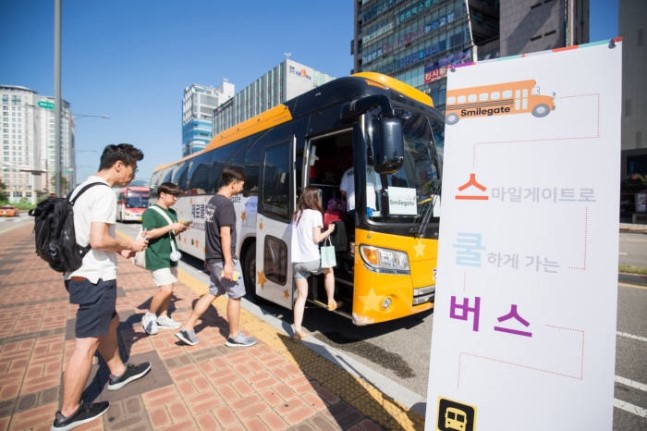 <The school bus, made possible through Smile Square. The "cool" way to get to Smilegate>

Can employees really post their wishes on a board that the whole company sees? Many were skeptical but the results proved otherwise. Since its establishment in July, there have been steady posts and the company gives them answers within a few days.
A request on Smile Square changed the way to get to work. Having suffered heatwaves this summer, an employee wished for a shuttle to and from Pangyo station and the company. The 10~15 minute walk in immense heat could be very challenging.
The company immediately hired a shuttle bus to operate in the month of August and distributed ice cream on the first day. Furthermore, they plan to operate the shuttle in the winter for a warm commute to work.
Smile Square was expanded offline as well. In order to allow for more opinions, they prepared an event where employees could anonymously write their opinions on notes. The event also served to provide employees with gifts for Chuseok. There were over 1400 honest submissions and the company is working hard to review and answer them.
| #4 Health, excitement, and bonding, 3-in-one! Staff table tennis room
What is an activity that can be done in the company to promote bonding? After much consideration, Smilegate set up a table tennis room available to employees in their spare time. An in-house tournament was held with 110 participants and is now in the midst of matches for the final 16. The table tennis room will be open for any Smilegate employee after the tournament.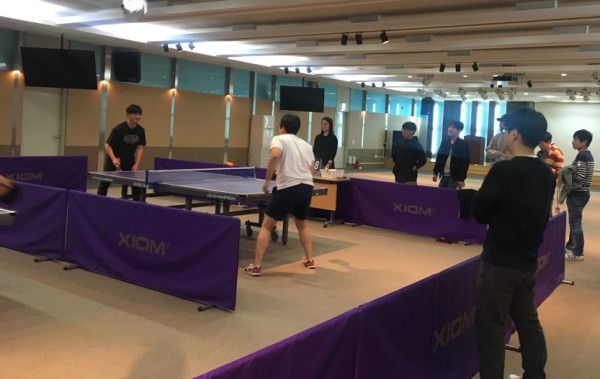 <Smilegate is currently holding an in-house table tennis tournament>

In addition, there is more good news for employees with children. A daycare center will be established in March of next year. The welfare service team has held multiple public hearings on the matter to listen to employees' opinions.

|
#5
Passion to come together as people of Smilegate – Passion Workshop
Smilegate's passion workshop is well-recognized to citizens near Yangjae Citizen's Forest. It holds a large-scale program on the outdoor stage of The K Hotel at Yangjae, every June.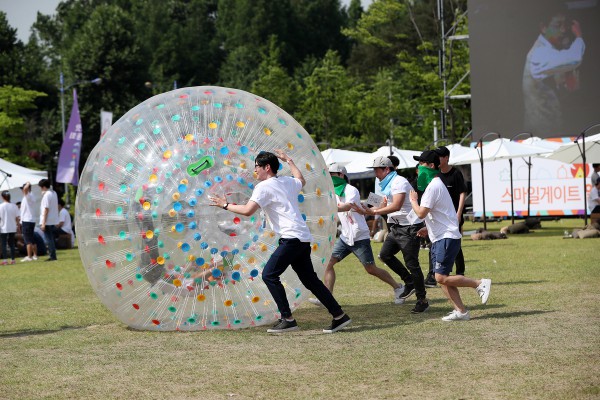 <A popular program at the passion workshop, air bowling challenge>
This year's workshop was focused on key words "participation" and "sympathy". 4-cut cartoons using Toonspoon about company life, a chef competition, a CROSSFIRE survival competition, and RC car racing were some of the programs offered.
Club activities, which began in March, also were a part of the passion workshop. Special booths were made by the badminton, basketball, plastic model, and soccer clubs to host special events for the staff. Everyone at the workshop had a blast organizing and participating in the events.
In addition, one-day classes and celebrity lectures helped fill the mind, while food trucks full of food added to the excitement of the event. Celebrity guests included the two-time MC Jeon Hyunmoo and special performances by Mamamoo and Yoon Do-hyun's band. The festival, held throughout the day, was truly able to unite the members of Smilegate.
Smilegate is not only promoting bonding through increasing communication channels but also making countless efforts to improve upon the communication program in the future.
#Smilegate #Communication #Corporate Culture #Smile Rock #Smile Tong #Smile Square #Passion Workshop #Company Daycare #Staff Table Tennis
Related Contents