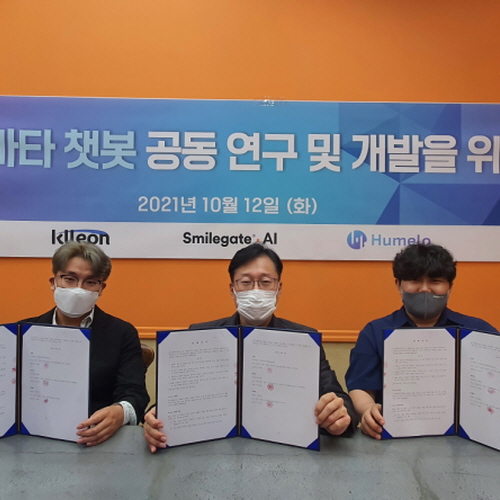 Smilegate AI Center to develop emotional AI chatbots with industry-lea…
2021-10-13
■ Cooperation between the industry's best-technologized companies to develop AI with various emotions and charms like humans
■ Will establish a cornerstone to develop and commercialize a prototype within this year
■ Expected to create new value for AI business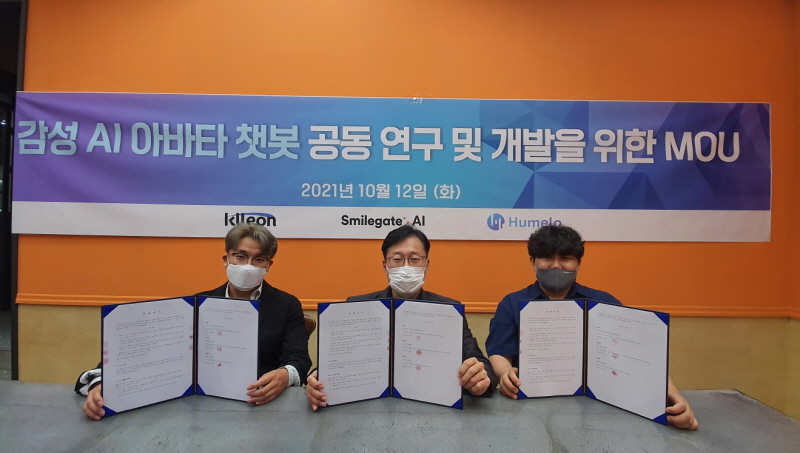 [2021-1013] Smilegate AI Center (Director Han Woo-jin) announced it had signed an MOU for joint research and development of emotional AI avatar chatbots with artificial intelligence (AI) startups Humelo (CEO Lee Ja-ryong) and Klleon (CEO Jin Seung-hyuk).
With this MOU, the Smilegate AI Center, Humelo, and Klleon will jointly research artificial intelligence that can express various emotions and charms like humans, spurring the development of advanced AI. Based on the technologies and data possessed in each area, the three companies plan to conduct a systematic cooperation.
Three companies' joint research will develop a differentiated AI avatar service prototype that contains human sensibility and charm within the year. Joint research plans to introduce a differentiated AI avatar chatbot service by combining AI Center's avatar brain model, Humelo's avatar voice synthesis technology, and Klleon's deep human technology.
Humelo is a startup with emotion-based personalized speech synthesis technology which has developed and serviced its own AI speech synthesis solution. Humelo caught attention by securing a technology that can synthesize high-quality speech with just a two-minute sample voice. The company has established a leading position through technology that can produce a voice that matches emotions like a real person by adjusting rhymes and pitches.
Klleon is a startup that develops deep humans with deep learning-based image generation technology. It has a unique technology that can create an avatar with just one frontal photo. Especially, Klleon's technology makes it possible to create an optimal avatar that can express a particular person more accurately with 32 parameters such as eyes or nose.
Han Woo-jin, director of Smielgate AI Center, said, "Through this collaboration, the foundation for research and development of human-like AI avatar chatbots that have not existed before has been established. The continuous and systematic cooperation between the three companies will introduce an innovative AI service that creates new values for various industries."
#Smilegate #Smilegate AI #Humelo #Klleon #Emotional AI Avatar Chatbots #MOU
Related Contents