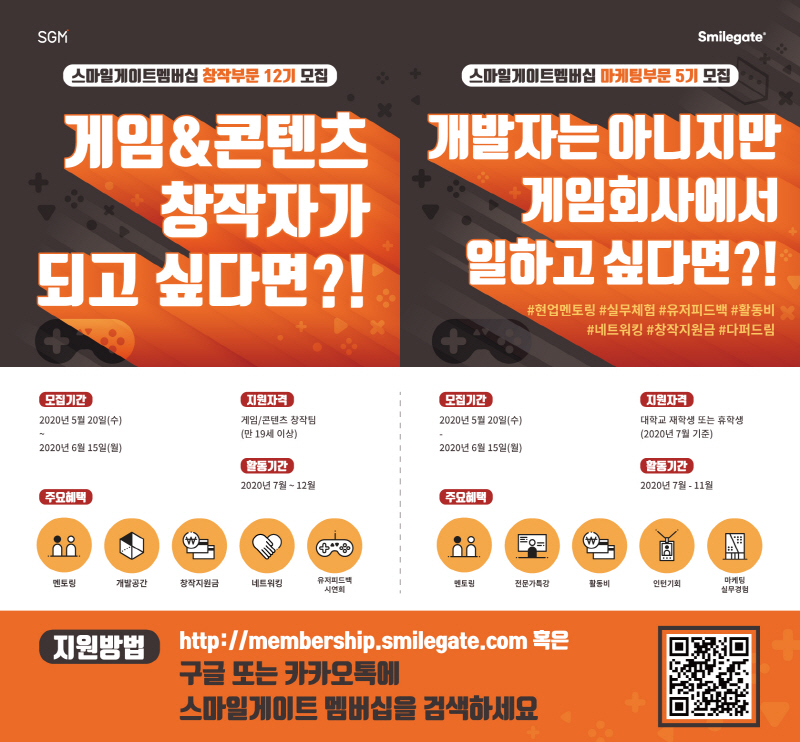 Smilegate recruits for youth for creative work and marketing project s…
2020-05-21
 
■ Through the official website, recruiting supporters for creative works and marketing projects in the game/entertainment field
■ Connection to Smilegate's entrepreneurship program, internship opportunities, and various other benefits awarded to participants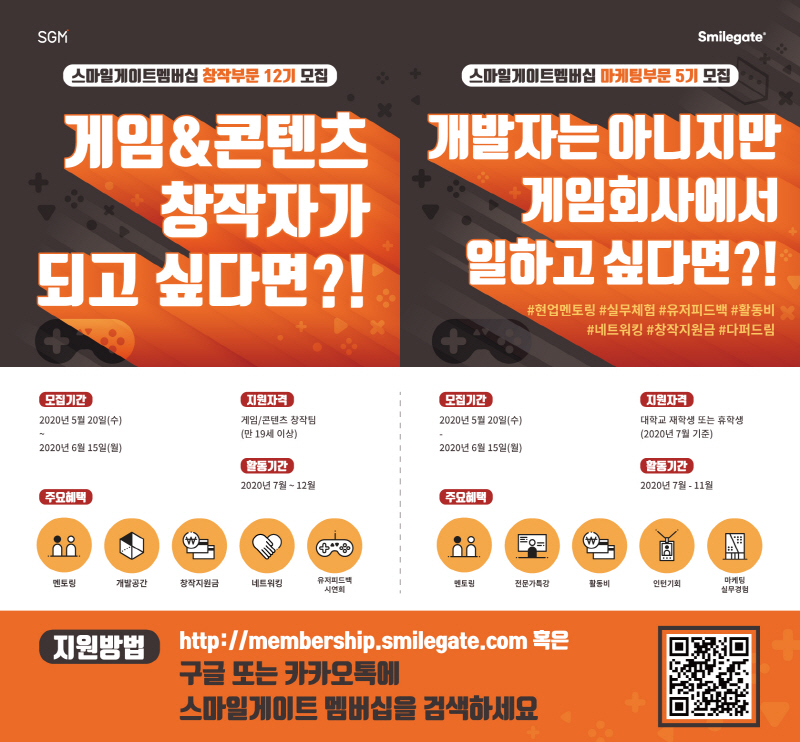 [2020-0521] On May 21 (Thu), Smilegate announced their recruitment for "Smilegate Membership," a customized support program that lays a foundation for young creators and marketers with a passion for the game and entertainment fields to grow.
Smilegate Membership is divided into two categories: ▲the "creative works category" that supports young content developers who want to complete their projects and dream of entrepreneurship, and ▲the "marketing category" for university students that want to grow as trend-leading marketers in the quickly changing market environment.
The "creative works category" supports all the stages of content development, from 24-hour laboratory access to professional mentoring by Smilegate's cooperative developers and ORANGE PALM startup CEOs, user feedback demonstrations, to funding for creative projects. Also, if a participant wishes to found a startup, the program connects them to Smilegate's entrepreneurship support program.
In the "marketing category," marketing and production projects are given for the games, characters, and more from Smilegate's main IPs (intellectual property). Smilegate provides participants with various capacity building programs with mentoring from the marketing staff, a place to work on the projects, and funding for the projects. The outstanding participants, especially, are given opportunities for internship at Smilegate.
Smilegate Membership is recruiting on their official website(http://membership.smilegate.com)until June 15. Participants of the "creative works category" must be over 19 years old, and can apply individually or as a group. The "marketing category" is for university students only. The names of successful applicants of the "creative works category" and "marketing category" will be announced in early July after the application review and interview period.
Meanwhile, Smilegate Membership has been supporting the passion and potential of youth interested in games and entertainment as Smilegate's a creative works and marketing project support program since 2010.
As of today, a total of 70 teams and 340 individuals have completed the "creative works category." "Team Tapas," creator of "Bistro Heroes," which won the Indie Game of the Year in the 2019 Korea Game Awards, and "Cassel Games," creator of the PC game "Ratropolis," which reached number one top selling indie game on the Steam game platform, are some of the promising startups that have grown through the Smilegate Membership program.
In the "marketing category," in its fifth year since its establishment in 2016, 30% of the total participants are continuing their careers in the gaming industry.
#Smilegate #Smilegate Membership #2020 Smilegate Membership #Creative works support program #Marketing project support program #Team Tapas #Cassel Games
Related Contents