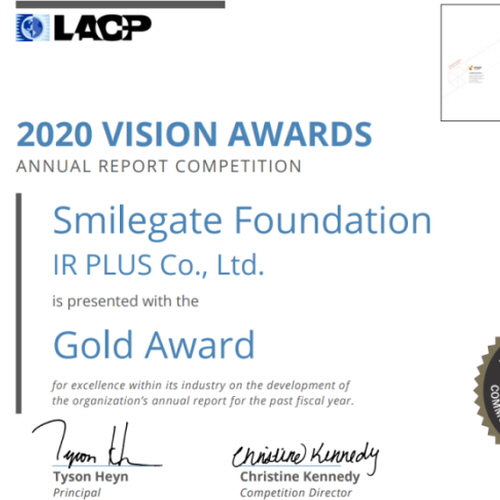 Smilegate Foundation wins Gold Awards at the LACP 2020 Vision Awards
2021-09-16
■ Smilegate Foundation wins the Gold awards in the non-profit category of the LACP Vision Awards, a global communications contest
■ Highly evaluated for delivering a sincere message to the participants and stakeholders of the foundation's activities

[2021-0916] Smilegate Foundation (Chairman Hyukbin Kwon) won the Gold awards in the non-profit category of the LACP (League of American Communications Professionals) 2020 Vision Awards.
LACP is a global public relations and marketing institution established by experts in the U.S. communication sector. Since 2001, it has reviewed and awarded annual reports and sustainable management reports to companies, government agencies, and organizations worldwide. More than 1,000 companies, government agencies, and non-profit organizations from 20 countries participated, and global companies including Coca Cola, Intel, Citigroup won the award.
Smilegate Foundation was highly evaluated because it delivered a sincere message to the participants and stakeholders of the foundation's activities. Other positive factors were transparent disclosure of donation usage and presenting the project based on the foundation's vision. With this award, Smilegate Foundation is officially recognized for effectively disseminating the value and meaning of the foundation's activities to stakeholders and members of society.
Smilegate Foundation also won the Silver award in the design category and Honors award in the Non-English Annual Report category at the ARC Awards (Annual Report Competition Awards), a global annual report competition hosted by MerComm Inc.
Kwon Yeon-Ju, Director of Smilegate Foundation, said, "It is an honor to receive international recognition for the foundation's efforts and practices, which strives to create a better world for future generations. We will take the lead in spreading the hope that anyone can be happy by diversifying activities such as supporting the growth of next-generation entrepreneurs."
#Smilegate #Hopestudio #LACP Vision Award #Non-profit #Communication #League of American Communications Professionals
Related Contents