[Orange Planet] Oriental Medicine Meets the 4th Industrial Revolution,…
2020-09-15
"MediK System", an occupant of Orange Planet Jeonju Center, is a healthcare company that develops solutions for oriental medicine pharmacies based on ICT (Information and Communication Technology). It incorporates new technologies of the 4th industrial revolution into the oriental medicine industry. Recently, there has been a growing need for systematic management of herbal medicines in the oriental medicine industry, but a lack of such a system. I met with Kim Heon-sung, CEO of MediK System, who developed the "Herb Linker," an integrated solution that connects oriental medical clinics and oriental medicine pharmacies.
[Interview] CEO Kim Heon-sung of "MediK System"
<CEO Kim Heon-sung of MediK System>
Q. Briefly introduce your company.
Hello, I am Kim Heon-sung, the CEO of MediK System. We are a company that seeks to integrate new technologies of the 4th industrial revolution towards the field of oriental medicine. I created the company in order to develop a medical system that can systematically manage everything from patient reception, treatment, prescription delivery, to herbal medicine preparation. Our team started as a university research team and is comprised of former developers.

<MediK System's team>
Q. It's interesting to see the combination of IT and oriental medicine. Why did you decide to start a business in the oriental medicine industry?
When I was in college, I participated in a program called the Software (SW) Club Talent Donation Challenge. The SW Club Talent Donation Challenge was a program where college SW development teams created and provided software to help small business which lacked SW capabilities. Small business owners were able to obtain software at reasonable prices and college SW teams were able to develop their SW capabilities.
We provided an "ICT-based oriental medicine prescription delivery and herb management system, the predecessor of Herb Linker, to oriental medicine pharmacies which generated high levels of interest within the industry. In addition, the Ministry of Science and ICT awarded us the Minister award after evaluating our system to be beneficial in 2016. We started "MediK System" with the goal of developing a comprehensive system for the oriental medicine industry that can be trusted by the public.
<Receiving the Ministry of Science and ICT, Minister award at Hanium Expo 2016>
Q. The concept of an oriental medicine pharmacy solution is hard to understand. What kind of service is the "Herb Linker" solution?
It is a service that provides a system to integrate patients, oriental medicine clinics, and oriental medicine pharmacies to instill trust in the oriental medicine industry. Herb Linker is a software system that allows patients to systematically manage the entire process from visit to receiving their prescriptions. Clinics can deliver prescriptions through Herb Linker, allowing for accurate communication between doctors and herbalists, and the ability to record the whole process for reliable service.
Q. What does the process for "Herb Linker" look like?
Herb Linker is divided into two main parts. The oriental medicine clinic and the oriental medicine pharmacy.

<The "Herb Linker" system>
First, clinics can manage patients through the "self-reception system" and prescribe medicine through the "prescription delivery system". After treatment, prescriptions are safely sent to the pharmacy. The pharmacy can utilize the "oriental medicine preparation management system" to manage stock of ingredients and the "smart herb management system" to predict orders.
Herb Linker connects clinics and pharmacies through data, ultimately increasing the level of trust between doctors, patients, and pharmacies.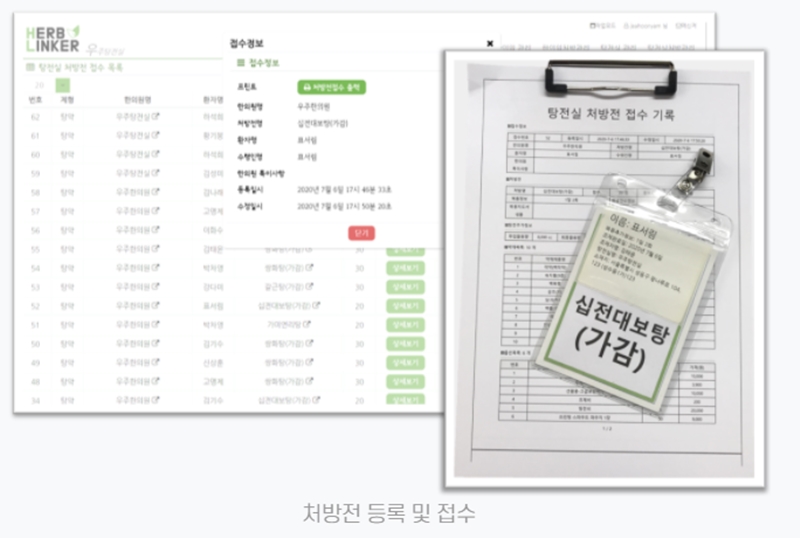 Q. There have been cases where patients are uncomfortable because the oriental medicine preparation process is unavailable to them. We heard the government has introduced the "oriental medicine pharmacy certification policy" to solve this. Can you explain it to us?
Oriental medicine preparation rooms are essentially "pharmacies for oriental medicine clinics". They make the medicine prescribed by the clinics.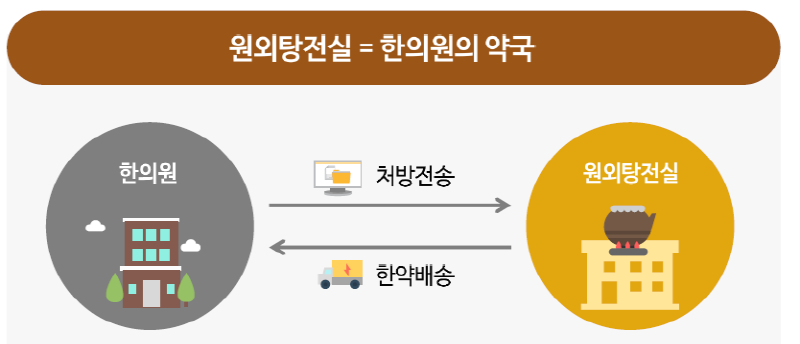 Recently, oriental medicine clinics have increased their use of such facilities that specialize in herbal medicine manufacturing due to problems with space, herb management, and increased maintenance costs. In fact, we found out that most companies delivered prescriptions by email or fax during our market research. This system is outdated.
The government made this policy to evaluate and validate the safety of raw material storage, preparation, packaging, and delivery. We are working hard to improve the level of trust through the Herb Linker system, in conjunction with the oriental medicine industry.

<Oriental medicine pharmacy certification symbol>
Q. Who are the main customers of "Herb Linker"?
Our main customers are the 1,000 oriental medicine pharmacies and 14,000 oriental medicine clinics nationwide. Recently, we successfully attracted our first, new customer. Herb Linker will be introduced at the "Dongui Oriental Medicine Pharmacy" located in Seoul and shortly at an oriental medicine pharmacy in Gimje, scheduled for construction. Currently, we are developing a system to introduce Herb Linker to 300 oriental medicine clinics.
Q. You became part of the Orange Family after being awarded at the 2019 Orange Planet Jeonju Center Start-up Competition. What made you apply to Orange Planet?
When I applied to the competition, I was very busy because the Herb Linker system was about to be launched. It was a period when I needed to carry out promotion, marketing, management, taxes, and accounting. I also needed feedback on the business model. I saw the information on Orange Planet Jeonju Center Start-up Competition and applied to receive help in these areas through Orange Planet's infrastructure.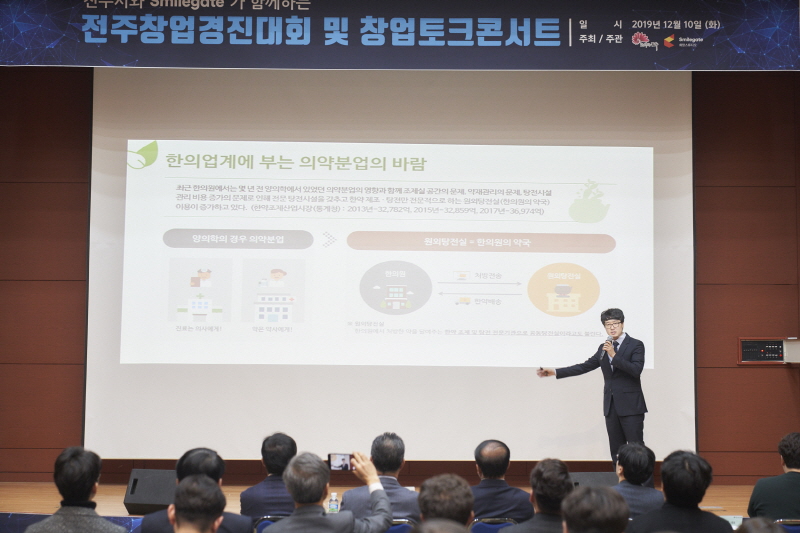 <CEO Kim Heon-sung giving a presentation at Orange Planet Jeonju Center Start-up Competition>
The feedback we received allowed us to re-examine our business and come up with a more advanced strategy. If you are planning to participate in the 2nd Orange Planet Jeonju Center Start-up Competition in 2020, it will be critical to have "Desperation", "Genuity", and "Trust". These are the factors that enabled me to work with Orange Planet.
Q. You have been at Orange Planet for about a year. What was the most helpful part?
They provided us with the place and labor to explain Herb Linker after its launch in June. We were able to carry out the event safely despite COVID-19, thanks to them. We were able to attract initial customers and obtain a test bed through the event.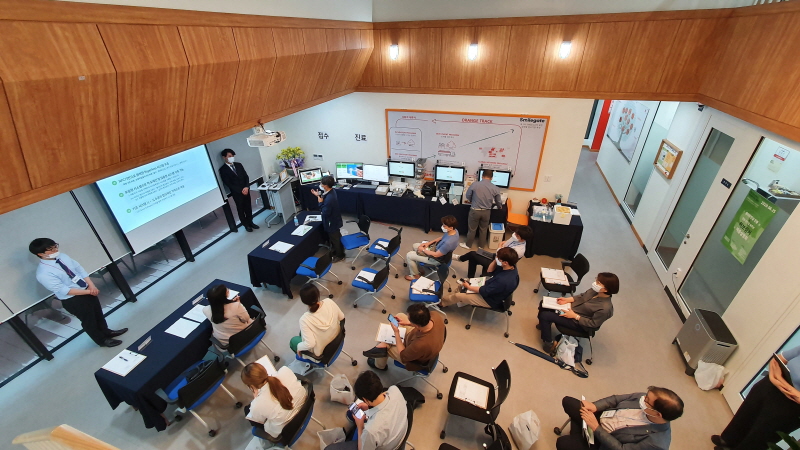 <Briefing of Herb Linker at Orange Planet Jeonju Center in June>
Q. Please tell us about MediK System's philosophy and future goals.
The most important thing for MediK System is trust. We want to provide a trustworthy and stable software to connect doctors, patients, and pharmacies. We hope to be recognized as a player in globalizing oriental medicine.
We have worked very hard for the last 3 years on "Herb Linker". We hope that many people will use our service. We will do our best until Herb Linker becomes the standard for the oriental medicine industry!
EDITOR's COMMENT
#Orange Planet
Orange Planet was established in April 2014 as the largest youth start-up support center in the private sector and has been generating the best systematic support in Korea. It serves as a start-up accelerator not limited to just space support, but long-term investment links, including regular and irregular mentoring, and even overseas expansion which serves a significant role in helping start-ups move toward success.
#Smilegate #Smilegate Foundation #Orange Planet #Orange Planet Jeonju Center #Orange Farm #Start-up Support #MediK System #Herb Linker #Oriental Medicine
Related Contents