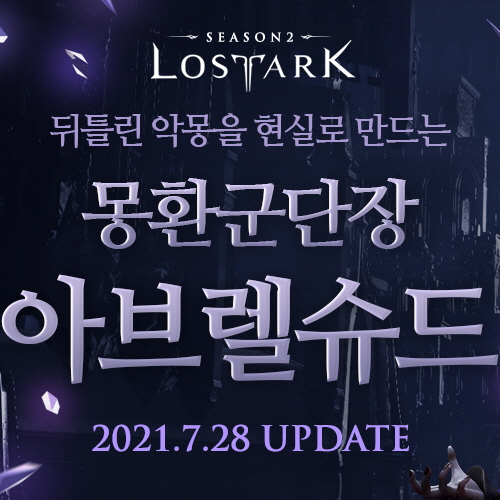 Lost Ark, Largest Commander Raid in History! Official Update "Commande…
2021-07-28
※ This article was written on July 28th, 2021
■ The largest commander raid yet with a total of six gateways
■ Maximized visual excitement with the battlefield shifting freely across reality and hallucinations
■ Adventurers can challenge the commander raid with less burden through the "gateway save" function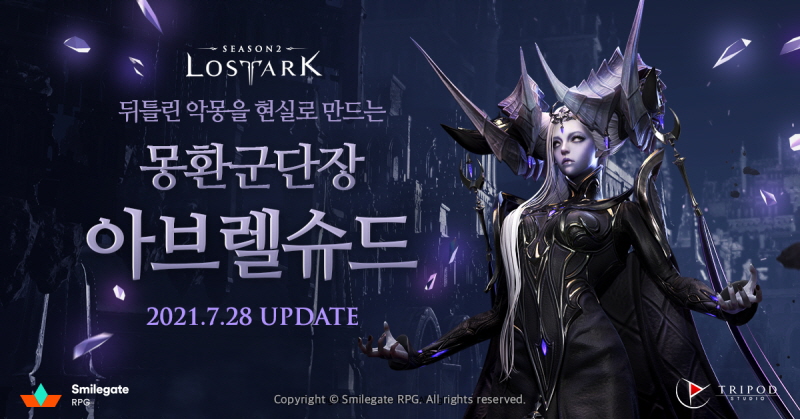 [2021-0728] Smilegate RPG's (CEO Chi, Wongil) MMORPG Lost Ark announced on the 28th (Wednesday) that it has officially updated its largest commander raid "Commander of Nightmare, Abrelshud".
"Commander of Nightmare, Abrelshud" is the fourth Lost Ark commander raid which has 6 gateways and features the largest battlefield "Nightmare Astalgia". Fitting the "Commander of Nightmare" concept, the battlefield freely shifts in and out of reality and hallucinations, and maximized visual effects are expected to receive explosive responses from RPG fans.
The Abrelshud raid will have a "déjà vu" difficulty level, accessible to adventurers of level 1430 or higher where they will be able to experience the raid. There will also be a "normal" difficulty level, accessible to adventurers of level 1490 or higher. "Nightmare Astalgia déjà vu" mode is content where adventurers can build experience playing the Abrelshud raid at a lower level of difficulty. You do not have to use your "opportunity to enter the commander raid" and each expedition will be able to challenge it once a week. The last Kouku-Saton raid featured a similar "rehearsal" mode which received positive responses and less burden on adventurers is expected for the Abrelshud raid as well.
As the final boss, Abrelshud's unique way of fighting attracts attention. In addition to various attack skills, skills like "space change" and "hallucination" interfere with the control of adventurers which builds confusion and tension.
New Esthers will be joining the "Esther system", the key to defeating commander raids. Esther "Ajena" and Esther "Shandi" will appear for the first time, and you will be able to meet all of the Esthers in one raid with the exception of Kadan. The "Esther system" in Lost Ark allows "Esthers" to use skills to help adventurers during raids and strategically change the situation to your favor. Esthers can only be used by the party leader.
"Commander of Nightmare, Abrelshud" will be the first commander raid to implement the "gateway save" function. Adventurers can now save their progress when they clear gateways and continue from that save point, the next time they challenge the raid. The gateway save function will also be implemented to other commander raids and can be used for all difficulties except for the "hell" difficulty. This will lessen the burden on adventurers in challenging the commander raids.
A new equipment slot "bracelet" and new equipment have been added with the Abrelshud update. This will allow characters to grow stronger.
Smilegate RPG CEO Chi, Wongil said, "Perhaps the most important content of the 2021 large-scale summer update 'Astalgia', 'Commander of Nightmare, Abrelshud' has officially been updated. We hope you enjoy the unique battle and visual effects available only in the Abrelshud raid. We would be thankful if adventurers took pride in enjoying this end content of Lost Ark through its déjà vu and normal difficulties".
For more information about Lost Ark, visit Lost Ark's official website (http://www.lostark.co.kr).
#Smilegate #Smilegate RPG #Blockbuster Hack and Slash MMORPG #Lost Ark #New Commander Raid #Commander of Nightmare Abrelshud #Nightmare Astalgia
Related Contents