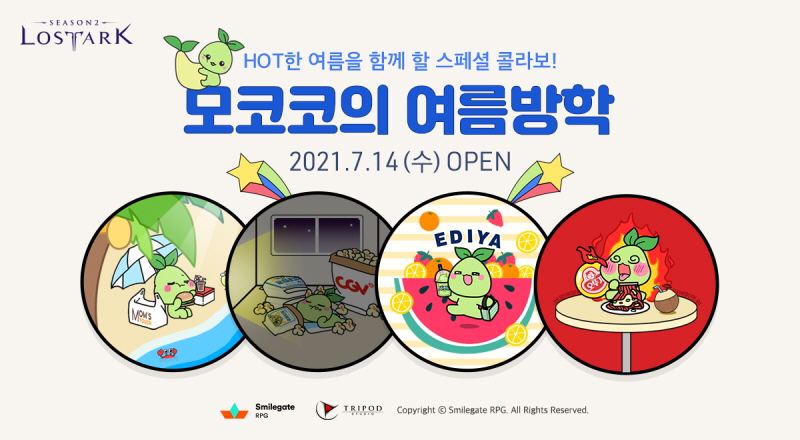 Notice of a Special Collaboration from Lost Ark, "Mokoko's Summer Vaca…
2021-07-08
■ 2nd collaboration teaser page featuring Lost Ark's mascot "Mokoko" open
■ New gifts for adventurers through familiar brands such as Mom's Touch, CGV, Ediya Coffee and Ottogi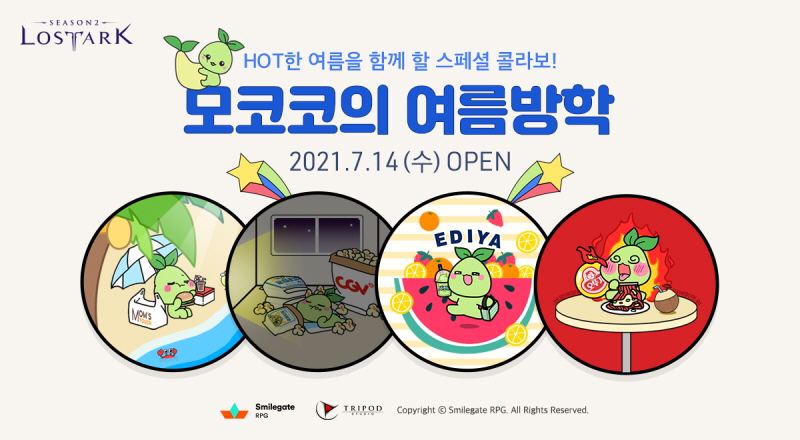 [2021-0708] Smilegate RPG's (CEO Chi Wongil) blockbuster hack & slash MMORPG Lost Ark announced on the 8th (Thursday) that it will once again have special collaborations featuring its mascot "Mokoko", following the collaboration last spring.
Lost Ark opened a teaser page for its second collaboration titled "Mokoko's Summer Vacation" on the 8th. The teaser page shows Mokoko enjoying familiar and diverse brands such as ▲Mom's Touch, ▲ CGV, ▲ Ediya Coffee, and ▲ Ottogi.
Last spring, Lost Ark held a collaboration event with various brands such as ▲Nene Chicken, ▲E-Mart 24, and ▲Mr. Pizza featuring "Mokoko" which ended in great success with explosive response from adventurers. Adventurers are excited of what events and benefits this "Mokoko's Summer Vacation" collaboration will bring.
Smilegate RPG CEO Chi Wongil said, "We are trying to enable Lost Ark adventurers to make enjoyable memories through collaborations with familiar brands in their lives. We plan on expanding these types of collaborations and hope that you show interest in Lost Ark and Mokoko".
For more information on Lost Ark, visit the Lost Ark official website (http://www.lostark.co.kr).
#Smilegate #Smilegate RPG #Blockbuster Hack and Slash MMORPG #Lost Ark #Mokoko #Mokoko's Summer Vacation #Mom's Touch #CGV #Ediya Coffee #Ottogi #Collaboration
Related Contents