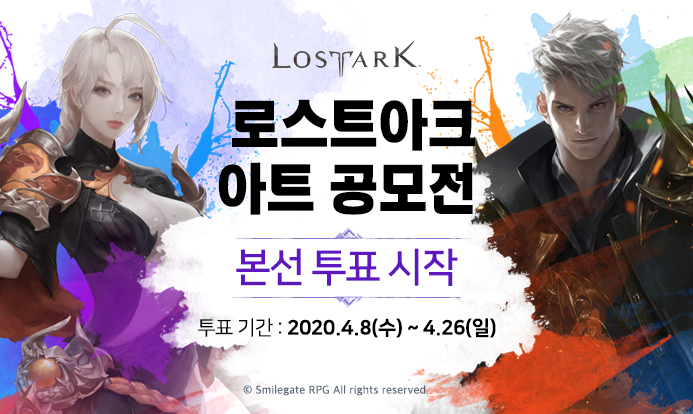 Final voting for Smilegate RPG's Lost Ark Art Contest Begins
2020-04-08
 
■ 800 entries for Lost Ark Art Contest, voting page is now open
■ Lost Ark's new level of favorability, 'affection' first added. New stories can be played through special quests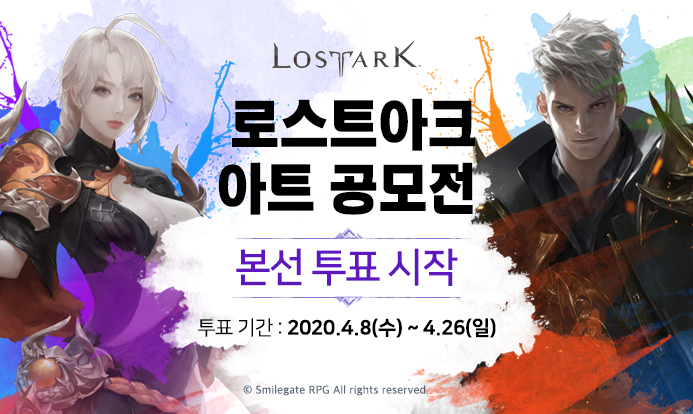 [2020-0408] Smilegate RPG (CEO Chi Wongil) announced that it opened the poll page for Lost Ark Art Contest to select the final winners.
Amidst the enthusiastic response from Lost Ark fans, 800 in the preliminaries 800 artworks were submitted. In particular, 474 works in the avatar field, which was the hottest response. In the final stage where direct votes from users are held, five final candidates for each area are selected to compete.
The final voting for the art contest will be held on the official website for about 19 days from April 8th to 26, and any Lost Ark user can visit and exercise a vote. The voting field is divided into an avatar, vehicle & pet, and an open category. In the case of avatar category, one vote is available for each class.
The final winners of the Lost Ark Art Contest are 100% determined by the users' choice through the voting page. Grand Prix winner of avatar category will receive an exclusive title, Lost Ark peripheral packages and souvenirs and 5M won prize money. Also, in the case of vehicles & pets and open category, prizes and various souvenirs are provided to 1 Grand Prix, 1 Grand, and 3 Excellence.
Meanwhile, with the opening of the contest's voting page, a new level of favorability 'affection' was added for the first time. The NPC with the first affection level is'Sasha' and 'Adaline'. Users who have achieved two NPCs likeness can practice special quests and open the affection level, and in this process, the user can play a new exciting story.
Smilegate RPG representative Chi Wongil said, "This Lost Arc Art Contest is a contest that follows the new direction of Lost Ark, 'With All RPG Fans. We thank you for your enthusiastic participation, and we ask for your interest until the artwork is applied in the actual game content."
The final winners will be announced on April 29th through the official website of Lost Ark. Detailed information about Lost Ark and the contest can be found on the official website of Lost Ark (http://www.lostark.co.kr).
#Smilegate #Smilegate RPG #Lost ARK #Blockbuster Hack and Slash MMORPG #Lost ARK Art Contest #Lost ARK Game's Favorability #With All RPG Fans
Related Contents