A game character in real life! Interview with Lost Ark cosplayer "…
2020-03-25

There are many ways to enjoy a game. Cosplay is one of the most devoted ways. After a cosplayer chooses a character, it takes about two to three months to prepare and put together a costume. If you don't have a genuine love and passion for games, cosplaying isn't easy to do. We sat down with Lost Ark player and lead cosplayer, "Ozjjang," and discussed Lost Ark and cosplaying.
[Interview] Lost Ark Cosplayer "Ozjjang"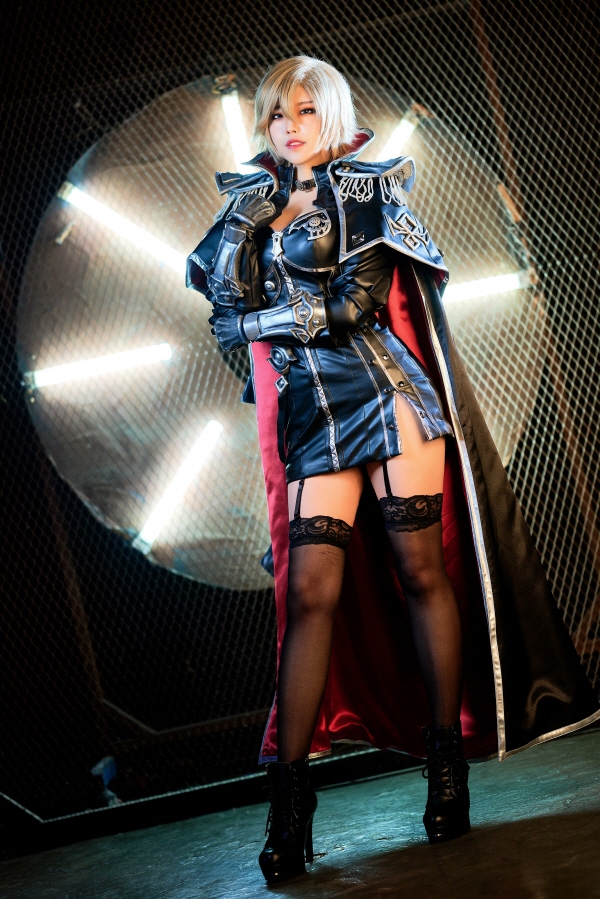 <Lost Ark Lead Cosplayer "Ozjjang">

Q. Please briefly introduce yourself.
I'm "Ozjjang," a Lost Ark player and cosplayer. I really started getting into cosplaying about a year and a half ago. I sometimes broadcast over Twitch as well.
Q. What made you start cosplaying? What is the appeal of cosplay?
When you play a game, you easily come across others cosplaying as the game's characters. I saw other people's work and thought to myself, "I wanna try to express my favorite characters, too!" So that's how I first started cosplaying.
The appeal of cosplay is how I can directly express the character myself. It takes a long time to prepare, but the process itself has its own pleasures. I hunt for the materials, look for places to do photo shoots, and research how to pose.
Q. After you select a character, you produce the costume, choose the photo shoot location, and so on. How does that process work?
Preparing for one character takes about two to three months. I choose the fabric and materials with the costume producer, and I do several fittings until the costume fits just right. Even for the wig, we have to be as detailed as possible to the maker about the reference and direction we want, and then we have to cut the finished wig ourselves to fit the shape of the face. When choosing the location, we have to search for a place that's right for the character, and I do the makeup myself on the day of the shoot. Even after the shoot, it takes some time to apply the effects and adjust the colors.
<"Ozjjang," posing with a costume of the Lost Ark character, "Elizabeth">
Q. What are your personal standards for choosing a character to cosplay?
I choose characters that I think, "Maybe I can express this character in a similar way!" I usually like "fierce women" characters or characters with huge weapons. I choose cutesy characters once in a while though I don't think they fit me well.
Q. You've cosplayed Infighter, Sasha, Elizabeth, and other characters from Lost Ark. What's the next character you want to try?
Right now, I'm preparing for Aman. After that, I want to try Ninave, Adelle, and Black Tooth.
Q. Why did you choose Lost Ark characters as your main cosplay?
Among RPG games, I've been having the most fun playing Lost Ark. Because I've played the game myself, I have a good understanding of the characters, and I think that helps me express them better. I also wanted to share my photos with other players and enjoy them together. More than anything else, each Lost Ark character has a distinct personality, and I love their designs.
<Cosplaying as Lost Ark character, "Infighter">
Q. What is your favorite Lost Ark character? What advantages does Lost Ark have over other games? \
There are so many, but if I have to choose, maybe Sasha, Sillian, Aman, Bastian, Adelle, Federico, and Ninave.
I think Lost Ark's advantages are its story and direction. I started during OBT, and when you get to the main quest, you can see that the direction is tidy but also structured so that players can enjoy playing the game. The solid storyline also plays a big role. I personally love the "Island of Starlight Lighthouse" storyline myself, and when I first started the game, the story sometimes made me cry.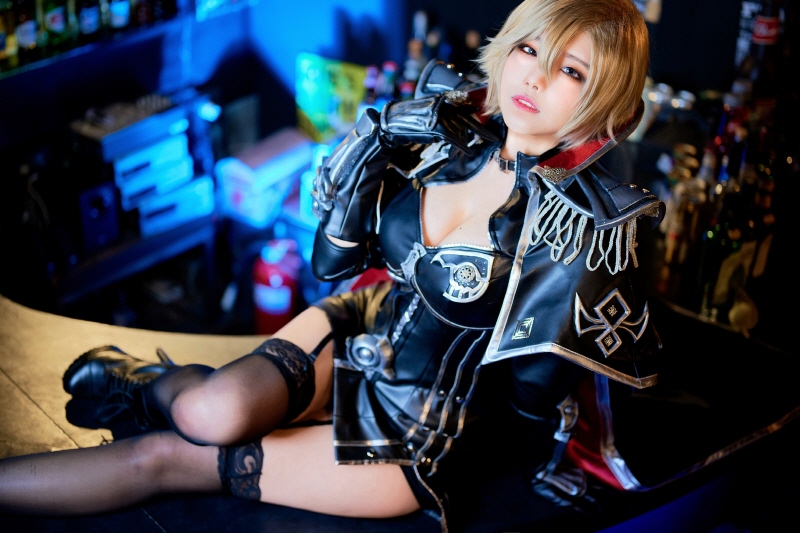 <Cosplaying as Lost Ark character, "Sasha">
Q. What level are you right now in Lost Ark? I'm curious about the server you're in, the class of your main character, and more.
Right now, I'm level 1,225. I've been ranked first in my server before. The server is Lupeon, and I'm enjoying the game as a bard.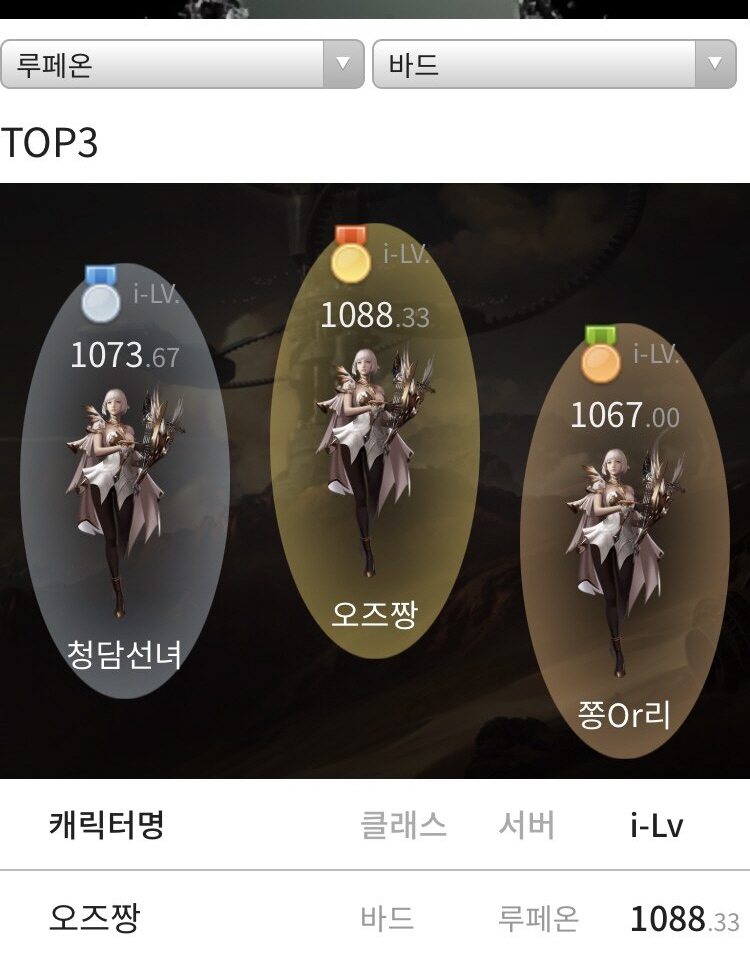 <Screen capture of when she was ranked first in her server>
Q. What was your impression of the Lost Ark players' conference, the Luteran New Year's Gratitude Event, in January?
I had such a great time. It was so much fun because I could enjoy the event with many other players. It would be great if there were more events for players to gather, even if they are small-scale. I think other players might be thinking the same thing.
Q. When was the happiest or most memorable moment for you as a cosplayer?
It was when I just started cosplaying, I got the best cosplay award at a fan art contest for another game. I was very happy because the players recognized how hard I prepared for it.
I always enjoy cosplaying and posing for pictures with players at events. It's a small gesture, but I'm overjoyed when someone in Lost Ark, the game, sends a message to me saying, "I love your cosplay."
Q. Please tell us about any plans or goals for the future.
I want to continue being a cosplayer that gets a lot of love from players for outstanding cosplay. I want to cosplay a lot of other Lost Ark characters and talk to other players about them.

#Smilegate #Smilegate RPG #Lost Ark #Ozjjang #Lost Ark Cosplay #Lost Ark Cosplayer #Game Cosplay #Cosplay model #Elizabeth Cosplay #Infighter Cosplay #Sasha Cosplay
Related Contents