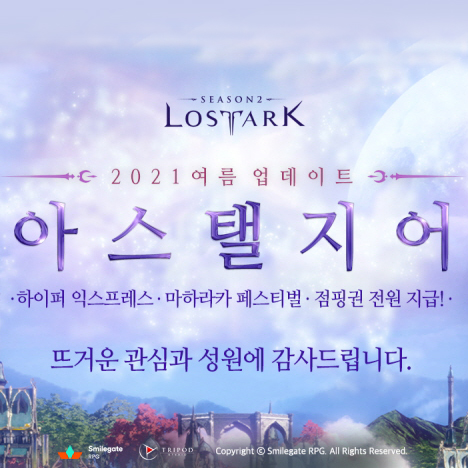 Lost Ark, Large-scale Summer Update "Astalgia" Increases New and Retur…
2021-07-15
■ The number of new, returning, and simultaneous users increase explosively with the "Astalgia" summer update, solidifying its position as the best MMORPG in Korea
■ 456% increase of new users, 404% increase of returning users, and 150% increase of net monthly users compared to the previous month
■ Astalgia update is just beginning… updates to continue until September to accelerate growth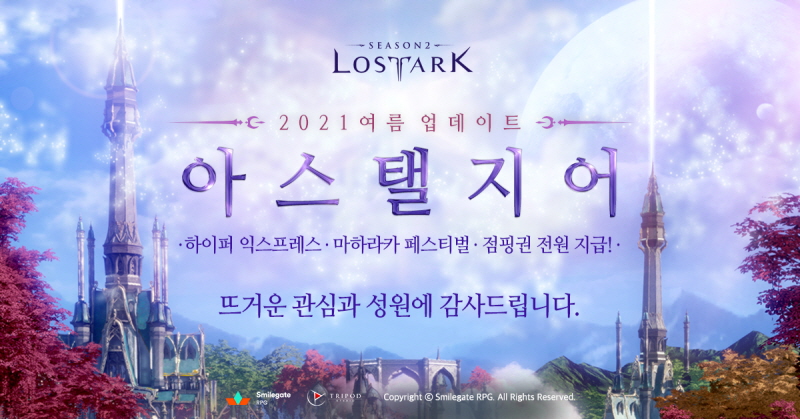 [2021-0714] Smilegate RPG's (CEO Chi, Wongil) MMORPG Lost Ark announced on the 14th (Wednesday) that major indicators have been rising explosively since the large-scale summer update "Astalgia". In particular, the number of new and returning users, number of simultaneous users, and net monthly users have risen significantly, solidifying its position as the best MMORPG in Korea.
Compared to the previous month, Lost Ark saw a significant increase in the number of users and server activity with ▲456% increase in new users, ▲404% increase in returning users, ▲143% increase in simultaneous users, and ▲150% increase in net monthly users, on July 13th. The strong start of the "Astalgia" update has users awaiting further updates until September. Lost Ark is seeing an increase of users whenever it releases new content in 2021.
The upward trend is being led by the 2021 summer update "Astalgia" which started on July 7th. Along with the Astalgia update, the "Hyper Express" event which supports rapid growth for adventurers to challenge commander raids and "Maharaka Festival", a waterpark themed summer event are also receiving attention. In addition, "Story Express" which enables rapid growth by enjoying Lost Ark's story, various summer events featuring 35 decorative items, and the social contribution campaign "Maharaka's Tree of Happiness" are also featured.
The popularity of Lost Ark is rising in PC rooms as well. On July 13th, PC room research company Gametrics found that Lost Ark is being played by more than 5% of PC room users, ranking 1st among MMORPG genres and Top 5 overall.
Lost Ark plans to introduce new content sequentially from July to September, during the summer vacation period in accordance with the Astalgia update roadmap to accelerate growth. Currently, there are about 20 new contents scheduled for update on the official website. In particular, "General of the demon army, Abrelshud" which is expected to showcase the most spectacular combat production in Lost Ark, is waiting for its update on July 28th. A new magician class, "Sorceress", will be unveiled on August 11th as well.
Smilegate RPG CEO Chi, Wongil said, "The Lost Ark development team is working hard to provide better content to show gratitude for the support from adventurers. We appreciate it and feel more responsibility. The summer update "Astalgia" is just beginning. I encourage you to make happy memories with Lost Ark this summer".
For more information on Lost Ark, visit the official website at (http://www.lostark.co.kr).
#Smilegate #Smilegate RPG #Blockbuster Hack and Slash MMORPG #Lost Ark #Summer Update #Astalgia #Hyper Express #Maharaka Festival #Increased Returning Users
Related Contents