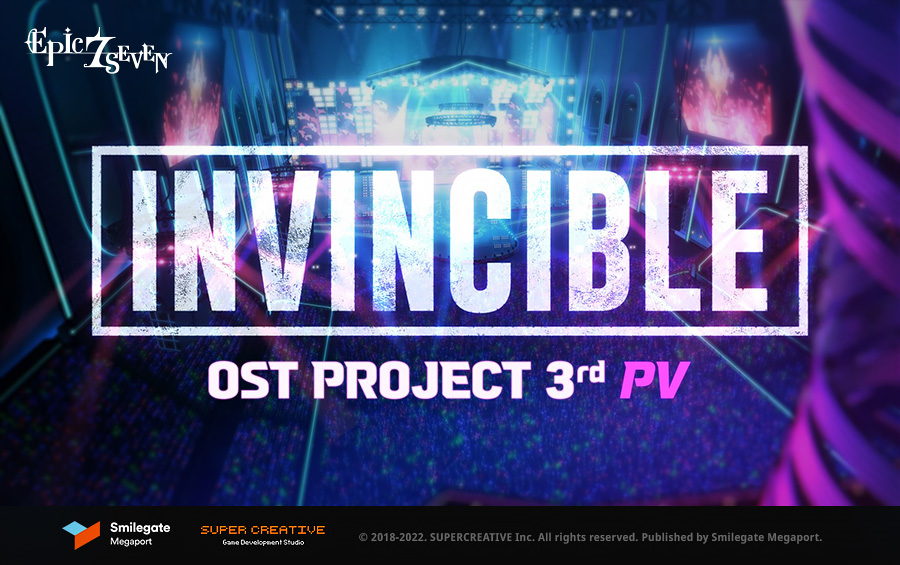 Epic Seven Unveils Promotion Video for Global Esports Tournament E7WC …
2022-07-05
■ A promotion video produced with high-quality animation and the main theme music of E7WC 2022, 'INVINCIBLE' by YB Band, was revealed on June 28.
■ A majestic band performance featuring the Chaos Sect Band, a heavy metal band in the world of Epic Seven, and brilliant battle scenes are expected to draw a positive response from Epic Seven fans at the tournament.
Global hit mobile RPG Epic Seven, developed by Super Creative (Co-CEOs Hyung-seok Kim and Ki-hyun Kang) and serviced by Smilegate Megaport (CEO Ina Jang), has announced the release of a promotional video for the Esports festival Epic Seven World Arena Championship 2022 (hereinafter referred to as E7WC 2022) on July 1 (Fri).
This promotional video uses the main theme music of E7WC 2022, 'INVINCIBLE' by YB Band, which was unveiled on June 28, as the background music and features the Chaos Sect Band, a heavy metal band in the world of Epic Seven. The Chaos Sect Band features drummer Chaos Sect Axe, bass guitarist and vocalist Chaos Butcher Corps Inquisitor, and guitarist zealot Carmainerose. The band started out as villains worshipping the evil 'God of Chaos,' but they are now heroes trying to find their true selves through their inherent spirit of perseverance and friendship between members.
The video features a high-quality animation portraying a majestic band performance and a brilliant battle scene that blend with the voice of Do-hyun Yoon, vocalist for 'INVINCIBLE'. The tension and excitement of the fierce real-time arena esports tournament are delivered to the fans of Epic Seven through this video.
This promotion video is accessible to the public on Epic Seven's official YouTube channel and Twitch channel.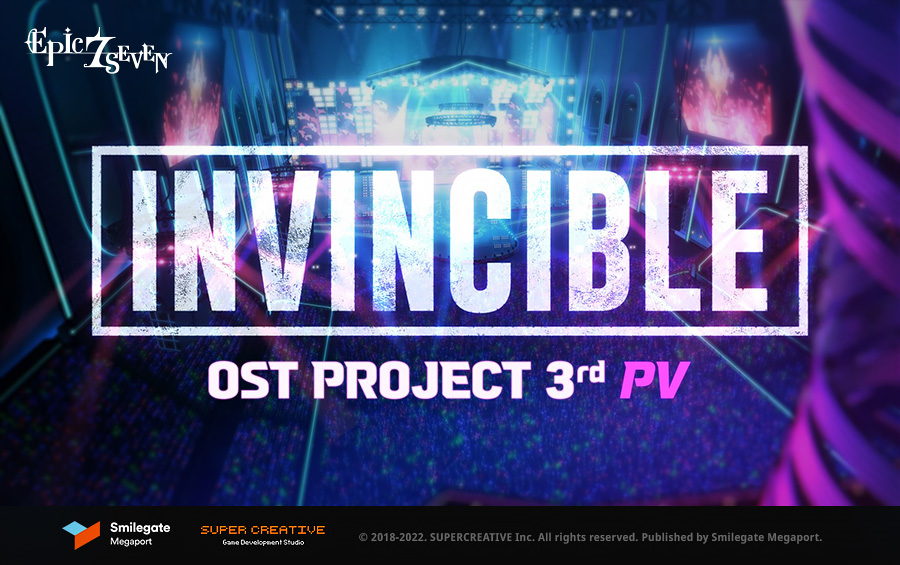 Meanwhile, E7WC is a global esports tournament with a total prize pool of 100,000 USD, where Epic Seven users worldwide compete to win in a real-time arena. This tournament will provide even more entertainment through the implementation of the observer system, which allows viewers to see all information on players and matches, and a broadcast relay system integrated with XR (extended reality) and AR (augmented reality) technologies. This event is expected to be the greatest summer festival for Epic Seven fans worldwide. Smilegate Megaport is also planning to host user events with even more benefits to elevate the festive mood of E7WC 2022.
Smilegate Department Head Jae-hoon Jeong stated, "We have selected the heavy metal group in the game, Chaos Sect Band, as the main characters of the video to go along with the mood set by the theme music of YB Band. We hope that many people watch the promotional video, since it was produced as a high-quality animation suitable for Epic Seven."
Visit the official community (http://page.onstove.com/epicseven/) and official YouTube channel (https://www.youtube.com/channel/UC4dV8Fy1GiqjxU4OQ6ZoKWw) for more information on Epic Seven.
Related Contents