■ WCG 2019 Xi'an selected as a top esports activation campaign with Dota 2 TI; wins silver award
■ WCG 2019 wins various international design and marketing awards at Eventex Awards, Spark Awards, A' Design Award, and IBDA.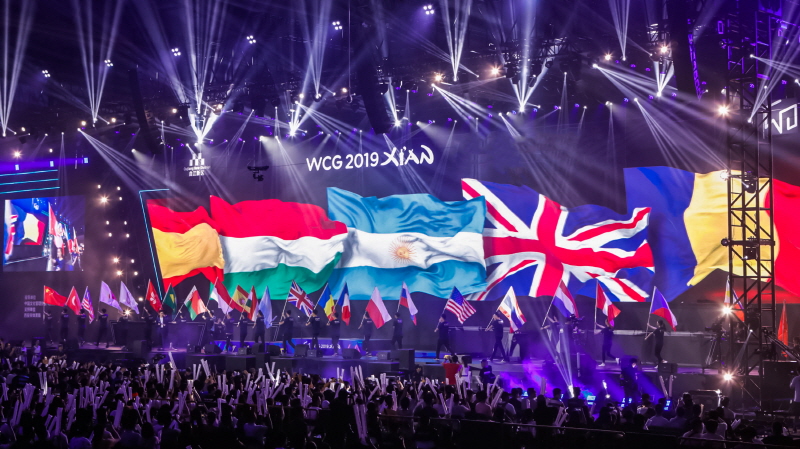 <WCG 2019 Xi'an Opening Ceremony>
[2020-0630] WCG Co., Ltd. (Co-CEOs Seo Tae Geon and Lee Jung Jun, ) announced that WCG 2019 Xi'an was selected as the silver winner at the EX Awards in the Best Esports Activation category.
The prominent North American marketing magazine Event Marketer announced the results of the EX Awards, held to recognize the best marketing campaigns. The awards committee picked three winners per category in May and, on June 23, announced the final Ex winners, gold winners and silver winners.
WCG won the silver at the EX Awards in the Best Esports Activation category. The gold went to The International Dota 2 Championships 2019, presented by Valve.
WCG 2019 Xi'an was also recognized for its innovativeness at numerous other international marketing and design awards, such as the Eventex Awards, Spark Awards, A' Design Award and Competition, and IBDA.
Last year, WCG 2019 Xi'an welcomed a total of 40,000 players from 111 countries and 120,000 onsite spectators and recorded about 200 million online broadcast views. These high numbers set a new standard for the digital gaming platform, as WCG simultaneously celebrated its resurrection after a six-year hiatus. In sharp contrast to the recent trend of single-title tournaments, the WCG brought back popularity to international multi-game tournaments, featuring teams from various countries and continents.
WCG co-CEO Seo Tae Geon commented, "I am very excited to see the WCG be recognized by numerous esports fans and organizations on a global level. We will continue to work hard to come up with various contents for this future-oriented entertainment festival that all generations can enjoy together, by focusing on esports."
Meanwhile, the WCG is preparing for another revolutionary event with this year's WCG 2020 tournament; announcements regarding the event are expected soon.
#Smilegate #WCG #WCG 2019 Xi'an #EX Awards #Eventex #Spark Awards #A' Design Award #IBDA #International Marketing Awards #eSports
Related Contents