Smilegate "LOST ARK" Yearend User Surge as a Result of Grand Winter Ev…
2022-01-07
■ New users increased by 545 percent and returning users by 499 percent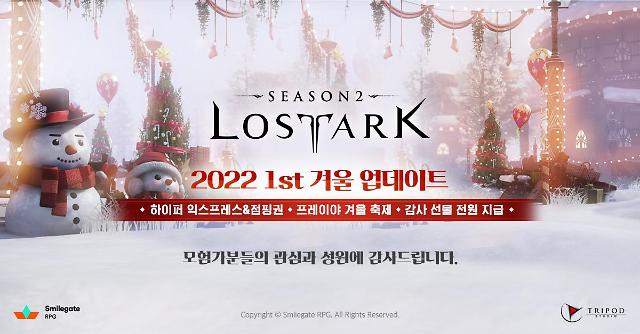 Smilegate RPG's PC MMORPG (massively multiplayer online role-playing game) LOST ARK is on the rise following the "LOA ON WINTER" festival and its grand winter event.
Smilegate RPG announced on the 29th a 545 percent increase in new users and a 499 percent increase in returning users compared to the previous week in the first weekend on the 26th after the start of a grand LOST ARK winter event.
The number of daily users increased by 135 percent, the number of monthly net users increased by 116 percent, and the maximum number of concurrent users was recorded at 230,000. Some servers experienced login queues as a result of the sheer number of users.
Smilegate RPG plans to showcase massive content updates including the reveal of Rowen, a new continent where "large-scale factional battles (RVR)" will take place, as well as a new "Artist" class in January of next year that utilizes a brush and canvas in battles.
Director Keum Kang-seon, who oversees the development of LOST ARK, made a surprise appearance through in-game notifications in real time last Christmas Eve on the 24th, drawing attention by offering new memories to adventurers.
On this day, Director Keum Kang-seon gave a Christmas greeting and revealed rewards for the 258 adventurers with daily attendance since the launch, as well as delivered news regarding announcements made at LOA ON WINTER including the update schedule for the new Elgasia and the promise to update visuals for the Warrior class.
Smilegate RPG CEO Ji Won-gil said, "We sincerely thank all adventurers for giving LOST ARK the best year," and that "we will always remember this sentiment and do our best to create a more fun MMORPG with our adventurers."
Related Contents