■ The 3rd leader of the commander raid receives update with differentiated battle effects
■ "Pop-up book" style map, various "mini games", evolution of Lost Ark style raids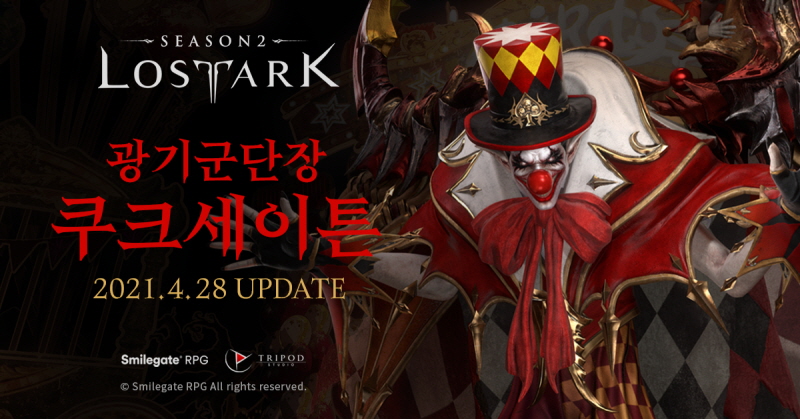 [2021-0428] Smilegate RPG's (CEO Chi Wongil) hack & slash MMORPG Lost Ark announced on the 28th (Wednesday) that it has officially updated its new commander raid "Kouku-Saton".
Kouku-Saton is the third commander raid showcased following "Baltan" and "Biackiss". He is the leader of the "Insanity Legion" in Lost Ark who is reminiscent of a clown from hell. Behind his humorous speech and playfulness, he schemes meticulously to put adventurers in trouble. This characteristic of Kouku-Saton is reflected in the overall design of this raid, enabling a heightened sense of immersion.
The Kouku-Saton raid happens at "Midnight Circus". It is a 4-person raid that showcases different battle effects through the "pop-up book" terrain and "circus" theme. It is also interesting to see the special battle pattern unique to the Kouku-Saton raid which includes "mini-games". Various mini-games such as ▲ Dance mini-games, ▲ Roulette pattern matching, ▲ Horizontal scroll play, and ▲ Card maze escape provide a unique experience with changing camera angles and character transformation into clowns. Each mini-game requires a strategic approach because cooperation is a key element in defeating Kouku-Saton.
A "insanity gauge" system was introduced. It is important to maintain the gauge at an appropriate level because it does have various effects on gameplay. If the gauge reaches a 100%, Kouku-Saton turns into a doll of insanity for 20 seconds enabling attacks on allies. In the Kouku-Saton raid, three esthers Ninav, Way, and Inanna help the adventurers. Esthers can deal damage to the enemy, protect allies, and be used by the party leader for advantage.
The new "rehearsal" mode is receiving praise from adventurers. It is a mode where adventurers can build experience by playing the Kouku-Saton raid at low difficulty. You do not have to use your "chance to enter the commander raid" and the minimum item level is lowered to 1385 from 1475. We expect many adventurers who are not yet used to Lost Ark or uncomfortable with high difficulty to utilize this mode.
Smilegate RPG CEO Chi Wongil said "I am happy to officially introduce "Kouku-Saton" in the commander raid. You will be able to experience hack and slash battles and mini-games at the same time, only in Lost Ark".
For more information about Lost Ark, visit Lost Ark's official website (http://www.lostark.co.kr)
#Smilegate #Smilegate RPG #Blockbuster Hack and Slash MMORPG #Lost Ark #Insanity Legion Leader Kouku-Saton #Midnight Circus #Insanity Gauge #New Rehearsal Mode
Related Contents