Fun Beyond Imagination, K-Collaboration
2021-04-27
"That's a must buy!"
Collaborations between companies with no apparent links are stimulating people's desire to buy. Collaborations such as shoe polish with beer, digestive medicine with clothes, and best-selling books with convenience stores have become a hot topic, taking a toll on people's wallets.
Collaborations present customers of a company with a new and different image, attracting attention and new customers. Let's take a look at some brand collaborations that people are crazy about.

<Malpyo beer, Guess Whal Myung Su, "I Want to Die But I Want to Eat Tteokpokki" tteokpokki>
(Source: Squeeze Brewery homepage, Guess Korea homepage, CU Instagram)
| Gompyo's polar bear universe
The image that comes to mind when you hear "Gompyo" was flour. Daehan Flour Co.'s Gompyo flour is sometimes used to make Korean pancakes. Gompyo has since become an indispensable brand when it comes to trendy collaborations. Gompyo opened the "Gompyo-Retro House" and started the collaboration relay as a result of the retro craze.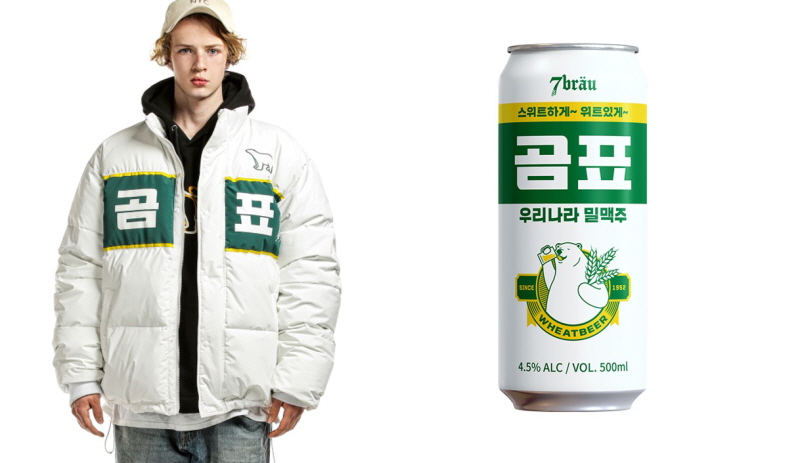 <Padded jacket collaboration between the online shopping mall 4XR and Gompyo (left). Wheat beer collaboration between 7brau and Gompyo (right).
(Source: 4XR homepage, Gompyo bakery homepage)
Gompyo introduced various products with its unique retro design and polar bear character. Among many collaborations, Gompyo clothing with the online shopping mall 4XR was very popular. From polar bear padded jackets, sweatshirts, to hoodies, all sold out. The Gompyo wheat beer also had many people waiting for its release. It was featured on famous entertainment programs and many people searched convenience stores to buy them for a while.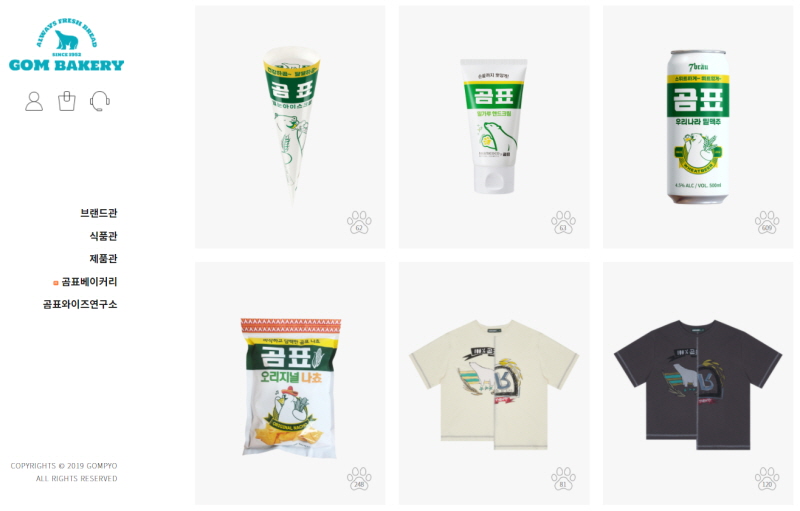 <Gompyo bakery products (Source: Gompyo bakery)>
The beauty of Gompyo collaborations is in unexpectedness. Who would have thought that someone would wear a T-shirt with the flour brand "Gompyo" on it? Gompyo has continued its collaborations with the cosmetic brand Swanicoco for flour foundation cushions and Gompyo popcorn with CJ CGV. The craze about Gompyo's collaboration is still going on strong today.
| Hite Jinro's toad in the ranks of favorite characters
A blue wave has hit the previously green bottle dominated liquor industry. In 2019, Hite Jinro re-launched its soju with the slogan "Jinro is back". It re-released products from the past based on consumer feedback and the newtro trend. The main point that captivated consumers as much as the vibrant color was the chubby blue toad character.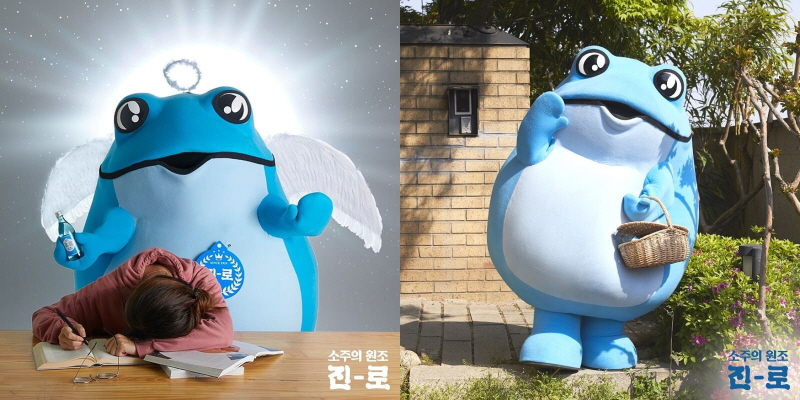 <Instagram content of the toad character (Source: Jinro Instagram)>
Jinro's toad captivated customers with its active Instagram. It appears in everyday situations which creates a sense of friendliness. It was like watching a vlog of the toad. In addition, Chamisul released the poster of its model IU's new song "Celebrity", and remakes of <Girl with a Pearl Earring> and <The Scream>.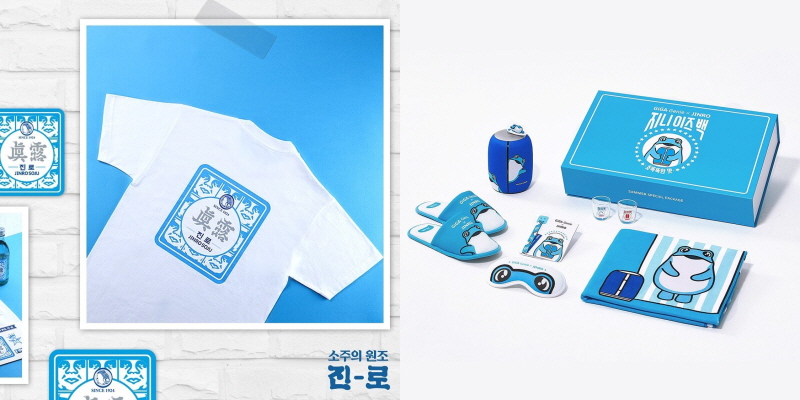 <Collaboration between the fashion brand OBEY and Jinro (left). Collaboration between KT GiGA Genie and Jinro (right)>
(Source: Jinro Instagram, GiGA Genie Instagram)
It continues to unveil a variety of products, including a T-shirt collaboration with the global brand OBEY, a limited-edition package collaboration with KT GiGA Genie, and a limited-edition ramen collaboration with Samyang Food's Buldak noodles. No one expected such collaborations with the character of a liquor company. Recently, the company opened an offline pop-up store called "Toad House" and sold many toad goods. The toad has become a favorite character to some people and will continue to do new collaborations.
| How can you be so adorable? Lost Ark Mokoko
Collaborations have hit the game industry as well. Smilegate RPG MMORPG Lost Ark has drawn the attention of its users through collaboration. Lost Ark's cute mascot Mokoko is the reason.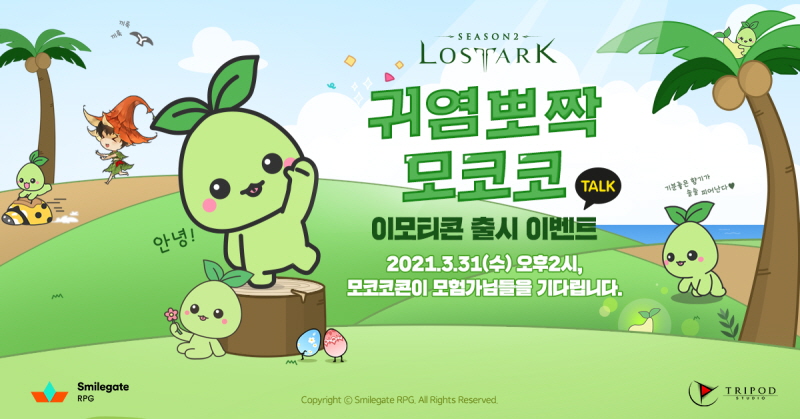 <Mokoko emoticon launch event>
Mokoko is a character inspired from Mokoko Seeds hidden in the vast map of Lost Ark. The short green character with cute eyes has users captivated.
Lost Ark held a free giveaway event of "Cute Mokoko" Kakao emoticons. They gave away 50,000 emoticons, 20,000 more than previously planned due to its popularity. Lost Ark is continuing various brand collaborations with its character, Mokoko.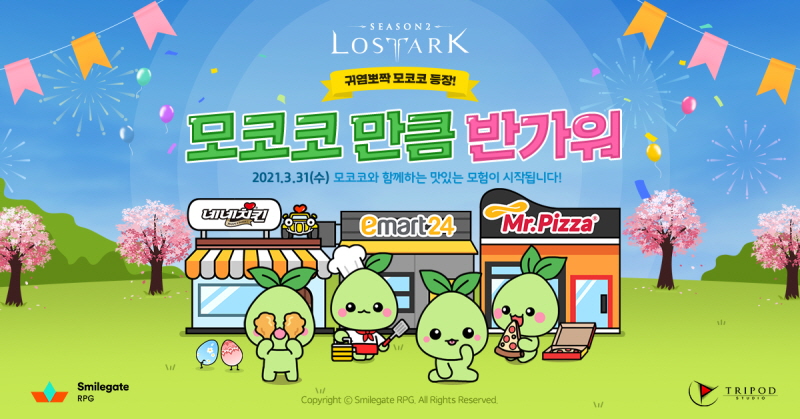 <Lost Ark mascot Mokoko collaboration event "Happy as Mokoko to see you">
Collaborations with Mokoko are named "Happy as Mokoko to see you". It holds more meaning because it is Lost Ark's first time collaborating with other brands since its launch.
Collaboration with Nene Chicken "Mokoko x Chili Mayo chicken set" consists of chili mayo chicken, Nene condensed milk balls, a 1.25L drink, and a "Lost Ark special coupon". Users can earn currency in the game by entering in the coupon code on Lost Ark's official website. On the special island of "Mokomoko Night Market" you can enjoy various events with the NPC "Mogobaba". You can exchange the "Mokomoko coupon" earned through events for "Night market secret powder" which can be used to make collaboration items.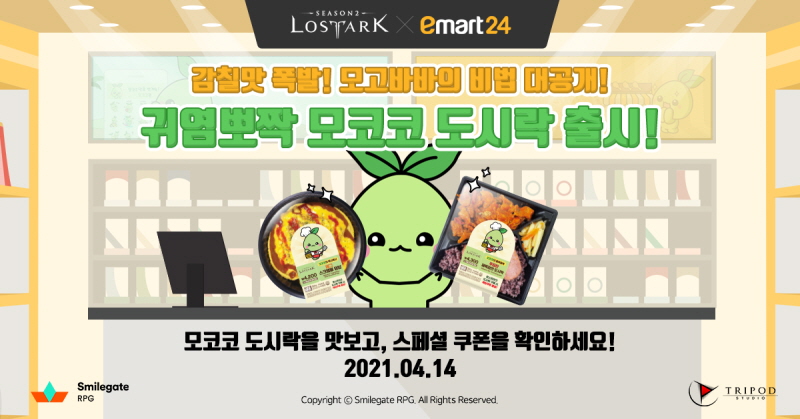 <Lost Ark x Emart 24 collaboration "Mokoko lunchbox">
Emart 24 has released two kinds of "Mokoko lunchboxes". One lunchbox is the "fluffy egg scramble rice" and the other is a "Pork dinner" lunchbox. You are given a "Lost Ark special coupon" when you purchase the lunchbox at Emart 24 convenience stores.
In addition, they also had a "Enjoy your dinner!" event. If you make the "Dinner: Mokoko Emart 24 lunchbox" at the expedition site in the game, you are entered to win an "E-Mart 24 Gift Card", a "Mokoko Silicon Mood Light", the "NEW Toto Moss Cushion", and a "Lost Ark Gaming Pad".
Lost Ark is continuing its efforts to enable users to enjoy collaboration content and releasing related content within the game. Stay tuned for a collaboration with Mr. Pizza and Mokoko in the future.
Collaborations that bring novelty, joy, and even a fan base will continue. Starting with Mokoko, Smilegate will try different collaborations with other characters within Lost Ark in hopes to make it an even more beloved IP.
| Character K-Collaboration, Smilegate partakes!
Collaborations that bring novelty, joy, and even a fan base will continue. Starting with Mokoko, Smilegate will try different collaborations with other characters within Lost Ark in hopes to make it an even more beloved IP.
EDITOR's COMMENT
#Lost Ark
Lost Ark, developed and serviced by Smilegate RPG on November 7th, 2018, is a blockbuster hack and slash MMORPG. It is a masterpiece PC MMORPG game that invested about 100 billion won for a total development period of about seven years, which maximizes the pleasure of mob hunting with high-quality visuals and a unique battle system (Tripod).
It had over 350,000 simultaneous users within a week of its launch and has a variety of fun elements including a vast view of the world across Eastern and Western cultures, in-game production that changes environmental elements according to users' actions, and a dungeon with cinematic elements. Major awards include the 2019 Korea Game Awards Grand Prize and the 2018 G-RANK Seoul Grand Prize.
#Smilegate #Smilegate RPG #Lost Ark #Mokoko #Brand Collaboration #Collaboration #Gompyo Beer #Jinro Toad #Lost Ark Mokoko #Mokoko Emoticons #Mokoko Collaboration
Related Contents