WCG, More Than Just a Game Competition!
2019-08-01
The famous festival was full of entertainment. WCG (World Cyber Games), revived for the first time in six years, had many people excited even before its commencement. The WCG 2019 Xi'an, held in Xi'an, China from July 18th to the 21st, proved its popularity by attracting more than 120,000 people around the world.
WCG 2019 Xi'an has opened up participation to people of all ages and expanded the scope of events while maintaining the identity of a traditional e-sports festival. It has become a digital entertainment festival that includes amateur e-sports players as well as children for creative expression.
​ 
| Rebirth of the one and only, global game Olympics
WCG's "Game Olympics" differs from other e-sports competitions in that it is a national competition. It also features a wide variety of games from various companies. The chosen game companies benefit by attracting gamers and WCG benefits by successfully carrying out the competition. There are no restrictions on who can participate. Anyone who enjoys gaming can take part in the competition.

In this year's preliminary rounds, a record-setting number of more than 40,000 players from 111 countries participated. In the finals, 506 players from 34 countries competed fiercely. Teams competed in a total of six categories (Dota 2, Honor of Kings, Warcraft 3, CROSSFIRE, Clash Royale, and Hearthstone). In the six categories, China placed 1st overall with four gold medals, three silver medals, and three bronze medals, followed by the United States with one gold medal and one silver medal. Hungary came in 3rd place with one gold medal.

<Player Jang, Jae-ho, who won the bronze medal in the "Warcraft 3" category>

<Player Cho Sung-joo, who won the gold medal in the special match of "Starcraft 2">
South Korea ranked 6th overall, with Jang Jae-ho winning the bronze medal in the "Warcraft 3" match. In addition to the official events, Cho Sung-joo won the "StarCraft 2" special match and continued the winning streak of Korea in the WCG StarCraft matches.

| A glimpse into the future of e-sports
"It's e-sports now, but over time the letter 'e' could drop and become sport.

We will continue to develop new areas that incorporate new technologies such as VR, AR, and robots."

WCG CEO Lee Jung Jun
WCG introduced the New Horizons category that incorporates new technologies into e-sports. It has differentiated itself from previous WCGs in introducing new possibilities of gaming, the "New Horizon".
This year's New Horizons category includes ▲"VR Championship" using the VR game Final Assault, ▲"AI Masters" a 5:5 AI robot soccer match based on robot simulators, ▲"Robot Fighting Championship" using motion controllers, and ▲"Scratch Creative Challenge" using the coding program Scratch.

<VR Championship>
The VR Championship was held with "Final Assault", a World War II simulation game. WCG developed an observation system for VR e-sports and robot competitions. Spectators were able to become immersed into the game by watching the movements of players and units through a large screen.

<Robot Fighting Championship>
The Robot Fighting Championship was a game where the players controlled their robots with sensors and joysticks attached to their arms and legs, resembling the movie "Real Steel." Due to the physicality of the game, player uniforms were soaked with sweat after every game. These sports utilizing new IT technology showed us their possibility of developing into a new future sport.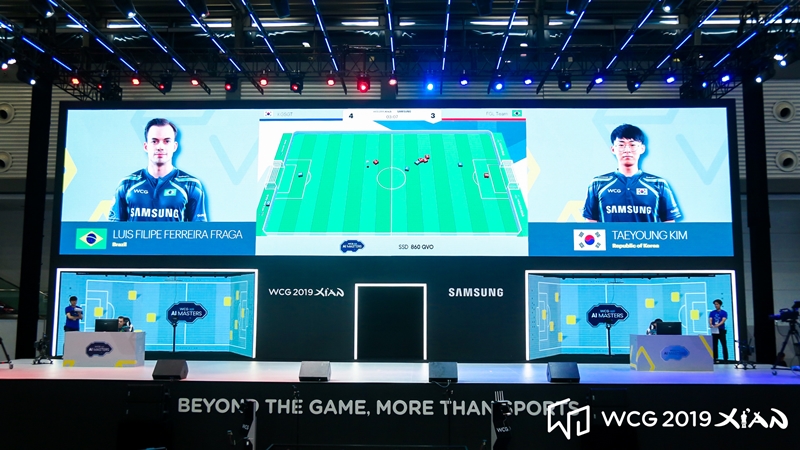 <AI Masters>
AI Masters held a 5:5 AI soccer team match with futsal rules. WCG collaborated with KAIST to develop an AI soccer game simulator and online deep learning environments.

<Scratch Creative Challenge>
The Scratch Creative Challenge was a block coding program competition utilizing Scratch 3.0 and the LEGO education kit. A total of 60 students from Xi'an's elementary and middle schools were invited to create their own creations. MIT Media Lab's Professor Mitchel Resnick, the creator of Scratch, visited the event and taught Chinese children how to use Scratch.
WCG's New Horizons category will continue to discover new areas to expand further.
| Talks of the future game industry featuring AI and VR
WCG 2019 Xi'an prepared a stage for leading experts in the future game industry to present on topics and share information through TED conferences and e-sports conferences.
The first TED conference held in China, "Level Up," added depth to the WCG 2019 Xi'an event. Under the theme "Technology as an extension of the physical body", the speakers gave lectures on how robots and wearable devices can change the world and the ability to "level up" to a better world through games. Their lectures were broadcasted live for the first time in TED's history, sending their messages to fans around the world.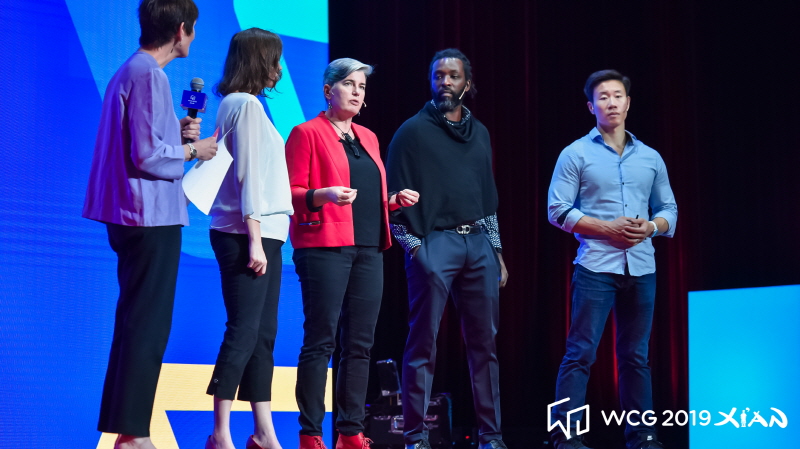 The WCG e-sports conference was also held. Leading experts in the global e-sports industry took the stage to discuss the current and future trends and direction of e-sports.
Additionally, WCG 2019 Xi'an held a variety of events, including a cosplay contest and a cosplay music festival, available for anyone to participate in freely.
The WCG cosplay contest was attended by eight Chinese cosplayer teams that advanced through the preliminary rounds and showed impressive performances. 15 judges from various nationalities including South Korea, Germany, and Mexico gave out gold, silver, and bronze medals.
<Cosplay contest>
This event was followed up by the Cosplay Music Festival with global DJs Jeffrey Sutorius, Chace, and Tsunano. It was an interesting sight to have an EDM music festival where the audience were dressed up in cosplay.

<Cosplay Music Festival>
In addition, booths where people could try VR games like "FOCUS on YOU" and "Logan", as well as photo spot missions for prizes, aka "Sticky Rally", were provided to visitors.

WCG made an outstanding return in six years with more excitement and technology. We can't help but wonder what this encompassing festival will look like next year.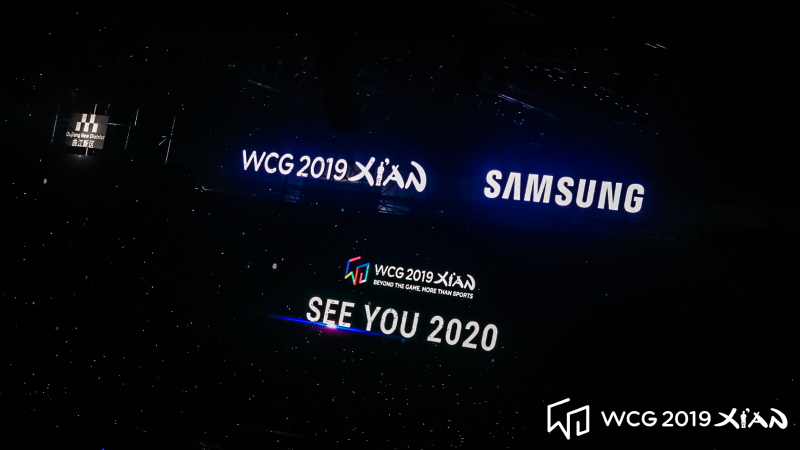 EDITOR's COMMENT
#E-sports is the new symbol of the K-wave
WCG started in 2000 and ended in 2013 to everyone's disappointment. Smilegate Group took over WCG and revived it into a global e-sports event with a new model. WCG is preparing a festival where people can interact and enjoy the core values of "honorable competition, evolution into the future, sharing experience, and pleasant solidarity". The WCG 2019 Xi'an will be held in Xi'an, China from July 18th to the 21st.
*WCG 홈페이지: http://www.wcg.com/
#Smilegate #WCG #WCG 2019 #WCG 2019 Xi'an #New Horizon #TED Level Up #First TED in China #E-sports #Game Olympics
Related Contents