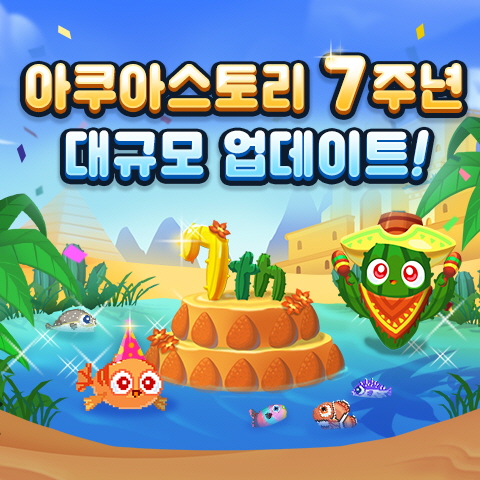 SundayToz "Aqua Story", Massive 7th Anniversary Update
2021-07-22
※ This article was written on July 22nd, 2021
■ "Aqua Story" showcases new fish, decorations, and items for its 7th anniversary
■ Introduces "dot eggs" for the first time, 7 kinds of fish with pixel graphics will add to the fun of collecting and nurturing
■ "Aqua Story" will host the 7th anniversary event until the 31st featuring various discounts

[2021-0722] SundayToz (CEO Kim Jeong Sub, www.sundaytoz.com) announced on the 22nd that it will hold massive updates and events to commemorate the 7th anniversary of the mobile game "Aqua Story".
This update will showcase new decorations, backgrounds, and contents to its users. Dolphin, a popular fish, will appear as the "7th anniversary Dolphin" wearing a ribbon to commemorate the anniversary for a week. Also, the 7th anniversary background and decorations, will include pyramids, oasis, and cactus to portray a desert theme which will add to the excitement of fish tank decoration.
The new appearance of fish using pixel graphics to commemorate the anniversary of "Aqua Story" is welcomed by users. The new fish portrayed by pixel graphics can be obtained by hatching "dot eggs". There is a total of 7 new fish available including mullet, sunfish, blobfish among others. These fish are the rarest and highest in grade which will add to the popularity of collecting them. In addition, new item updates such as "Experience potion gold", "Poseidon egg pick-up card", item discounts, and special events will continue until the 31st.
SundayToz staff said, "We prepared this update to thank the users who have enjoyed the game for the last 7 years. We will continue to provide suitable service to the long-lived game".
"Aqua Story" started as a casual PC social network game in 2010 and put SundayToz on the map. In 2014, they introduced the mobile version of "Aqua Story" and has since become a popular and long-lived game of SundayToz.
#Smilegate #SundayToz #Aqua Story #Mobile Game #Massive Update #7th Anniversary Dolphin #Dot Eggs #Decoration
Related Contents