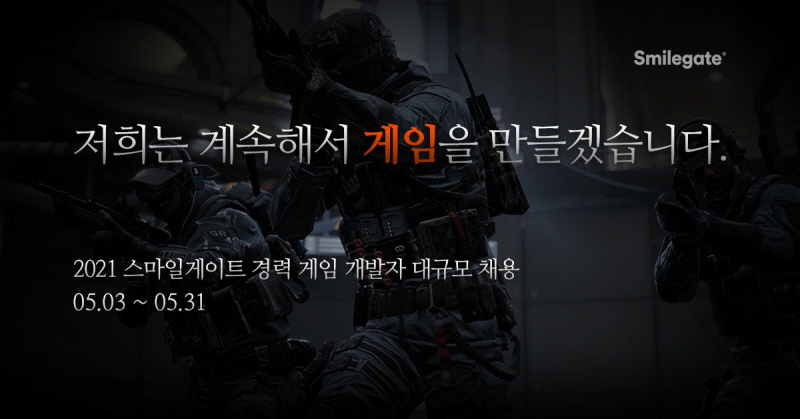 Smilegate Group launches 2021 large-scale open recruitment of experien…
2021-05-03
■ Open recruitment for 500 experienced game developers, the largest since its founding. Securing development competitiveness as a global IP powerhouse
■ Various information will be provided via the website, real-time recruitment inquiry chatbot, etc.
■ Intensive recruitment period from May 3 to 31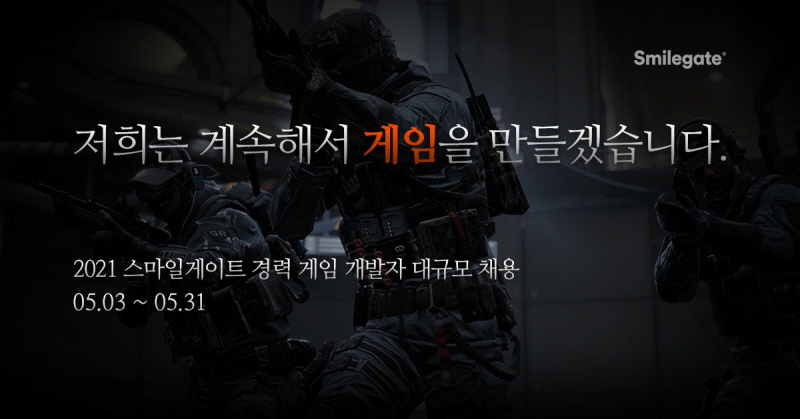 [2021-0503] The Smilegate Group, which has established itself as a global IP leader, begins large-scale open recruitment of game developers to recruit competent game developers who will lead the cultural contents industry of the future.
This open recruitment is to employ 500 developers which is the largest scale since the founding of the Smilegate group. In particular, the recruitment job is in the game development sector, and Smilegate plans to focus on securing development competitiveness to lead the global game market.
Recruiting affiliates are ▲Smilegate Entertainment, ▲Smilegate Megaport, and ▲SmileGate RPG, which will recruit across all areas of development, including ▲graphics, ▲game design ▲servers, ▲clients, and ▲PM (project manager). From May 3 to 31, the intensive recruitment period, detailed information on Smilegate group and this open recruitment will be provided through a separate recruitment information page. You can also check interview videos of current employees on this page and open a "real-time recruitment inquiry chatbot" to solve your questions instantly. Smilegate continues to recruit competent developers through steady hiring after May 31.
Smilegate Group is a global company engaged in various businesses across the cultural contents industry to become a global IP prestige. Smilegate hold a solid game IP line such as 'Crossfire', the world's no.1 FPS franchise with 1 billion subscribers globally, Korea's representative MMORPG 'Lost Ark', and the global hit mobile game 'Epic Seven'. With such strong IPs, sales of Smilegate last year surpassed 1 trillion KRW and emerged as a representative cultural content export company in Korea. In 2021, CrossFire IP's first console title, 'Crossfire X', will be released globally with Microsoft Xbox and Lost Ark to start its global service, which will be another year of a giant leap for Smilegate.
Smilegate is also striving to establish a systematic welfare system so that developers can focus solely on development and create a pleasing working environment. The signature example is the children's daycare center 'Smile Tory', equipped with the industry's best facilities, to solve employees' parenting concerns. Also, Smilegate operated various in-house programs such as the 'Creative Challengers League', which support the creative activities of developers. The 'Creative Challengers League' is a unique program of Smilegate where developers can freely create games and services based on the ideas they have usually envisioned and improve skills. The company fully supports this annual program. Moreover, employees are given 'welfare points' for personal hobbies and self-development, and the company also supports 'in-house club' activities.
Recently, Smilegate revealed its roadmap to emerge in the global AAA console market, a new call for a Korean company, and its aim to win the most' Game of the Year' awards. To this end, Smilegate established Smilegate Barcelona and recruited the developers who led the works such as 'Perfect Dark' and 'Horizon Zero Dawn', which all got compliments by critics and users, as well as box office. Smilegate Barcelona plans to present a whole new game that has never been made, and as a developer of Smilegate, you can get a chance to involve in such projects and work with high-profile developers.
In addition to this open recruitment, Smilegate is constantly hiring experienced talents in various jobs and is actively conducting multiple projects to discover new growth engines. In May, recruitment of 'job experiencing internship' will be open for university students who wish to work in the cultural contents industry, a chance for them to work closely with field workers.
Smilegate expects that many competent developers who want to realize their dreams on the global stage will apply for this open recruitment, the largest since its inception. The company plans to do its best to secure global development competitiveness through recruitment.
For more information on the Smilegate open recruitment, visit the open recruitment website(http://smilegate-recruit.co.kr/) and Smilegate's recruitment page (https://www.smilegate.com/).
#Smilegate #Smilegate group #open recruitment of large-scale game developers #real-time recruitment inquiry chatbot #job experience-based internship
Related Contents