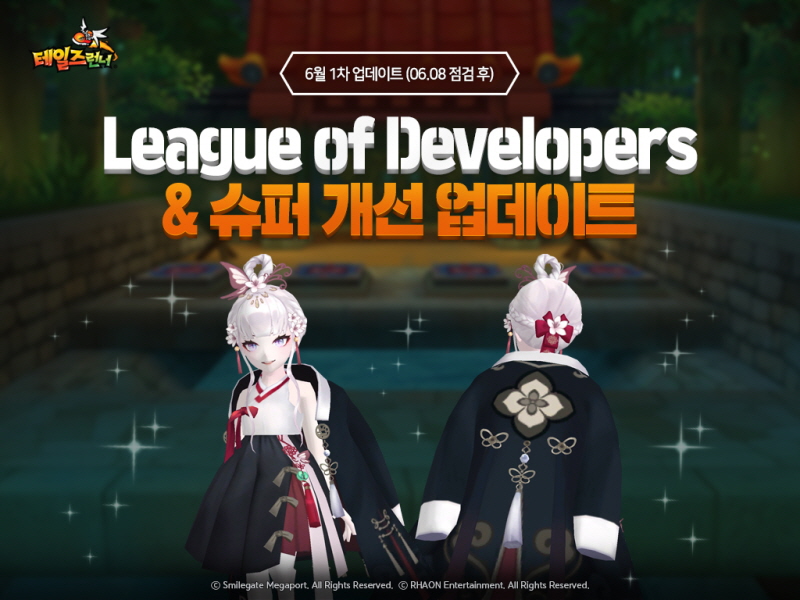 Smilegate "Tales Runner", "Developer Rainbow League" Update!
2021-06-09
※ The article was written on June 6th, 2021
■ Intense competition through the 7th of next month, 30 kinds of developer maps!
■ 2 friendly leagues, 5 competitive leagues, a total of 7 ranks, and rewards according to rank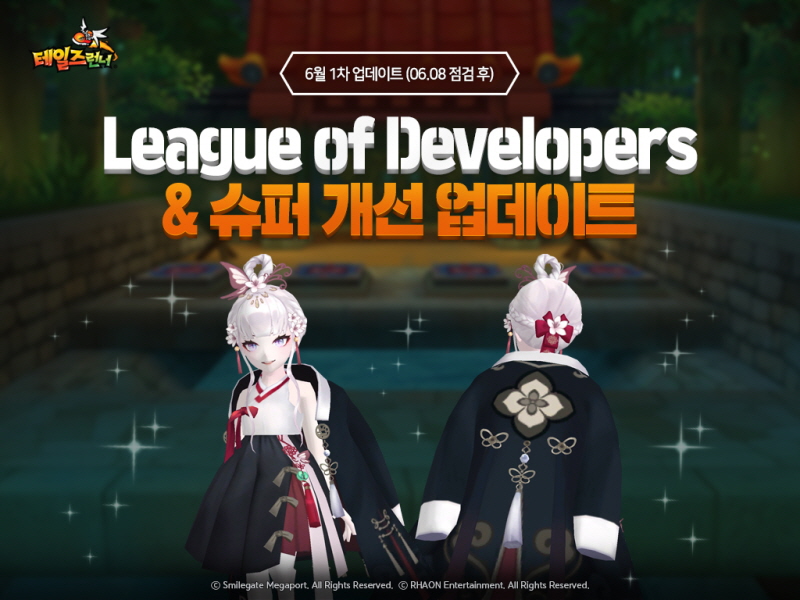 [2021-0609] Smilegate Megaport (CEO Ina Jang) announced on the 9th that the competitive event channel "Developer Rainbow League" has been updated on its popular online racing game "Tales Runner" (developed by RHAON Entertainment).
This league's channel will be open for four weeks until the 7th of next month and holds about 30 developer maps that will provide users with excitement. The league will run from 4 p.m. to 2 a.m. on weekdays and from 10 a.m. to 2 a.m. on weekends. The league will begin at 10 a.m. on the 9th, the day of the update.
What differentiates this league from previous Rainbow leagues is that a point defense system has been introduced. If they lose a game, users will only lose up to -5 points, allowing them to compete in top leagues more frequently. Upon initial access to the Rainbow League channel, all users will start with 400 points, go through 15 rank tests, and compete in the rankings that suit their skills. They can either gain or lose points in each game.
The Rainbow League is divided into friendly and competitive matches. Red and orange ranked runners compete in friendly matches and yellow to rainbow ranks compete in the competitive matches, for a total of five ranks competing. Users who participate in the league can earn new league items such as rainbow-colored developer boxes, LOD tickets, and LOD store envelopes, depending on the level of rewards by rank. In addition, runners promoted to the blue, navy, and rainbow rank in the league can earn the "Steel Knights" item set, an honorary reward.
More than 20 system improvements such as modeling, the My Room function, game options, and UI have been made in the "2021 Super Improvement" update. The modeling of Lina, Ocean, Abel, and Lucy was improved. My Room added improvements such as avatar character wardrobe distinction and storage slots.
Finally, the "Hongjup Package," a hanbok concept inspired from the Gaura flower and red butterflies for Yano has been released. Discount stores have also added six memomemo packages that allows users to acquire various memomemo transformation characters.
"I'm really happy that this update will be able to re-introduce the Rainbow League that users have been waiting for. We tried to separate users based on rank so that they will be able to compete against adequate competitors and enjoy the game" said Kim, Yu Jin, team manager at Smilegate Megaport.
Hansu Park, PD of RHAON Entertainment, said "We made improvements based on feedback and expect users to have a much more pleasant experience playing Tales Runner. We will do our best to continuously update the system and introduce new content".
For more information about the update, visit Tales Runner's official website at (http://tr.game.onstove.com/). "Tales Runner" has been serviced since the summer of 2005 and is a steady selling online game with over 17 million users.
#Smilegate #Smilegate Megaport #Tales Runner #RHAON Entertainment #Developer Rainbow League #Friendly League #Competitive League #Point Defense System #2021 Super Improvement #Hongjup Package #Memomemo Package
Related Contents