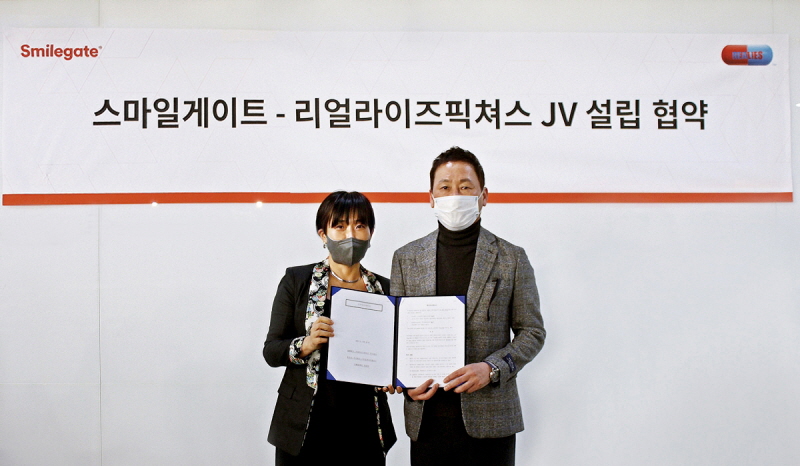 'Smilegate-Realies Pictures' establish Joint Venter (JV) to start vari…
2021-03-23
■ Smilegate, a global IP holder, creates a new 'IP Powerhouse' with Realies Pictures, Korea's leading film production company
■ Will develop groundbreaking cultural contents by discovering and securing various IPs and promote IP culture-entertainment business
■ Will operate program to support new creators to encourage them to develop fresh IPs with high potential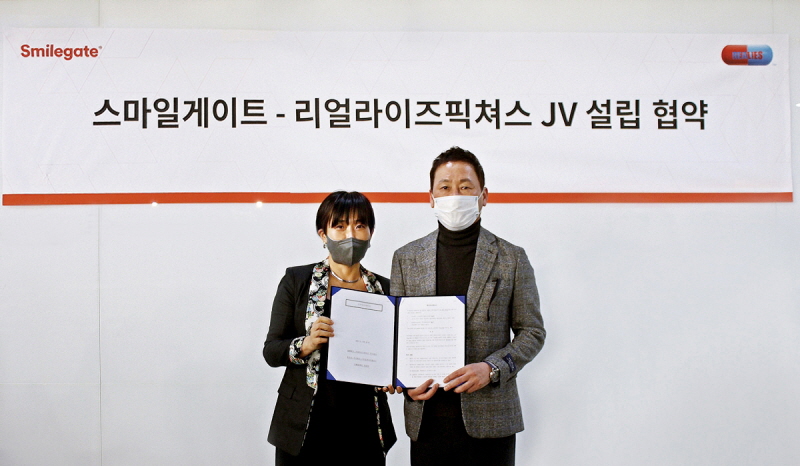 <Paek Min-jung, Executive Vice President of Marketing/IP Business Development at Smilegate (left) Won Dong-yeon, CEO of Realies Pictures, after the signing ceremony for the establishment of JV>
[2021-0323] Smilegate, publisher and developer of the global super-hit IPs Crossfire and Lost Ark, became partners with Realies Pictures, a production company famous for the movies 'Along with the Gods' and 'Masquerade', and will enter the cultural industry utilizing IPs.
Smilegate and Realies Pictures held an agreement ceremony on the 23rd and established a joint venture, 'SmilegateRealies'. SmilegateRealies will develop a leading and diverse cultural business suitable for the ever-changing global entertainment market and expand the video business such as movies and TV shows using various multi-content IPs.
Smilegate, which has been developing various IP businesses, partnered with Sony Pictures, the major Hollywood distributor, last year to produce a movie based on the IP of the global mega-hit game 'Crossfire' that has more than 1 billion users around the world. Crossfire IP has already proved its power with the TV show 'Cheonwolhwaseon' (Chinese name of Crossfire) in the Chinese market, recording an unprecedented hit of 1.8 billion views.
Realies Pictures is one of the most dominant Korean film productions that has attracted 10 million audiences three times, 'Along with the Gods1, 2' and 'Masquerade', a record that no other film company has. Won Dong-yeon, CEO of Realies Pictures, is a symbolic figure representing the Korean film industry. Cultural contents industry officials, competitive IP holders, and writers are paying great attention to this JV establishment, as Korea's leading global game company and domestic video production company have partnered to promising IPs.
From now on, the two companies will focus on securing attractive new IPs through SmilegateRealies, contemplating the movies 'Along with the Gods' and 'Omniscient Reader' that Realies Pictures has been working on. In these projects, the two companies will maximise the synergy effect by adding Smilegate's knowhows globally and presenting it to more people worldwide.
In addition, SmilegateRealies will go beyond one-source multi-use (OSMU) and combine the fresh IPs into a single worldview to form a brand new 'universe'. Moreover, through a transmedia strategy crossing the boundaries, the JV will make a kind of video service that allows viewers to enjoy videos, games, and other contents in a continuative way.
Executive Vice President of Marketing/IP Business Development at Smilegate, Paek Min-jung, who has led the group's major IP diversification projects such as Crossfire TV shows, theme parks, and Hollywood movies, will be the SmilegateRealies CEO. CEO of Realies Pictures Won Dong-yeon will join the company as the co-CEO and develop the business together.
SmilegateRealies CEO Paek Min-jung said, "I am very excited to be with Realies Pictures, which occupies a dominant position in the Korean film industry by paving a royal road of the IP culture business that Smilegate has dreamed of. I am confident that the two companies' joining will build the best synergy, resulting in strong cultural content that will awe many people worldwide."
Co-CEO Won Dong-yeon said, "Smilegate has achieved the most remarkable success in the game industry as well as in the field of IP diversification with 'Crossfire'. It is a company with excellent knowhows and a high degree of understanding of the global market in the wide range of IP utilizing business. With Smilegate, we will do our best to discover and spread competitive IP content beyond Korea, going global."
Smilegate is planning to accelerate the imaging business by recently recruiting Senior Vice President Jinah Kim from Netflix. Jinah Kim is a domestic and international content business expert who has gone through video production, marketing, studio, and OTT. She joined Netflix in 2016 and introduced the streaming and subscription service business model in Korea, and contributed to the current high status of K-content among global viewers.
Smilegate is the holder of game IPs such as Lost Ark and Epic Seven, and Crossfire, which users hugely love in the global market. Smilegate is steadily solidifying its position as a 'Global IP powerhouse'.
#Smilegate #Realies Pictures #joint venture #SmilegateRealies #Cultural Businesses
Related Contents