The positive influence of a brilliant company in the "Corona Age&…
2020-05-20

Global luxury brands are making masks instead of handbags, and cosmetics companies are making hand sanitizers. The automobile factory assembly lines have stopped for a moment, but they are now making respirators. None could have imagined this only half a year ago, but this is what businesses look like in the "Corona Age."
This unprecedented pandemic age is endlessly changing our lives and highlighting the influence of businesses. Smilegate is doing what it does best to overcome COVID-19. In addition to protecting their members, they are also using their games' positive influence to help those that fall through the gaps of social welfare programs. We collected the stories of Smilegate members who are sowing new seeds of hope while keeping a safe distance.

| WCG's "COVID-19 prevention tips for gamers all over the world"
WCG has stepped up to distribute safety tips to gamers. They have created and uploaded image-file posters, gif card news, and videos with tips on how to stay safe from COVID-19, such as avoiding offline gatherings and sanitizing gaming gear, on Smilegate and WCG's main social media channels.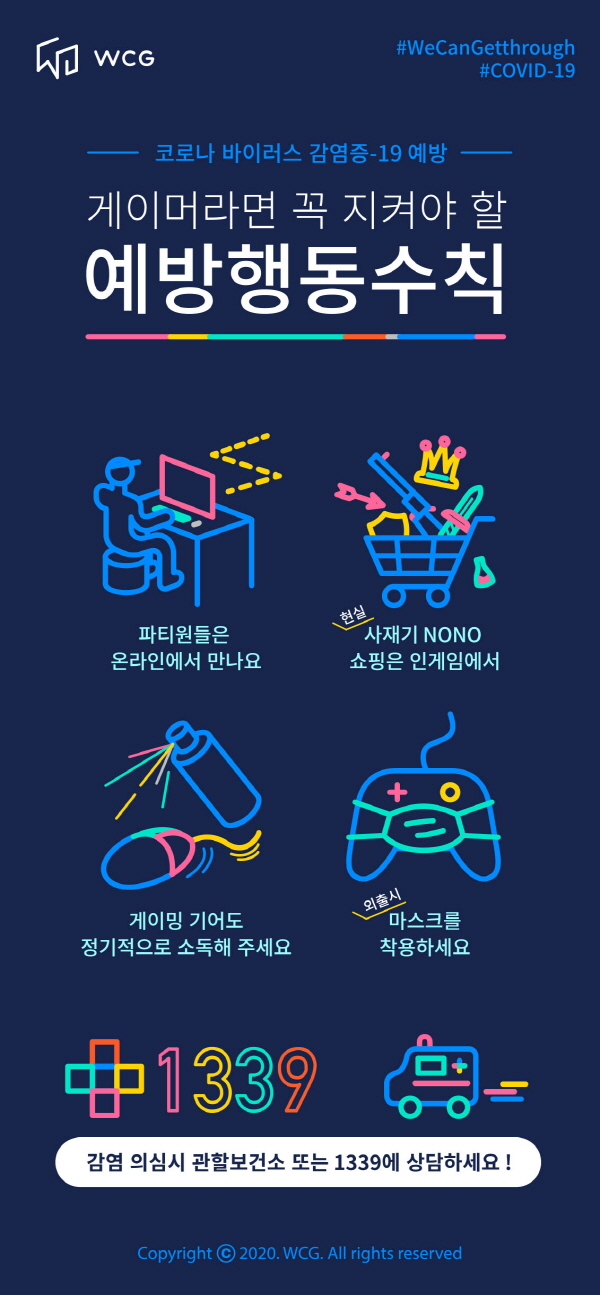 | From Smilegate Foundation to the board game club, the butterfly effect of giving

The Smilegate Foundation planned a donation event to give the gift of spring to the children at the Seongnam Community Children's Center. The event consisted of three main areas: an in-game donation event with players of "We Bare Bears: The Puzzle" (Play), an original board game donation event created with the talent of Smilegate employees (Make), and a donation event to help children with rich cultural experiences (Give).
Using the positive influence of games, the board game creating and gifting event has caused an unexpected butterfly effect. The members of Smilegate's board game club, "Board Roxy," donated a board game. The members of the club, who have created, played, and researched various board games, donated their collection of board games to the children and bought another collection for the children with the money they fund raised.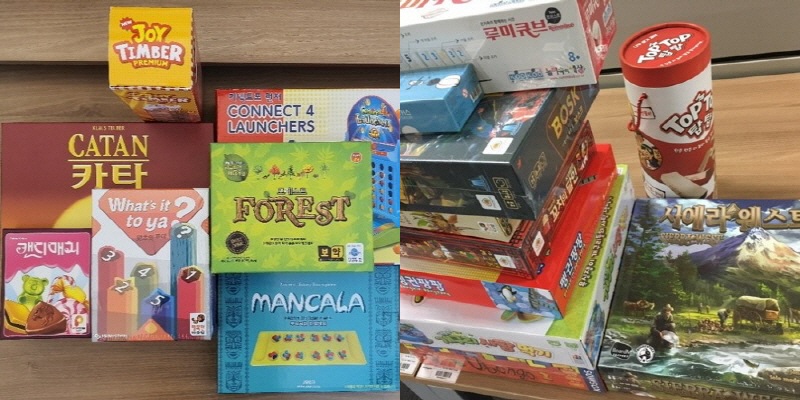 <The first and second collections of board games donated by the Smilegate board game club, "Board Roxy">
Smilegate Group's university student creative support program, "Smilegate Membership," and "Team Tapas," a game developer that was part of Orange Farm's Youth Entrepreneur Incubation Center, have also joined in the virtuous act of giving.
Following the donation of 10 million KRW by Smilegate Foundation to help overcome COVID-19 in March, Smilegate Foundation raised funds with a game item production funding event with players of "Bistro Heroes" and have donated all the proceeds. The proceeds will be used by the children's support agency, Heart to Heart International, to buy smart equipment for visually impaired children at the Seoul National School for the Blind to use for online classes.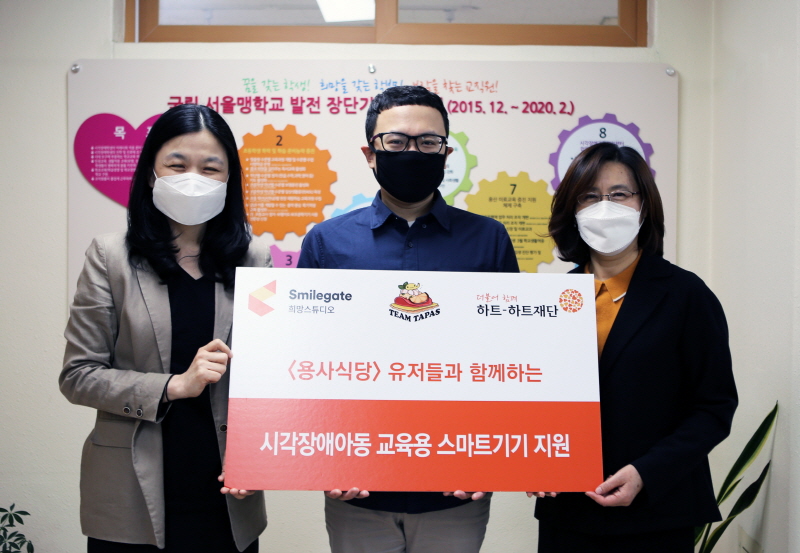 <(From the left) Heart#to Heart International Secretary-General Jina Jang, Team Tapas CEO Taehee Lim, #Seoul National School for the Blind Principal Eunjoo Kim>
On the other hand, Classum, Yeoneuldamda, Thunder Games, and other former Smilegate entrepreneurship program (Orange Farm) members have participated in the donation events and attracted attention.
| Revitalizing flower farms and local economies, "Flower Bucket Challenge," Etc.

Smilegate Group's Chief Resource Officer Donggi Yang participated in the "Flower Bucket Challenge," a relay campaign to help flower farms. It was a campaign to encourage flower farms that have been struggling recently, with many events cancelled due to the spread of COVID-19. The flowers and pots purchased through this campaign were set up at the first floor of the Smilegate Campus to brighten the Smilegate members' days. After a set period of time, the flowers and pots will be given to and managed by Smilegate's flower arranging club, "Smile Bloom."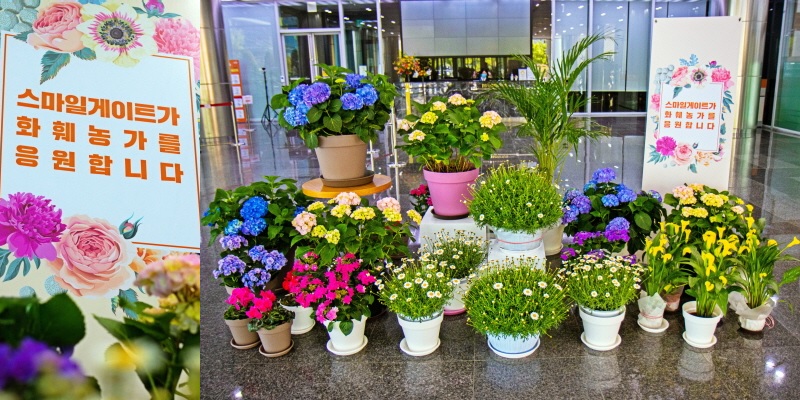 <The flowers and pots set up in various places on the first floor of the Smilegate Campus>

In April, Smilegate also distributed special welfare points and local Seongnam gift certificates (SEONGNAM Gift Certificate) to all Smilegate members to contribute to the health of all Smilegate members and their families and be part of revitalizing the economy in the area.
<SEONGNAM Gift Certificates distributed to all Smilegate employees>

| Smilegate's positive influence in the "Corona Age"

Even before COVID-19 spread in Korea, Smilegate began providing support for the hard-hit China through the Embassy of the People's Republic of China in Seoul. Smilegate has been a responsible corporate citizen by donating emergency relief supplies and funds both in Korea and abroad. Before the fear of local spreading, Smilegate gave its members special paid leave, fully implemented and extended flexible work systems including telecommuting, and put the safety of the members first and foremost.
As COVID-19 continues, Smilegate and cooperating CP companies did not receive usage fees in March and April to help VR rooms affiliated with "STOVE VR" overcome financial harm. Its purpose was to find ways for Smilegate as a platform company to not only cooperate with their stores but also business partners.
Many of the planned events were quickly taken online. The independent publishing workshop for employees was replaced with online videos to introduce their creative pieces, and instead of last year's flea market, the products were made available for sale online.
The Future Lab Creative Training Workshop for the youth will also be conducted online using video conferencing tools. The Smilegate Foundation Future Lab had been preparing to be an online workshop for anyone to experience creative learning and bridge the digital education gap, even before the spread of COVID-19. The Future Lab's first online workshop is a physical computing workshop using small, single-board computers and "microbits." And consulting according to individual interests and learning stages are systematically conducted online.
Amidst the COVID-19 crisis, Smilegate's pursuit of virtuosity has ironically blossomed. From the heartfelt donation of board games from the board game club, to the large-scale donation pledges by the startups that graduated the entrepreneurship incubation center, and the efforts of all the Smilegate members that first thought about the good influence that the company can have in such an unprecedented situation, we see the hope of overcoming this crisis together and building a healthier society.
#Smilegate #Smilegate Foundation #The Future Lab #WCG #Flower Bucket Challenge #Team Tapas #COVID-19 donation #The positive influence of a brilliant company #The Future Lab online workshop
Related Contents