Smilegate's attitude towards ceremonies in the "Ontact" era!
2021-01-20
| Smilegate's "Ontact" solution to a world changed by COVID-19
Everything is changing around us. Social distancing continues because of COVID-19, which is leading to more changes. The way we work is changing from going to the office to working from home, and it has become harder to grab a meal at a restaurant with some friends or chat over some coffee at a cafe.
With COVID-19 not going away, even after several months, we have started looking for answers from our "LAN line." We have quickly gotten used to video conferencing and it has now become one of our usual ways of working. Our year-end and new-year meetings, and also our year-end and new-year parties where we individually prepare food and enjoy them together over the LAN line, have naturally transformed. We are all adapting to the new ways in order to sense of disconnection we feel in our daily lives.
As we become closer to the LAN line these days, the gaming industry has reached an unprecedented boom. As people find it harder to do outdoor activities, they have turned to online activities they can do at home. Game consoles enjoyed at home are reaching the highest sales in history, and various gaming companies have recorded unprecedented spikes in stock prices. SundayToz has exceeded 80 billion KRW in quarterly cumulative sales in six years, and Smilegate Megaport has also been awarded the $70M Export Tower.
But of course, the gaming industry could not completely avoid the global recession. In the case of e-sports, they have inevitably had to postpone or cancel competitions and events held offline. Smilegate has introduced a never-before-seen new solution to revitalize the e-sports market that is shrinking due to COVID-19, and it has created a new success story unlike ever before. And this solution is "Ontact."
| CFS 2020, the biggest festival for CrossFire fans around the world, brings back hope with "Ontact"
CFS is a competition to crown the best professional CrossFire team in the world. Regarded as the greatest festival for CrossFire fans, it is one of the most popular e-sports competitions around the world. But since 2020, such large-scale offline events have become difficult due to COVID-19. To overcome this situation, regional matches were held online from September to October, and the top six teams were invited to the Grand Final in December.
CFS Invitational Online 2020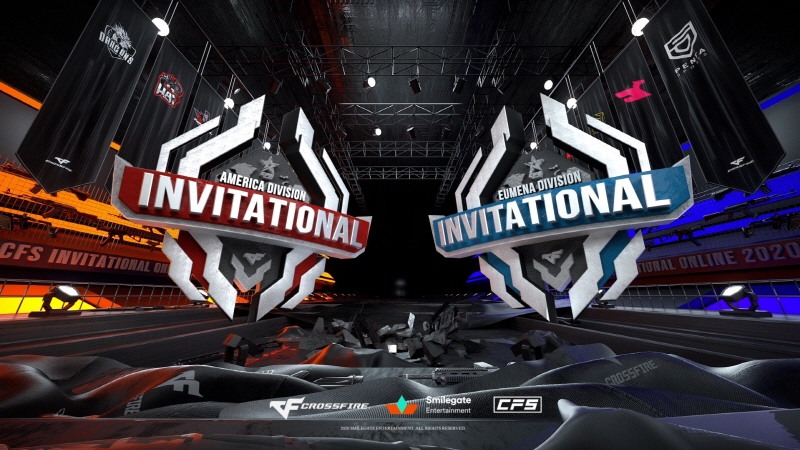 <CFS Invitational Online 2020 poster>
Smilegate Entertainment launched CFS Invitational Online 2020 to select the best professional CrossFire teams in the world by region. In this competition where all matches were held online, the best teams in the world with the best rankings in their regions came together and held fierce qualifying rounds before the finals. As a result, BLACK DRAGONS and VINCIT Gaming from the Americas, and GOLDEN V and Lazarus from Europe/Middle East-North Africa (MENA) took first and second places and were invited to the CFS 2020 Grand Final. Also, for the Chinese pro league, the CFPL (CROSSFIRE Pro League), the 2020 CFPL Champion Cup was held, and the top two teams, SuperValiant Gaming and Q9 E-sports Club, were invited to the CFS 2020 Grand Final.
CFS 2020 Grand Final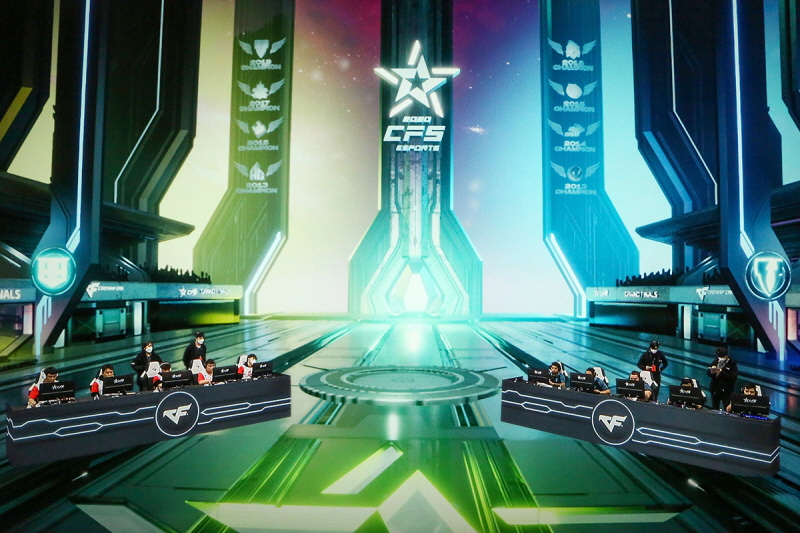 <CFS 2020 Grand Final being held in a virtual studio>
All the matches of the CFS 2020 Grand Final, with six total teams invited from all the regions competing for the championship trophy, was held offline with no spectators. As a competition for teams invited from different countries, all the teams quarantined for 14 days and were thoroughly tested for COVID-19 according to quarantine authority guidelines. Also, prevention measures were taken by minimizing the number of staff in the arena.
The Grand Final was held without spectators, but a new broadcasting method was introduced. By using the Unreal Engine-based "Zero Density" solution, the tournament staff created a virtual studio in which viewers can intuitively view the competition, as if they were there in the arena themselves with the players. Matches were broadcasted all over the world through YouTube, Twitch.tv, and other various channels to fit these social distancing times.
Even while COVID-19 was cutting down lots of e-sports competitions, the CFS 2020 Grand Final held on to hope. To give thanks to the CrossFire fans from around the world for their support and to help pro CrossFire gamers maintain a stable life and playing career, the CFS 2020 Grand Final delivered a message of hope and energy to e-sports.
|
The WCG 2020 CONNECTED evolves to the next step with "Ontact"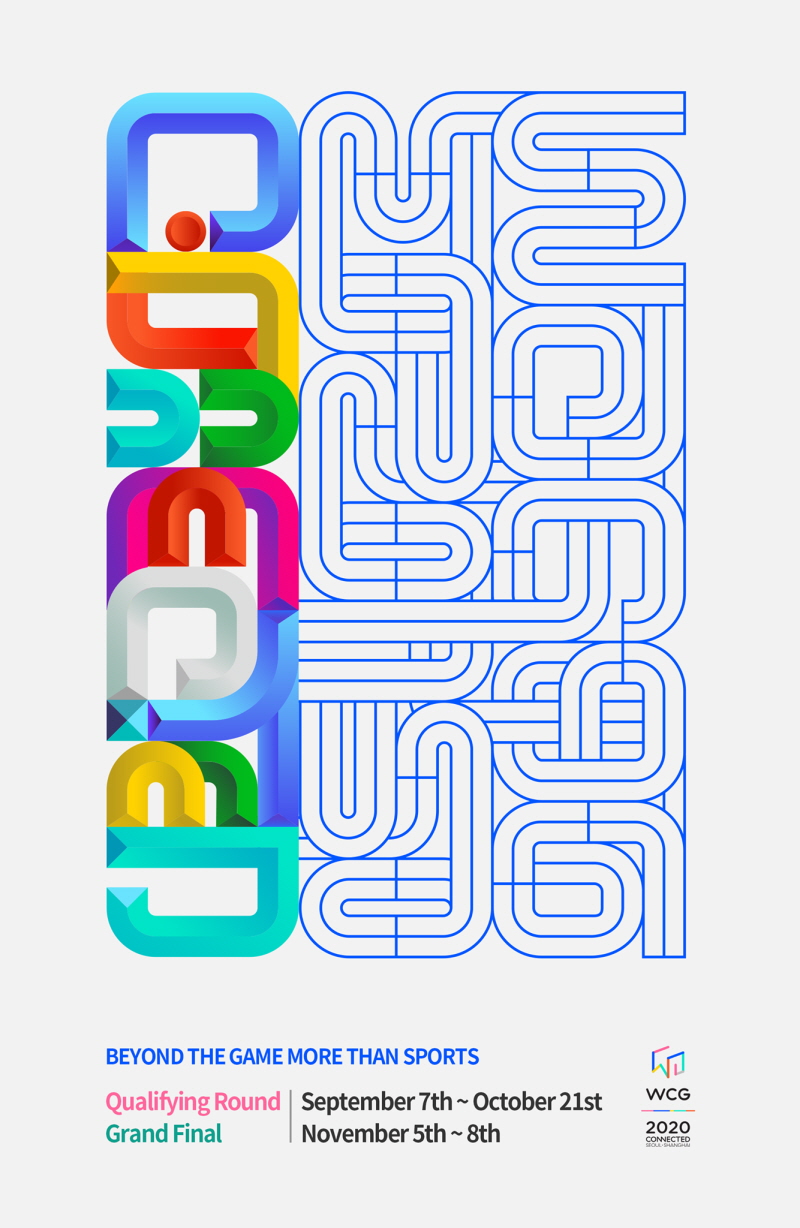 <WCG 2020 CONNECTED poster>
WCG is a global e-sports festival with a goal and vision of helping create a better world by solving conflicts through joyful activities. Held from September to November, WCG 2020 CONNECTED provided the joy of watching matches in real time with live broadcasting in Korean and China, and created a next-level e-sports festival by providing various content.
At WCG 2020 CONNECTED, a total of 6,803 players played 1,234 matches in four games: Warcraft® III: Reforged™, CrossFire, EA SPORTS™ FIFA ONLINE 4, and Honor of Kings. All the matches were broadcasted around the world in Korean, English, Chinese, and Russian on 17 platforms. Global viewership reached above 650 million and more than 770 million hashtags for WCG were recorded as this new e-sports festival was held. It turned out to be the best multi-game e-sports festival.
Korean-Chinese dual broadcast with special techniques to increase realism
Preliminary rounds were held online, and for the safety of the players and fans, the finals were held in studios in Korea and China with dual Korean-Chinese broadcasting for the Korea versus China national matches.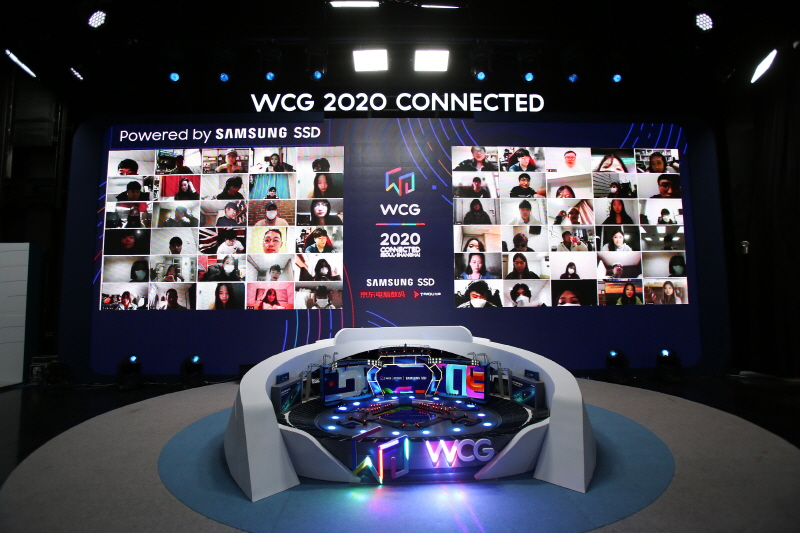 <"Diorama arena" for the WCG 2020 CONNECTED finals>
The studios in Korea and China, especially, were constructed as "diorama arenas," which are diorama sets (technique for creating certain scenes by installing scaled-down models in the landscape or background) with chroma key screens (technology for special effects such as composite imaging). With this technique, broadcasters not only showed videos of players engaged in matches together on the actual stage online, but also conveyed the tense and exciting atmosphere of the finals to the fans with a sense of realism.
Various online content that enriched the competition

The WCG not only changed the way competitions are held, but also introduced a variety of content. The WCG also produced various content that the public could enjoy along with e-sports fans, such as "We Can Game," a KBS variety show that combines e-sports and entertainment, and "PR Team 22," a YouTube show featuring e-sports legend Hong Jin-ho and new girl group "Woo!ah!" to make the WCG more interesting to the MZ generation.
<
1st episode of the WCG 2020 YouTube show, "PR Team 22"
>
Content for global users include GG (Global Game) Village, which conducts various experiments and interviews based on games, and the "WCG Chart Show," which selects various e-sports charts related to the WCG and is produced for the Chinese internet broadcasting platform, Bilibili.
"We hope to present e-sports entertainment through broadcasting as another way to popularize e-sports and lay a foundation for an e-sports platform," said WCG Chairman Taegun Seo, and he predicted various changes in the WCG in the future. Having successfully held WCG 2020 as a social distanced e-sports event, Chairman Taegun Seo was recognized for his significant contribution in raising the status of Korean e-sports cultural content and received a Presidential Commendation at the "2020 Korea Content Awards."
|
At the "Ontact" Lost Ark user festival, LOA ON, operators and users meet online!
로스트아크는 총 7년의 개발 기간만큼 높은 퀄리티의 비주얼과 독특한 전투 시스템을 자랑하는 블록버스터 핵앤슬래시 MMORPG이다. 지난 2018년 공개 서비스 시작 이후로 기존 RPG 게임들과 다르게 유저와의 가감 없는 소통으로 운영진과 유저 간 끈끈한 관계를 형성하고 있는 게임이기도 하다. 지난 1주년에 진행된 유저 간담회에서도 유저들의 불만과 요청사항을 귀담아듣고 빠르게 반영했다. 이번 2주년은 코로나19로 인해 많은 유저들과 현장 행사는 함께하지 못했지만, 비대면 상황에 맞춰 유저 100인이 함께하는 온라인 유저 페스티벌을 진행했다.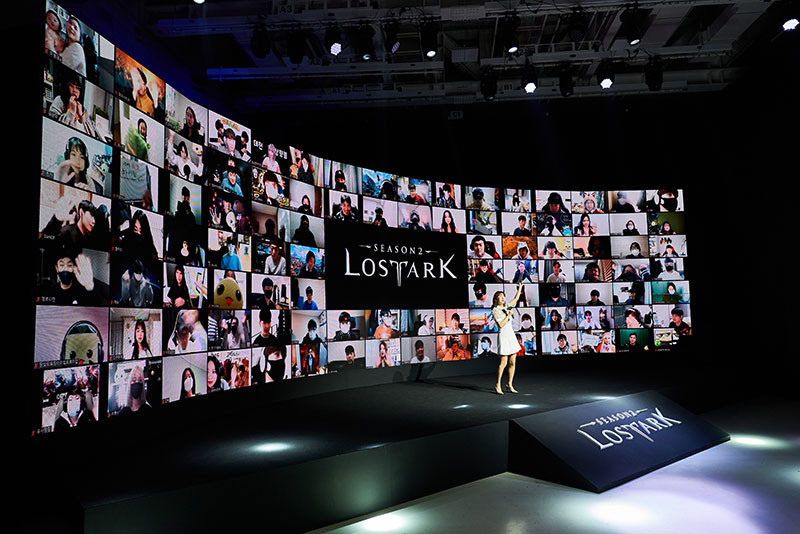 <LOA ON being held in real-time with 100 users>
On December 19, LOA ON was held through live broadcasting on YouTube and Twitch for a total of four hours. Though the event was long, it was warmly received, recording more than 36,000 viewers at one time and ranking eighth in real-time search results.
The meeting with users was socially distanced, but the event was hosted by General Director of Lost Ark Kangsun Keum and Main MC Sorim Jung in an offline studio. To ensure safety measures even at the offline studio, a professional company was hired to disinfect and sterilize the location a day before shooting, and all staff had to undergo temperature checks and wear masks throughout the event.
Lots to enjoy, from the orchestra, messages by voice actors, to quizzes with users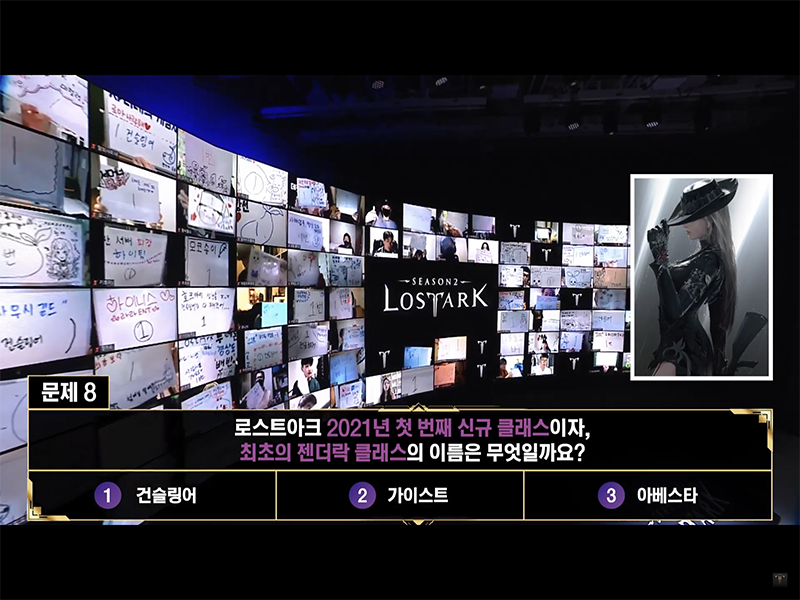 <Quiz event with 100 users invited through "Ontact" means>
An orchestra played Lost Ark's original sound track, "Tears on the Glacier Island," congratulatory messages from the voice actors elicited a warm response from the users, and a pre-recorded video with a special performance was played. Also, as a two-way event that communicates with users, part two included a quiz event with the participation of the 100 users.
Lost Ark, hoping for true communication even in these "Ontact" times
At LOA ON, Director Kangsun Keum reflected on 2020 and presented the roadmap for the first half of 2021. In the real-time chat window next to the live online broadcast, users expressed their excitement for the various updates and deep sense of trust for the director.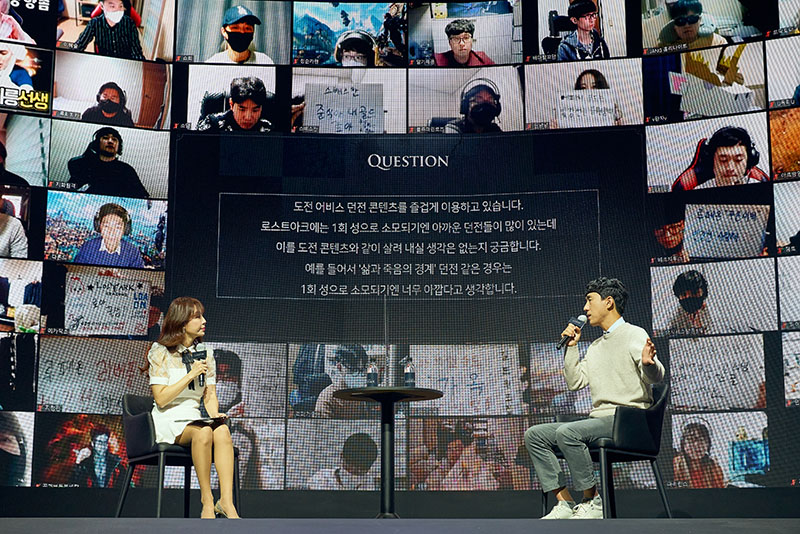 <Director Kangsun Keum answers users' questions in the real-time Q&A>
As a game that strives for honest communication with users, the Lost Ark staff held a Q&A session to honestly answer the questions from the 100 users. As a real-time session, despite the somewhat cutting questions or criticisms, Director Kangsun Keum quickly acknowledged and empathized with the shortcomings and followed up with promises to improve on them with future updates. This LOA ON festival held for the second anniversary of Lost Ark demonstrated how to hold an event for closer communication with users in these sudden socially distanced times.
|
Virtual creator Se:A's 24-hour relay charity concert, even charity is now online
Korea's first virtual creator, "Se:A," held a 24-hour relay live charity concert from December 29 noon to December 30 11:59 AM. On the YouTube and Twitch channels, "Se:A Story," the creator re-released some of the most well-received content and introduced a new segment where viewers can actively participate. Over the 24 hours, the Se:A communicated with viewers over board games, Mario games, and karaoke, and gifted viewers various sponsored items provided by Smilegate Stove Indie and SundayToz.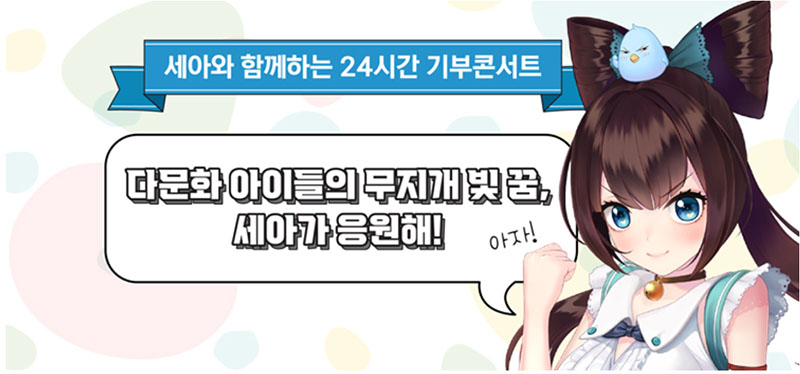 <24-hour charity concert with Se:A>
This charity concert was warmly received by fans, recording 4,500 viewers at the same time and a cumulative total of 200,000 viewers. Over 300,000 chats were uploaded, and active communication between Se:A and viewers continued throughout the broadcast. Se:A's YouTube channel, "Se:A Story," collected a total of 28 million KRW for the Smilegate Foundation from donations by viewers since August, donations by Smilegate Stove Indie, and donations by viewers during the 24-hour live broadcast. The donation will be used to support the IT infrastructure and improve the educational environment at "Hae Mill School," a multi-cultural alternative educational institution. In these socially distanced times when even charity events are held online, Se:A says she will continue trying to make the world a more beautiful place and spread good influence in the future.
|
Gaming and e-sports also prepared to face the "new normal"
Since COVID-19, the word we hear and read the most is "new normal." With COVID-19, the essential face-to-face activities of daily life are adjusting to the new normal of social distancing. This new normal can also be felt in the gaming industry and at e-sports events. We will surely return to our daily routines from before COVID-19 someday, but we have found new opportunities in this crisis. Though offline festivals and events have their appeals, we have also discovered the charm of online festivals. There is less of the realism of interacting with each other, but Smilegate will go beyond COVID-19 to discover new ways of communication with "Ontact" events that transcend the limits of country, location, and time.
#Smilegate #CFS #CFS 2020 #WCG #WCG 2020 #Lostark #SEA #Ontact #eSports #COVID-19
Related Contents