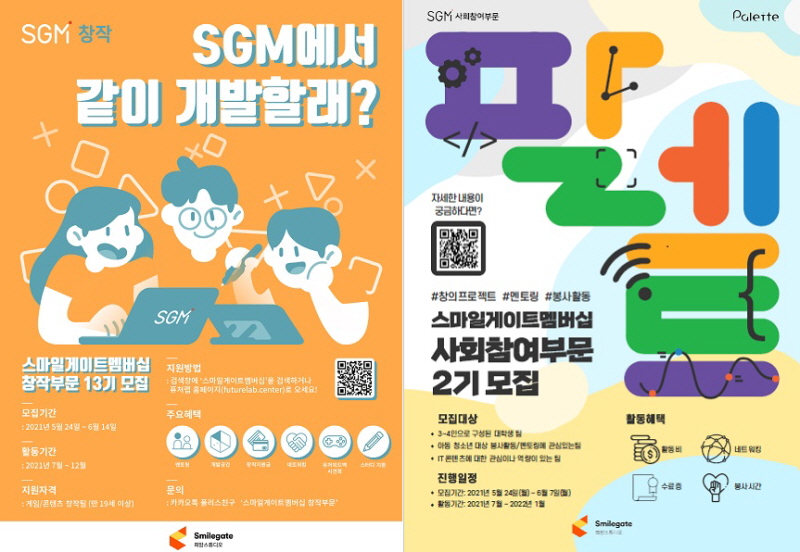 Smilegate, Recruiting for "Smilegate Membership", Creation, AI, Social…
2021-05-31
■ A New program established for AI that can express human emotion
■ Recruitment of college students to further develop the creative environments for local youth
■ Program for growth and learning based on the youth community since SGM's 2010 launch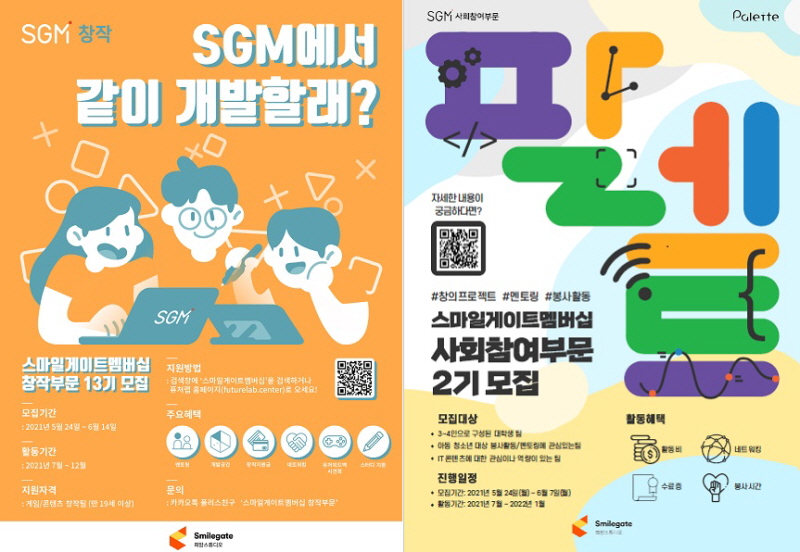 [2021-0531] Smilegate Foundation (Chairman HyukBin Kwon) announced on the 31st (Monday) that it will recruit college volunteer teams for creation, AI, and social participation categories of the "Smilegate Membership (SGM). SGM is a program that aims to mentor the youth who want to become creators in the game/entertainment field and promote the growth of local creative environments.
Since its launch in 2010, SGM has continued to develop into a program where young people learn and grow together based on community. Based on the know-how acquired from previous programs in the past decade, SGM will expand its current business in three major categories: ▲Creative (Indie Games) program for young content developers who aim for success of starting a business, ▲AI program for creators who are developing AI to express human emotion, and ▲Social participation program for college volunteer teams interested in supporting creative IT youth development.
SGM's creative program supports all stages of development from providing a 24-hour research space, mentoring from current Smilegate developers former SGM creators, feedback demonstrations, and monetary support for creative activities.
The AI program will recruit teams of two or more and support team project costs, AI related lecture costs, high-end PC and data credits, independent project spaces. It will also select outstanding projects within SGM AI graduates and provide opportunities to participate in the internship program at Smilegate AI Center.
The social participation program will recruit teams familiar and well-versed with IT content comprised of 3~4 teammates. The selected teams will serve as mentors for the local children's center creative program "Palette". The participating teams will help disadvantaged children unable to experience creative environments to facilitate creative and autonomous IT projects. Each team will be provided with activity fees, networking opportunities with IT related advisors, and volunteer certificates upon completion.
In particular, the SGM social participation program is working in line with Hope Studio to continue supporting the growth of creative environments in which future generations of teenagers can discover and express their uniqueness. After completing the pilot program last year, the company will officially launch the program this year to further improve the creative environment of local communities.
Participants for the SGM creation program will be recruited through Future Lab Center's official website (https://futurelab.center) until the 14th of next month and the social participation program will be taking applications until the 7th of next month on the Palette website (http://palette.smilegatefoundation.org). Recruitment for the AI program will begin on Future Lab Center's official website in June.
Smilegate Hope Studio has been operating SGM since 2010 in efforts to give back to society by allowing young people to grow together based on their interests and dreams. The creative program has already had a total of 70 teams and 340 creators complete the program.
#Smilegate #Hope Studio #Smilegate Membership Recruitment #SGM #Creation #AI #Social Participation #Future Lab Center #Palette
Related Contents