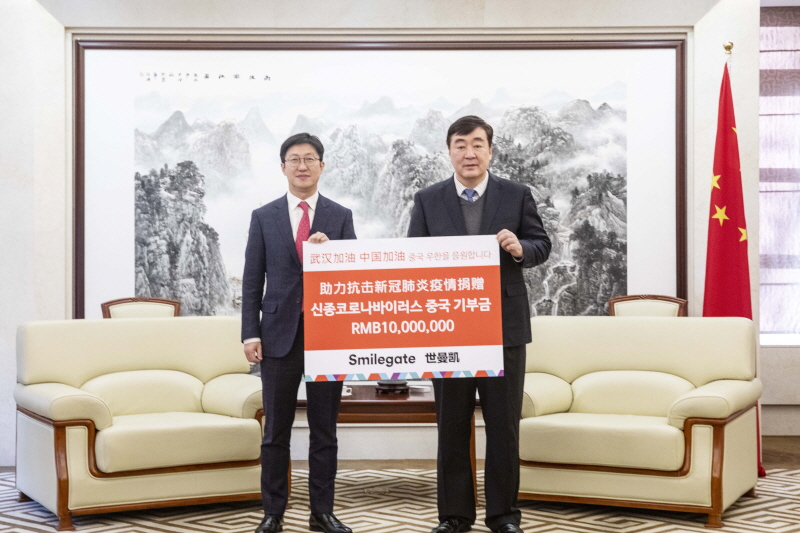 Smilegate Group is going to support China affected by COVID-19
2020-02-05
 
■ A donation of 10 million yuan to treat and prevent the spread of COVID-19 in China through the Chinese Embassy in Seoul
■ Relief aid will be provided to Jincheon and Asan areas where temporary residents of Wuhan are located in Korea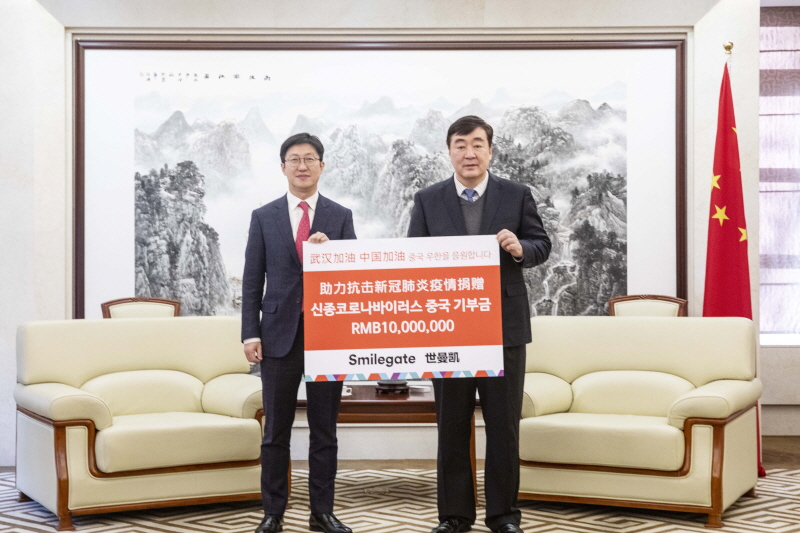 <Smilegate Group has decided to donate 10 million yuan through the Chinese Embassy in Seoul to support China, where so many people are still suffering from the COVID-19. At the ceremony held at the Embassy of China on February 5, Yang Dongki, Smilegate's president(left), is handing over 10 million yuan to the Chinese ambassador to Xing HaiMing>

[2020-0205] The Smilegate Group has decided to provide humanitarian assistance to help the Chinese society, which is struggling with the COVID-19 for faster recovery.
Smilegate donated 10 million yuan to Chinese Ambassador Xing HaiMing at the Chinese Embassy in Seoul on February 5 (Wed) to help Wuhan citizens, suffering from the COVID-19, and get more support for essential daily necessities and relief supplies.
"China and South Korea have long been neighbours, and we should help each other to overcome the difficulties. Smilegate's donations will be delivered to Chinese people. Thanks very much for the support of many Korean companies including Smilegate" said Chinese ambassador Xing Haiming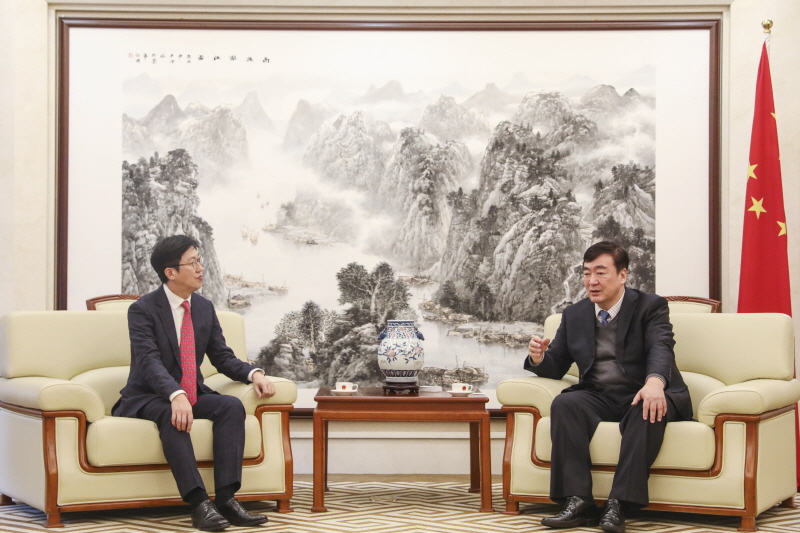 <At the donation ceremony held on February 5, Yang Dongki, President of Smilegate(left), and Xing Haiming, Chinese Ambassador to Korea(right), are talking>
Smilegate will also join hands with the Korean Red Cross for domestic support. Through the Korean Red Cross in Jincheon and Asan, where temporary living facilities for Korean residents who recently arrived from Wuhan, China, the government has decided to provide emergency relief supplies including books and health supplies for the psychological stability of Korean residents. Also, support hygiene products such as masks and hand sanitisers to relieve the anxiety of residents near the facilities for the spread of infectious diseases.
Yang Dongki, president of Smilegate's corporate relations, said, "We decided to provide this support to help prevent the spread of the virus and to help overcome the situation as soon as possible. We hope it helps those suffering from the virus and medical staffs."
#Smilegate #The Smilegate Group #COVID-19 #Smilegate support China #Xing Haiming Ambassador #Korean Red Cross #Supporting Hygiene Products
Related Contents