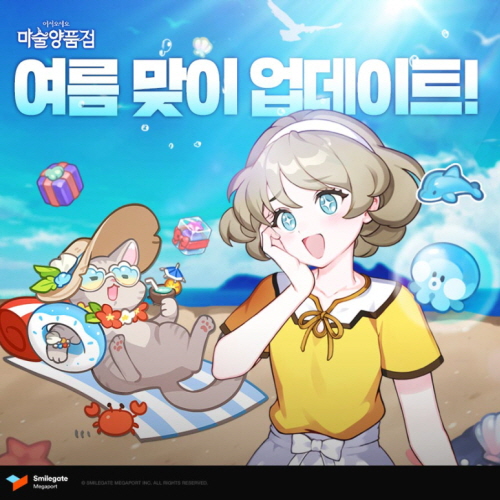 Smilegate, Fantasy Magic Shop Receives Summer Update
2021-07-16
■ "Fantasy Magic Shop" receives summer update, limited-time summer clothes and furniture
■ Rewards and prizes available through friend invitation event
■ Enjoy summer with chilling "Ghost story" and cool "Waterpia" outfits
 
 
[2021-0716] Smilegate Megaport (CEO Ina Jang) announced on the 16th (Friday) that its casual simulation mobile game "Fantasy Magic Shop", developed and serviced by itself, will undergo a summer update.
"Fantasy Magic Shop" will showcase a special event that allows players to exchange or make clothing and furniture to add to the fun.
Players can complete daily missions during the event period to earn currency which can be exchanged for limited 5-star summer event outfits. Additionally, players can earn a 4-star doll if they complete the outfit collection. Summer event furniture sets can be made at designated spots with ingredients collected. This event will be held from July 16th to September 15th.
In addition to events where you can earn summer items, there is also a friend invitation event. Players can earn prizes during the event period according to the number of friends they invite. The first 1,000 players to invite more than 3 friends will receive a Starbucks gift card and the first 10 players who invite more than 5 friends will receive a 50,000 won Google gift card. Existing users and invited users will also receive special access gifts for 9 days in order to be able to enjoy the game more leisurely.
Gameplay will become more exciting with the addition of the "Ghost story" and "Waterpia" outfits, as well as furniture that match the summer theme.
Smilegate Megaport General Manager Jeong, Jaydn said, "We are pleased to introduce new outfits and furniture in this summer update. The outfits will be available for anyone to obtain which will make gameplay more satisfactory. The friend invitation event also holds many rewards and prizes so we hope many players will participate".
For more information on Fantasy Magic Shop and the update, visit the official community at (https://page.onstove.com/magicshop/kr).
#Smilegate #Smilegate Megaport #Casual Well-made Mobile Game #Fantasy Magic Shop #Summer Update #Special Summer Items #Summer Event Outfits #Waterpia
Related Contents