Riding 411km for Miracles, "Cleat"
2020-10-16
※ The article was written on October 16th, 202
The distance from Seoul to Busan is over 400km. Smilegate's cycling club "Cleat" covered this distance in one day with a bicycle.
Earlier this year, Cleat organized a special event. They had an event to gift bicycles to children at Lila Children's Welfare Center in conjunction with Smilegate Foundation. You can see them spreading hope with two wheels in the video below.
<Smilegate cycling club, Cleat's Seoul to Busan donation ride video>
| From Seoul to Busan, Cleat's "Miracle Riding"
Cleat is a cycling club that was founded at Smilegate in March 2018 by manager Kwon, Won Kee, Smilegate Entertainment (SGE) VR Studio. A cleat connects the cycling shoe to the pedal. The club was named this because it is an essential part that connects the rider and the cycle.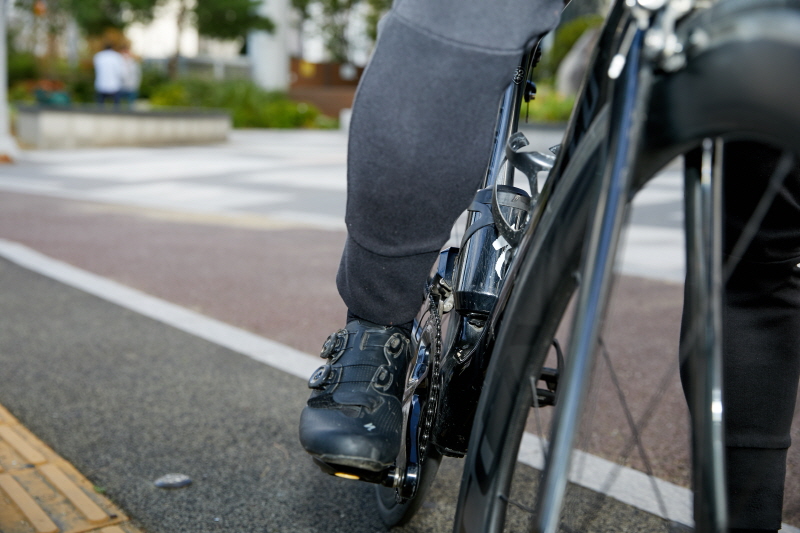 It currently has 14 members who rode together 1-2 times a month, after work, and on weekends before COVID-19. After the spread of COVID-19, the club organized smaller sessions with a purpose. This is the background behind "Miracle Riding" which hopes to spread inspiration and hope to children.
On September 19th, SGE Kwon, Won Kee and Il Hwan Park participated in the ride after revising the original plan to adapt to the spread of COVID-19. The distance they rode is about 411km from Seoul Banpo Bridge to Busan Bus Terminal, which took a total of 18 hours.
<Cleat's "Miracle Riding" route. Source: SGE team leader Kwon, Won Kee YouTube video capture>

Smilegate Foundation contributed to the Miracle Riding donation campaign. Since last year, it has been operating the CSR membership program for staff to plan and execute CSR activity. As part of the CSR membership program Season 2, Cleat planned a donation campaign with Smilegate Foundation and met with the children at Lila Children's Welfare Center.
The two participants successfully completed the race on time, fighting knee pain with painkillers and anti-inflammatory drugs to keep their promise. Cleat's <Miracle Riding donation campaign> successfully raised money to gift bicycles to the children through Smilegate Foundation's donation platform and is preparing to deliver them.
[Interview] Smilegate Entertainment VR Studio manager Kwon, Won Kee
<President of "Cleat" SGE VR Studio manager Kwon, Won Kee (left), assistant manager Il Hwan Park (right)>
Q. Briefly introduce yourself and the motivation behind joining the CSR membership.
Hello, my name is Kwon, Won Kee and I am the president of Smilegate's cycling club. I have been interested in donating and volunteering for a long time but it was not so easy to actively participate. I joined the CSR membership Season 2 because I thought I could do meaningful work through my hobby of cycling. This is how I was able to plan the donation cycling activity.
Q. How did you decide to plan the <Miracle Riding> donation ride?
The ride from Seoul to Busan has always been a challenge I've wanted to do. However, I wanted it to mean more than just enjoying the ride. While talking to a Smilegate Foundation employee, I found out that children in their facility lack play time and toys during COVID-19. I decided to complete the donation ride and gift bicycles to the children through the campaign.
I prepared for the donation ride for 6 months and visited Lila Children's Welfare Center with our club members. There were only 2 bicycles for 30 children and it was heartbreaking to see them cherish the bikes by not forgetting to put on a cover when it rained. I promised to ride with them after I finished the challenge. The promise was what kept me going through the ride.
Q. What do you want the children to feel through the <Miracle Riding> campaign?
I want them to know that there are always adults that are cheering for them. I also want them to enjoy the gifts we were able to give them. Everyone is having a hard
time with COVID-19 but if they could at least have one more enjoyable day through the gifts, I am satisfied.
EDITOR's COMMENT
# Smile Joy
There is a way of realizing happiness in a company. Smile Joy was established in March 2018 to support club activity within Smilegate. Anyone who is staff can join, and currently there are about 70 clubs and 900 members. Staff are actively participating and sharing hobbies and interests. Club members are able to enjoy their time off, doing what they love after work or on weekends.
#Smilegate #Smile Joy #Corporate Culture #Corporate Club #Cycling Club #Road Bicycle #Cleat
Related Contents