Supporting the Possibilities of Indie Game Creators, 2021 Smilegate In…
2021-06-03
※ The article was written on June 3rd, 2021
"If you want to become a millionaire, make a successful indie game!"
This is a phrase that has been around in the game industry for a while. Since the mid-2010s, the indie game industry has grown rapidly and produced great hits. "Minecraft," the epitome of sandbox indie games, was acquired by Microsoft at a price of 2 trillion won, and "Stardew Valley" created by a single developer, has generated more than 100 billion won in sales.
However, there is bound to be failure behind success. By the late 2010s, the indie game market was oversaturated and the term "Indipocalypse" appeared, a combination of the words indie games and apocalypse. Due to intense competition, small indie game developers face difficulty promoting their games to users, let alone finish making the games properly.
Fortunately, as competition intensifies with the growth of the indie game market, supporting efforts are increasing as well. Government and leading companies show increasing support. Smilegate operates Orange Planet which serves as an incubation center for start-ups. It has also introduced an indie game market on its platform in efforts to revitalize the market.
Future Lab Center, Smilegate's creativity and creation environment research center, has been carrying out various support projects to revitalize the ecosystem of indie creators since 2010. Projects include the Smilegate Membership (SGM) that allows young creation teams to complete their content through user feedback, as well as the Smilegate Challenge in which individual creators can form a team to experience the overall game development process.
Among various efforts, former SGM creators have donated funds to create the <2021 Smilegate Indie Game Creation Contest> to challenge young creators in March.
| Young indie game creators, we support your experience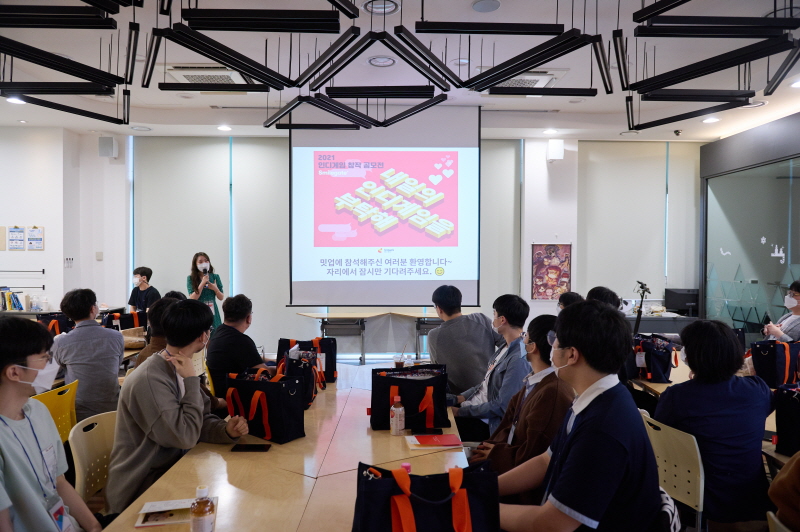 On May 21st, teams participating in the 2021 Indie Game Creation Contest gathered in the Smilegate SGM Lab at Sogang University. Participating teams and award-winning teams gathered for more than just a ceremony. Everyone at the ceremony and meet-up were creators currently working on developing indie games.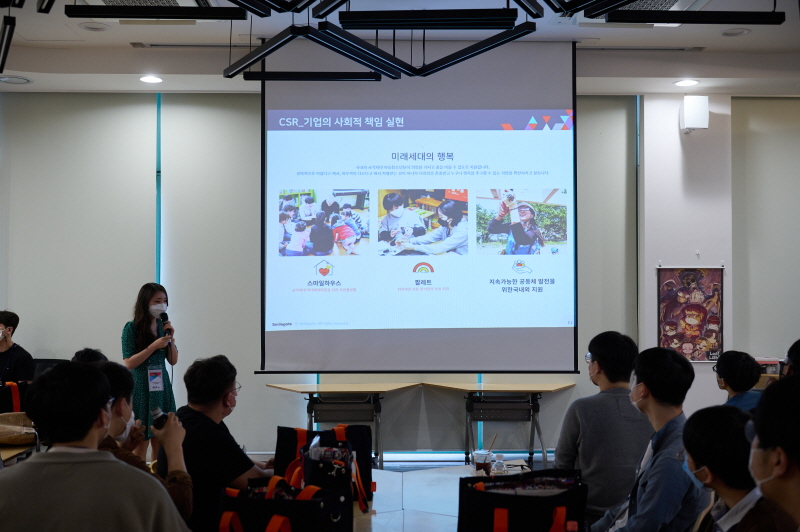 The event began with introductions of Future Lab Center, Smilegate Foundation, and the contest. The contest was organized for the junior creation teams of indie games, referring to teams with short development periods and little experience. The company planned the program for teams seeking experience in indie game development in the increasingly difficult market of game development.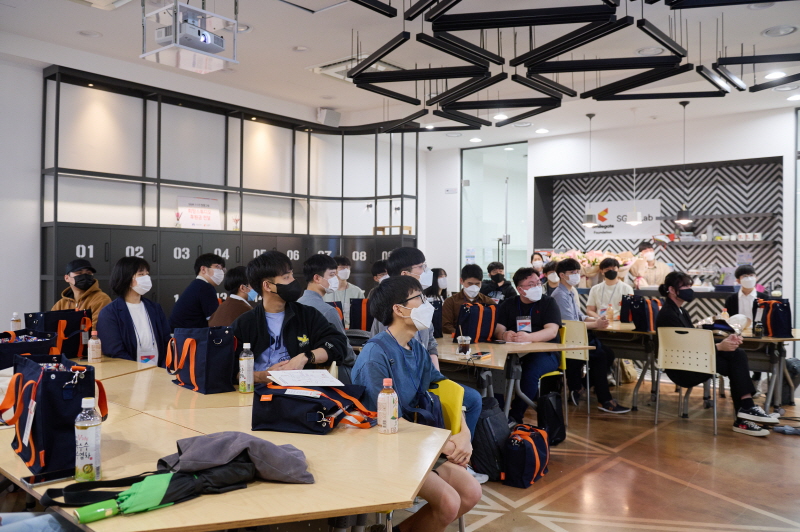 The intent of the event was well received, as 139 junior creation teams participated in the contest. The event was made possible through the support of senior creators who entered the indie game market earlier. The contest was funded with the amount donated by "Cassel Games" and "Meet & Greet", alumni of the Smilegate Membership (SGM), to help junior creators. As senior creators of SGM helped junior creators, a special relationship was formed between participants that cannot be found in other contests.
| Celebrating the endless possibilities of indie games
The biggest advantage of indie games is their novelty. Although they may not be as complete as a masterpiece game with abundant resources, indie games allow us to find numerous possibilities expressible through gaming. As such, the winners of the contest were selected on novelty in idea, graphics, and completeness.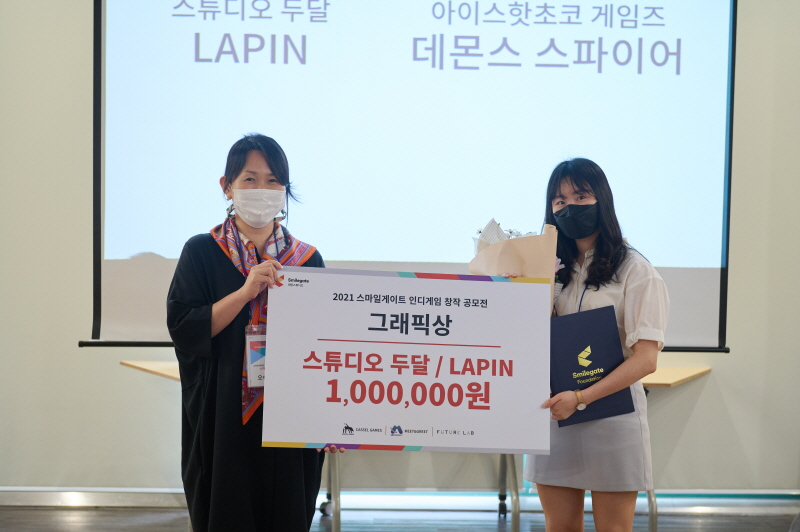 The first two teams to win graphics awards successfully showed the attractive visuals of indie games. <Lapin> of Studio Two Months with fairy tale-like dreamy graphics, and <Demon's Spire> of Ice Hot Chocolate Games with impressive color motion effects in a boss-rush soul-like genre, received the award.
The Idea Award is the award that best represents the strengths of an indie game. As such, the winning teams' games were well-established with novel ideas. On the PC platform, <Ready Action> of Kudok, a unique, horizontal scroll, chasing, action game won the award. On the mobile platform, <Yo-gue Sueirok> of team Lazy, an escape room and mystery game set in Joseon received the award.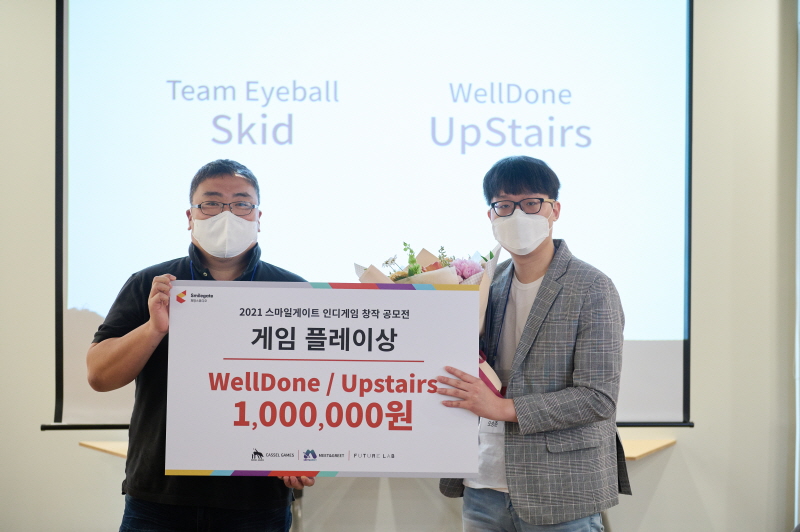 The contest was judged by a panel after they played the prototype games of the teams. The Game Play Award was given to teams with high levels of immersion despite being indie games. <Upstairs> of WellDone, a 3D puzzle adventure game and <Skid>of Team Eyeball, a racing game received the award.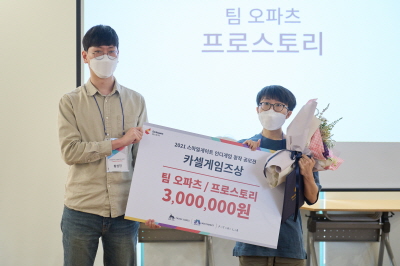 Finally, the grand Cassel Games Award and Meet & Greet Award were awarded to teams with the highest scores on the PC and mobile platform. The award was handed out by senior creators from whom the awards were named after.
Lee Tae-yoon, the creator of a mobile puzzle game with pixel art graphics <Grid Page>, stated that he was happy to be recognized in doing what he loves. Baek Jong-won of Team OOPArts, creator of a story-based action-adventure game <Pro Story>, stated that he was honored to receive the Cassel Games Award and hopes to make an award named after his team in the future.
After the award, director Yeo Seung-hwan of Smilegate Holdings, who supported the contest and conducted screenings, gave a general review. "There is certainly a difference between Smilegate's other talent acquisition programs and indie game contests. I was able to observe the steps of forming teams, developing scenarios, designing systems, and developments made to the game. I hope this competition will serve as motivation to not give up as well as an opportunity to develop better games."
| Noteworthy vision of Smilegate's Future Lab Center for supporting creation
As mentioned earlier, this event means more than just an awards ceremony. Meet-up programs were offered to open new opportunities for all participating teams to experience, learn, and develop the community. After the awards ceremony, there was a lecture where senior creators shared their experiences and knowledge with junior creators.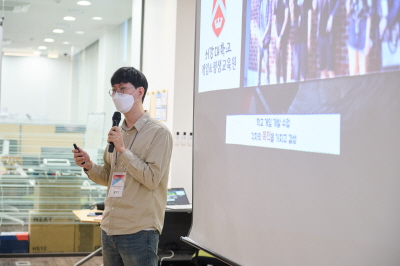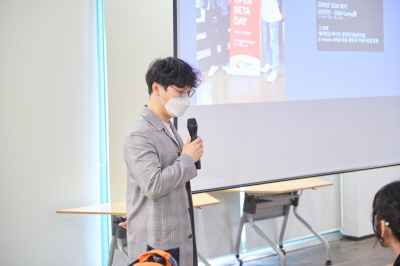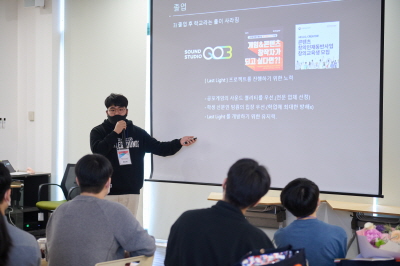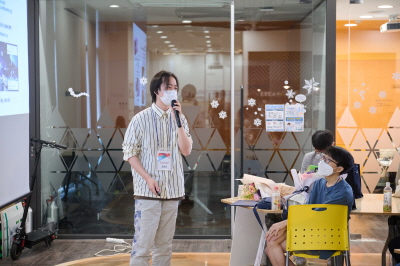 Four senior creators, former Smilegate Membership members, took the platform. Hwang Sung-jin (Cassel Games/Class 11 of SGM), Song Hae-sol (Staff Games/Class 10 of SGM), Hong Do-hyun (Cornfield/Class 12 of SGM), and Cho Min-geun (Cats Vice Studio/Class 12 of SGM) shared their experiences of success and failure in planning, developing, and releasing games. Junior creators were enthusiastic to hear vivid testimonies from senior creators in the same indie game industry.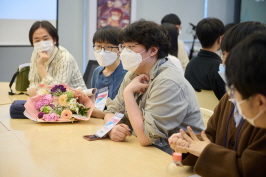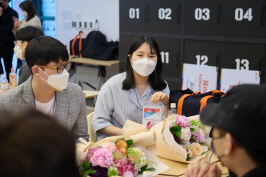 Following the lecture, there was group networking as part of the meet-up program. Participating teams were divided into groups to greet each other and share their stories. It seemed a little awkward at first, but a bond was soon created between seniors and juniors and fellow creators in sharing their creative processes, difficulties, and advise to each other.
One of the reasons why the event was special was because support was not spared for any team. During group networking, director Yeo Seung-hwan held 1:1 feedback sessions. As a judge and a mentor, he gave careful feedback and interviews for teams to develop their games further. It gave a glimpse of the sincerity of Smilegate Future Lab Center, having supported indie game creation for a long time.
| The cycle of indie game market through empathy, stimulation, and motivation
This event is a textbook example of efforts to revitalize the indie game industry. Everything from the planning stage made possible through donations from senior developers, limiting the contest to junior creators, to creating a venue for learning and interactions with fellow creators regardless of awards. Through this event, we can see how values of the indie game industry are cycled.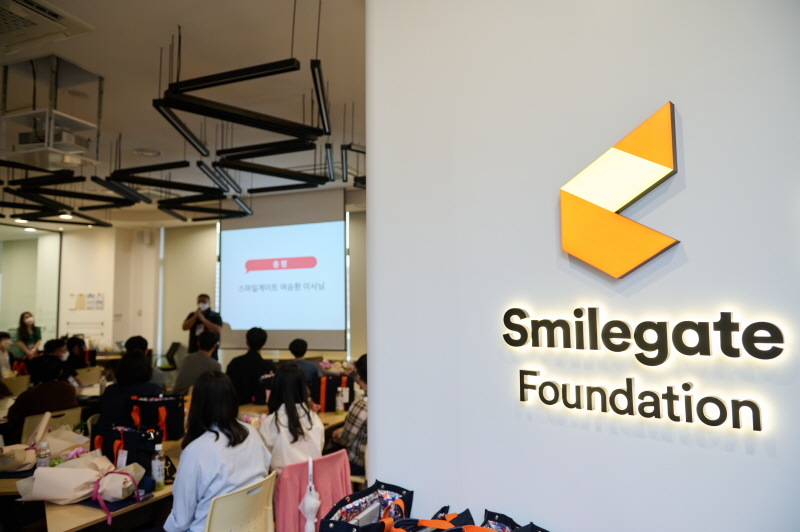 These programs are not created overnight. Smilegate Future Lab Center has long been creating the environment and culture through support projects such as the Smilegate membership and various creation support programs for indie creators. It has also provided creative spaces, expert mentoring, start-up linked programs, and activity costs so that indie game creators can focus on games and develop their business without burden.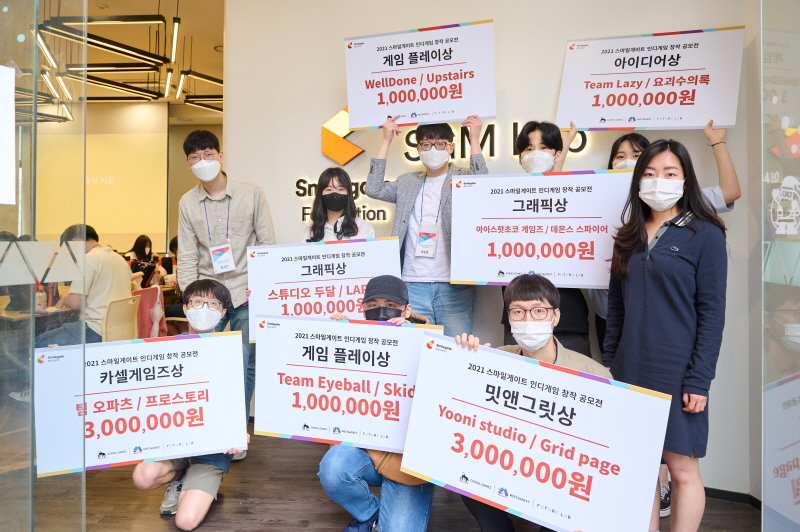 It was clear that Future Lab Center's sincere efforts to support indie game creation was fruitful through the reviews of participating teams. The reviews stated, "It was a place where I could communicate and sympathize with creators who were struggling with similar things", "I wanted to make better games after seeing the work of other teams", and "Listening to the experiences of senior indie creators made me want to stand in their shoes someday." Empathizing, stimulating, motivating each other and creating the power to move forward. It is important to have physical support. However, sincere exchanges and cheering on the culture of indie games will be the determining factor driving indie games to be more creative and valuable.

EDITOR's COMMENT
#Future Lab
Future Lab is a creative environment lab for the youth operated by the social contribution institute, Smilegate Foundation of Smilegate. It helps young creators to discover their creativity and realize their potential by combining latest technology, art, and humanities into research/developments.
It is working on projects in which artists and teenagers work together in IT, architecture, and music. It is also working in conjunction with domestic and foreign creative environmental institutions such as the MIT Media Lab in the US and the BBC Education Foundation in the UK.
*For a closer look of Future Lab, visit: https://futurelab.center/
#Smilegate #Smilegate Membership #Future Lab #Smilegate Foundation #Indie Game #Contest #Award Ceremony #Indie Game Network #Creation Support
Related Contents