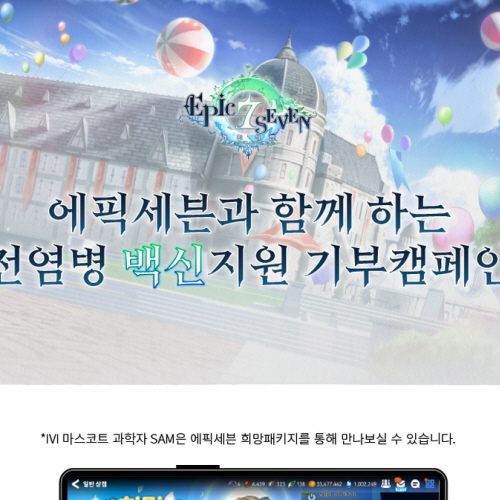 Smilegate Foundation – Int'l Vaccine Institute Starts Vaccine Donatio…
2021-09-06
■ Campaign to support vaccine for infectious disease to children in developing countries who are in the health blind spot
■ Expected to form a consensus on social issues through voluntary participation of game users and spread a participational donation culture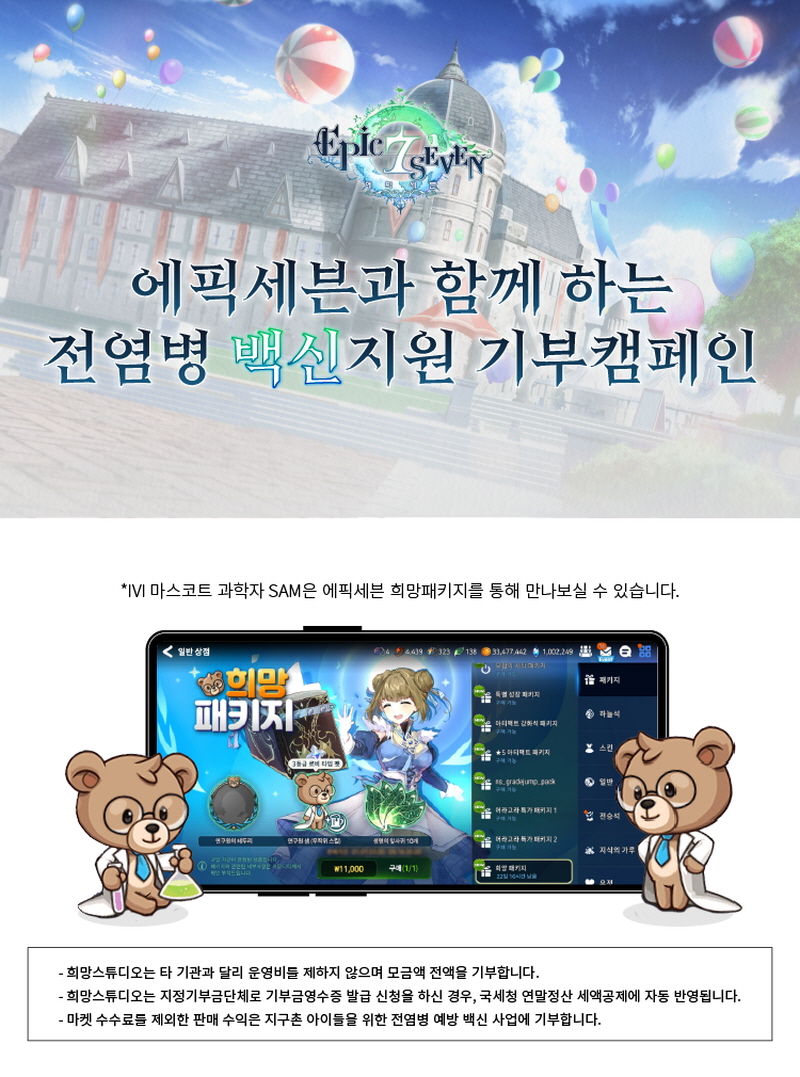 [2021-0906] Smilegate Foundation (Chairman Hyukbin Kwon), together with the International Vaccine Institute (IVI, Director General Jerome Kim), will carry out a campaign to donate vaccines for infectious diseases linked to the mobile game 'Epic Seven'.
This donation campaign, conducted in collaboration with Smilegate Foundation and IVI, was designed to support children in developing countries to lead a safe and healthy life, such as reducing the cost of social loss due to infectious diseases and increasing the survival rate of infants through vaccination. Especially the donation campaign is expected to support the distribution of vaccines to overcome the global pandemic. Through the donation campaign, users will recognize social problems while enjoying the game. Furthermore, game users get the chance to voluntarily participate in the unique and exciting donation culture aiming for the happiness of future generations.
This donation campaign was proposed and planned by Smilegate Foundation as a user-participatory in-game system. The developer came up with the donation item package 'Hope Package'. The 'Hope Package' includes IVI's researcher character 'Sam' as a pet, and users who participate in the donation campaign receive the item' leaf of life' and an 'angel frame'. The developer' Super Creative', the publisher Smilegate Megaport/Stove, and Yostar (Epic Seven's Japanese publisher) also participate in the donation campaign. The total sales of the package will be donated.
Last year, Smilegate Foundation donated all profits (about 238 million won) from sales of in-game donation campaign packages purchased by 'Epic Seven' game users to the education support project for children and adolescents in underdeveloped countries in South Asia through the Korean National Commission for UNESCO. The donation money was used to build a local learning center for children in the blind spot of education and develop and distribute textbooks.
Director Kwon Yeon-joo of Smilegate Foundation said, "I am always grateful to game users for sympathizing with social contribution. Smilegate's leading gamification donation campaign is exceptional in that it naturally induces donation participation by developing characters and reward elements that deliver the donation messages. As we are donating epidemic vaccine support to children worldwide, I hope that global users of Epic Seven will be able to participate excitingly and spread their good influence".
#Smilegate #Smilegate Foundation #SGF #International Vaccine Institute #IVI #Epic Seven #Donation Campaign #Donation Culture #CSR #Hope Package
Related Contents