[Orange Planet] Operation of Unmanned Stores, "Fainders.AI"
2021-06-16
※ The article was written on June 16th, 2021
Convenience stores, Daiso, E-Mart, ice cream stores, even stationery stores are all switching to unmanned technology. However, there are some drawbacks like not having a cashier, a self-checkout machine that you've never used before, and the slow pace of which the person in front of you is proceeding in. What if you could instantly pay for the item and receive saving points as you walk out? Introducing Fainders.AI, a service that seeks to revolutionize offline distribution by commercializing the Grab&Go service. I met with Ham Myung-won, CEO of Fainders.AI, a new tenant company of Orange Farm at Orange Planet's start-up support program.
[Interview] Ham Myung-won ,CEO of Fainders.AI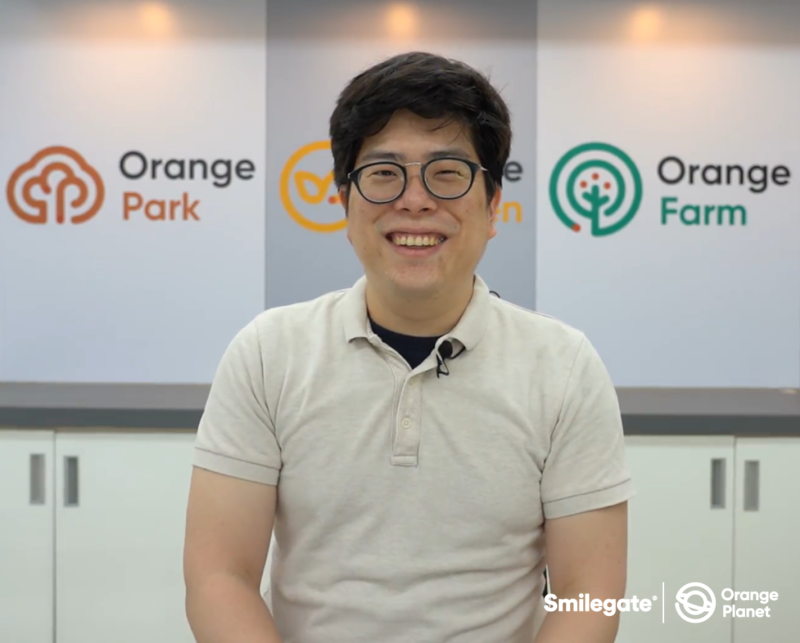 <Ham Myung-won, CEO of Fainders.AI>
Q. Please introduce yourself.
Hello! I am Ham Myung-won ,CEO of Fainders.AI. We are a tech team that dreams of "innovation through the digitalization of offline distribution based on Vision AI". We hope to solve problems of offline retail through AI computer vision. We are currently piloting the Grab & Go store "Ten Steps" service to improve customer experience in offline retail. I think the key competitive edge of offline distribution over online distribution will be technology.
Q. What kind of service is "Ten Steps"?
Ten Steps is a Grab&Go store service. Ten Steps is an unmanned refrigerated shelf, about the size of a vending machine. When the customer grabs an item on the shelf and goes, it automatically puts through the transaction based on the customer's information in the system. The biggest need for customers in offline stores is to resolve waiting. (1st place: Long queue (40%), long payment time (24%) - Deloitte survey) To solve this, we implemented the Grab & Go experience with Vision AI, which automatically recognizes what customers pick up and leads to automatic payment. We are currently piloting the service and plan on installing about 30 more units by the end of this year. (Vision AI refers to the technology of deep learning to understand and process images, including recognition and classification of object locations within images. In other words, AI acts in place of the human eye).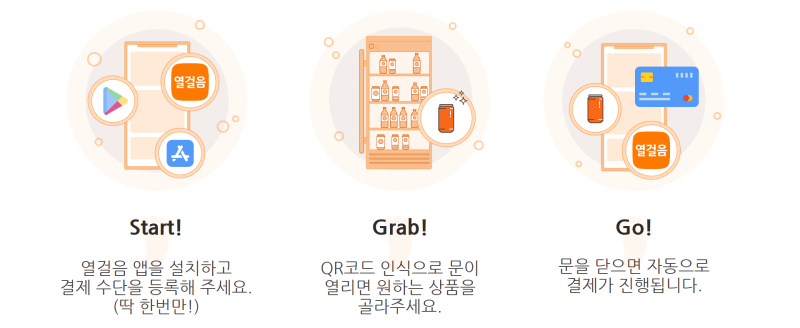 <Ten Steps service>
Q. What is digitalization of offline distribution in a nutshell?
There are two main types of digitalization of offline distribution. The first is to improve customer experience using existing strengths of offline distribution. In a word, "unmanned". The unmanned service we are currently testing is Ten Steps. The second is customer behavior analysis, which is mainly used in online distribution. The ultimate goal of digitizing offline distribution is to understand how customers behave in the store, what products they choose, and where they move.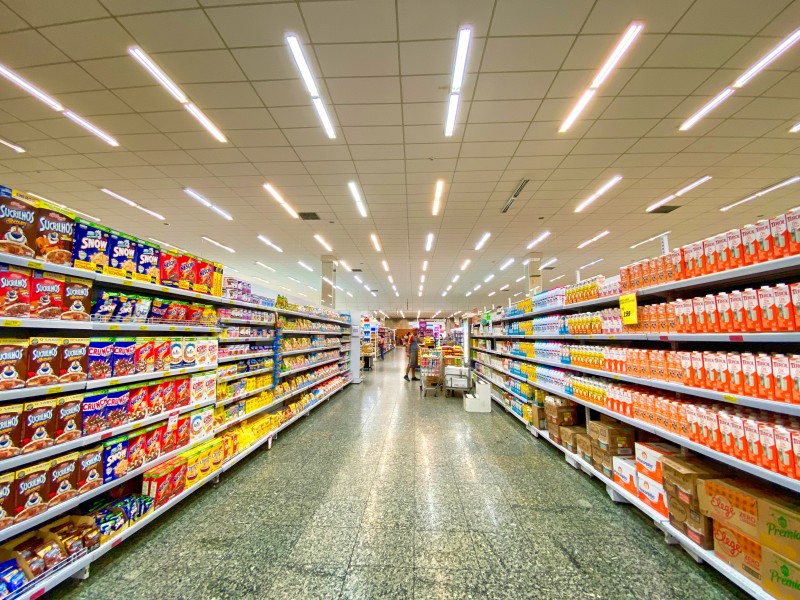 Q. How is "Ten Steps" different than existing unmanned stores?
Unmanned stores have been increasing rapidly in Korea since last year, mainly ice cream stores. Some convenience stores are operating manned during daytime and unmanned at night. Have you been? Most of them have self-checkouts, which is hard to consider as simplification of customer experience because the customer plays the role of the cashier. With Ten Steps, all you have to do is grab the item and walk out.
Q. How have customers reacted to Ten Steps?
At first, we installed it in a shared office without any promotion and only had a few transactions. (chuckle) It was a trial-and-error process. However, as we carried out events such as saving points, our retention rate improved. To my surprise, every customer in the month of May in 2021 have used the service again. After experiencing our service, they enjoyed convenience and returned for our service.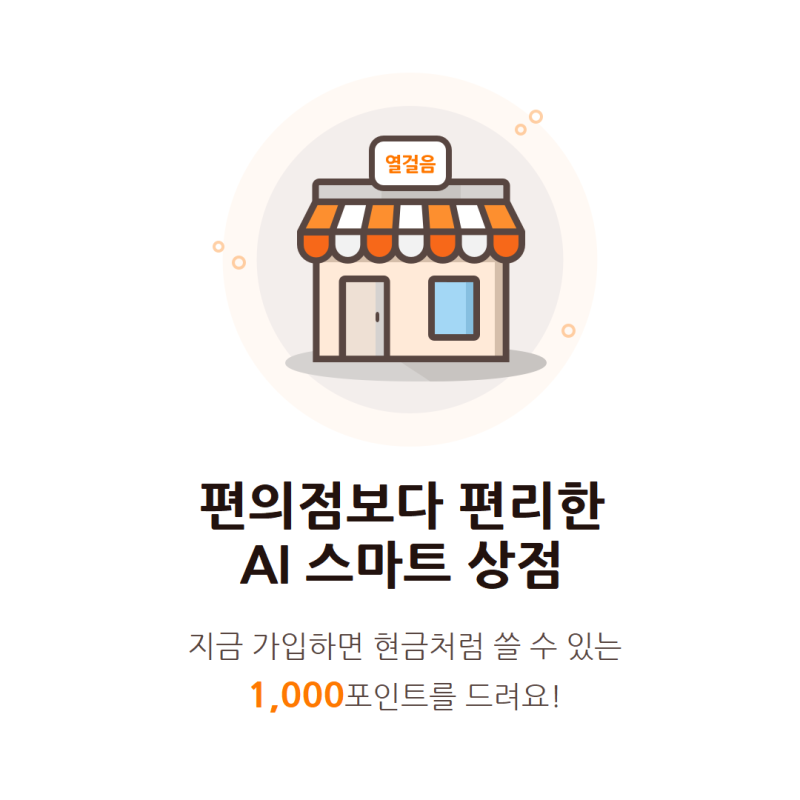 <AI smart store, more convenient than convenience stores>
Q. Introduce your teammates who are working hard for service improvement.
Our team consists of 4 people. COO Wang Min-kwon who ran his own P2P start-up company before he joined the team, CTO Hong Seok-bum who has been with me since my last start-up, and developer Lee Byung-hun who is incredibility talented. Lee Byung-hun is the youngest member of the team and the only person from the MZ generation. He contributes by providing valuable information on the spending patterns of the MZ generation.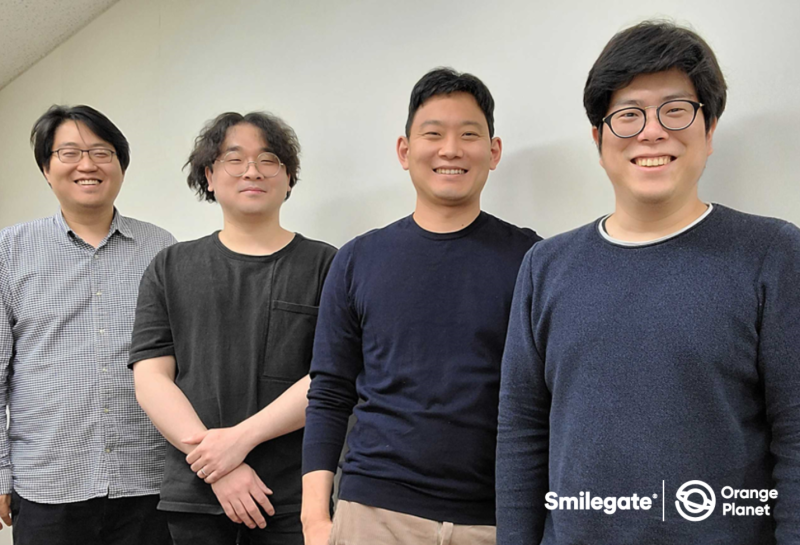 <CTO Hong Seok-bum, developer Lee Byung-hun, COO Wang Min-kwon, CEO Ham Myung-won>
Q. Do you have any memorable episodes with your team members?
Last summer, I remember spending all of my energy on AI competitions for a month to acquire initial funds to run the company. We strategically competed in competitions and focused on outsourcing to raise operating funds since we established the company in May, 2020. Among them, I remember participating in the NIPA 2020 Artificial Intelligence Online Competition and winning prize money for the company. More importantly, the intense period of 2 weeks we spent collaborating was critical to our success. Even now with the commercialization plans of the company set, we distribute tasks in order to maximize efficiency.
Q. What would you say to your teammates 3 years from now?
I want to tell them that our company's biggest assets are them. They're almost like the Avengers. Technology competence is key to us as a technology company and we are lucky to have a COO who understands how to use this technology to move forward. I'd like to say thank you to the team and to keep up the good work. We expect the service to be commercialized in three years. Surprisingly, there are not many companies taking the initiative to move toward unmanned stores though Grab&Go in Korea, compared to the rest of the world. If we achieve the goals we have set in three years, we will have a lot of open opportunities in front of us. I'm sure we will be doing lots of interesting things and hope that the whole team will still be there. (chuckle) I'm also thinking about recruiting more people for the development of our service. Even now, we are making continuous efforts to contact and hire talented people. For anyone who is interested in joining us, please contact us on our website. (https://fainders.ai/)
Q. What was the hardest problem you faced throughout the process? What kind of concerns do you have now?
The hardest part of starting a business is uncertainty. Sometimes you can start a business based on uncertainty and sometimes it's just stress. It was also difficult to have business meetings as a representative of the company coming from a developer background. I'm still struggling because there are so many things I don't know about running a business. It reminds me that I am a developer at my roots when I find it harder to have meetings than stay up all night developing. Running a business is very different than thinking and working as a developer. But meetings are becoming easier as I attend more of them. When it comes to our current concerns, differentiation of our service from other services is the main concern. It's not easy to enter the market because there are traditional players in offline retail. These existing retail companies are also trying their own unmanned services, so we have to keep working to differentiate ourselves. Since there is concern of data leakage among distribution companies, we see that as an opportunity and are speeding up the development of services.
Q. What kind of services are you planning after "Ten Steps"?
We are preparing for the commercialization of Grab&Go service. The first step is to establish a pilot store that can collect customer purchase and sales datasets. We plan to expand the Ten Steps service from a vending machine to stores about 23 square feet. When enough video data is accumulated at the pilot store, the service will be expanded to existing self-checkout stores. We want to improve our service by comparing our data with the data from self-checkout stores. After that, I think it will be possible to expand the service to general stores.
Q. Orange Planet is committed to supporting start-ups that pursue social value. What social issues will your service solve?
Start-ups create new values and create employment that society needs. They also serve as examples and motivation for other start-ups. In the short term, our introduction of unmanned technology may reduce jobs for people. However, in the mid to long-term, it will enable employees to focus on interacting with the customer to improve customer satisfaction, reduce working hours, sell products 24/7, and lessen the financial burden of starting a business. Pursuing social values motivates Fainders.AI more than monetary return and we are always working with it in mind.
Q. You will be a part of Orange Planet for the next year. What are you most excited about?
Many expectations have already been met. (chuckle) First of all, thank you for supporting our business and providing us office space. For small teams like us, various support programs such as office space, mentoring, and special lectures are very helpful. I am looking forward to networking with fellow startups, evaluations, as well as advice. There are many companies in similar growth stages that are suffering from common problems. Networking will allow us to gain insights, expand our business, acquire investment, and lead to adequate recruitment. We look forward to assessment and advice from Smilegate because it reminds us to look at the larger picture and make improvements.
Q Any words for companies in the Orange Planet family?
There are many traditional players in offline retail which makes it difficult to operate a service. We are experiencing a lot of trial-and-error as we try to develop and incorporate new technologies. We hope to become the leading company in this field and be of great help to junior companies in the Orange Planet family. Networking has been reduced due to COVID-19 but I hope to meet you soon. I look forward to meeting you!
EDITOR's COMMENT
#오렌지플래닛
Orange Planet was established in April 2014 as the largest youth start-up support center in the private sector and has been generating the best systematic support in Korea. It serves as a start-up accelerator not limited to just space support, but long-term investment links, including regular and irregular mentoring, and even overseas expansion which serves a significant role in helping start-ups move toward success.
#Smilegate #Smilegate Foundation #Orange Planet #Orange Farm #Start-up Support #Fainders.AI #Ten Steps
Related Contents