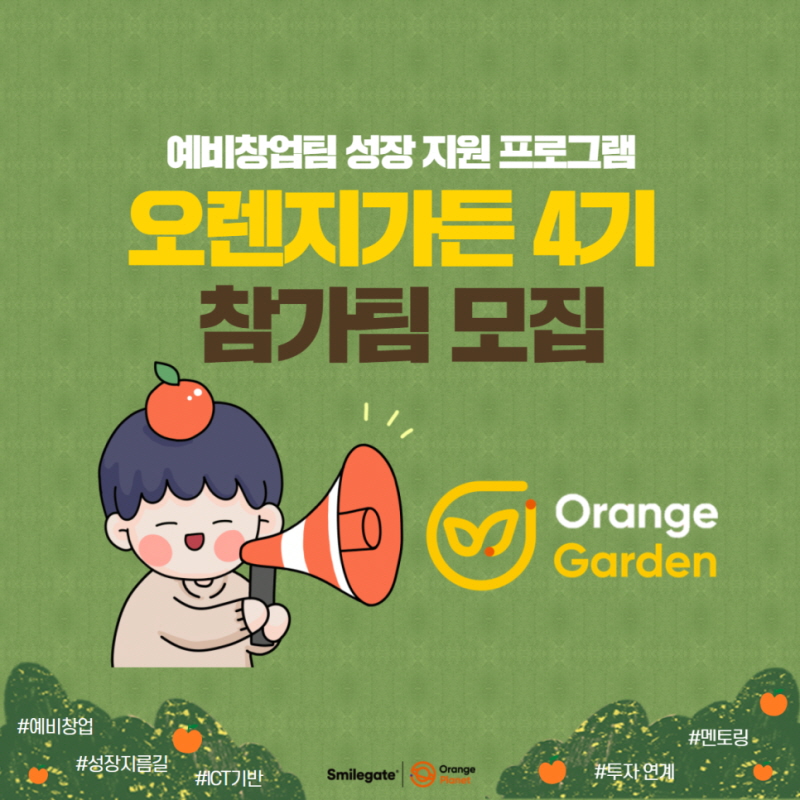 Orange Planet Recruits 4th "Orange Garden" Participants, A Growth Supp…
2021-04-21
■ ICT prospective start-ups can sign up until May 2nd
■ 7 teams will be selected for a 4-month accelerating program
■ Excellent prospective start-up teams will have opportunities to attract initial investment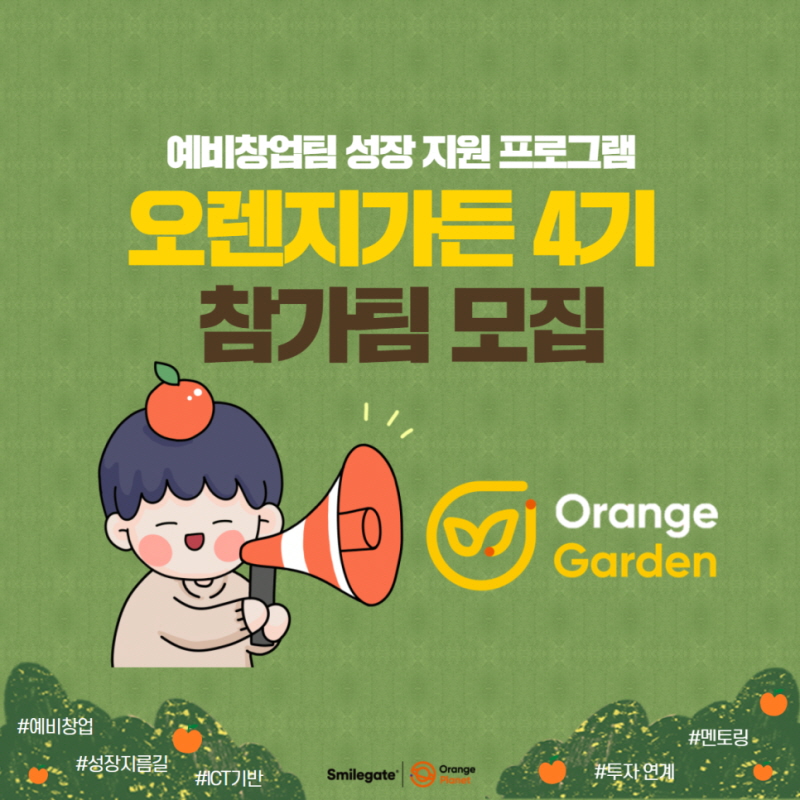 [2021-0421] Orange Planet, a startup platform operated by Smilegate Foundation (Chairman HyukBin Kwon), announced on the 21st (Wednesday) that it will recruit prospective start-up teams to participate in "Orange Garden", a four-month prospective start-up team growth support program.
Participants of the Orange Garden program must be an information and communication technology (ICT) prospective start-up team (preparing for or established as a corporation within 3 years). They will be able to apply on Orange Planet's website until the 2nd of next month. Orange Planet will select a total of seven prospective start-up teams through the first round of document screening and a second round of interviews and PT screening. Selected teams will be able to participate in the program for four months from May 3rd to August 31st
The program will match teams with senior Orange Planet companies in similar fields to provide ▲ Business Direction and Milestone • KPI Establishment, ▲ Initial Investment Attraction Strategy and Precautions, and ▲ Initial Management Know-how. Smilegate's development support team will also provide ▲ Technology and Development Strategy and ▲ Prototype Development Support and Education.
In particular, starting with the fourth program, additional support such as team capacity enhancement programs, guidance on administrative procedures for establishing corporations, and office infrastructure support will be provided. Finally, teams who are deemed excellent will be given an opportunity to be reviewed for initial investment from Orange Planet and Smilegate Investment's "Orange Fund".
Orange Garden is designed to help ICT prospective start-up teams develop into full-fledged businesses and services and help them grow into sustainable start-ups.
Suh Sang Bong, the director of Orange Planet, said "There have been many programs for start-up growth along with growth of the domestic start-up ecosystem, but there are not many professional programs for prospective start-ups. The Orange Garden program will support prospective start-up teams to help them actualize their ideas and develop their MVP models".
Orange Planet is a "start-up platform" that provides networking opportunities and supports prospective entrepreneurs and growing start-ups by providing services tailored to the start-up cycle through the "Orange Farm" program. It first opened at the Seocho Center in April 2014 and has grown to operate additional centers in Sinchon, Busan, and Jeonju. It has since supported about 250 start-ups.
#Smilegate #Smilegate Foundation #Orange Planet #Orange Garden #Orange Garden Recruits 4th Participants #Orange Fund Initial Investment Opportunity #Start-up Platform
Related Contents