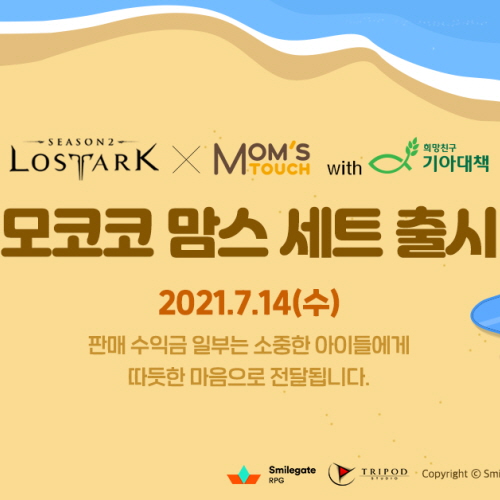 Lost Ark's Donation Campaign Summer Event! Mokoko x Mom's Touch Collab…
2021-07-15
■ Lost Ark announces summer collaboration "Mokoko Mom's Set" with Mom's Touch
■ Donation event in conjunction with the collaboration... working with "Korea Food for the Hungry International" to provide happy memories for children in need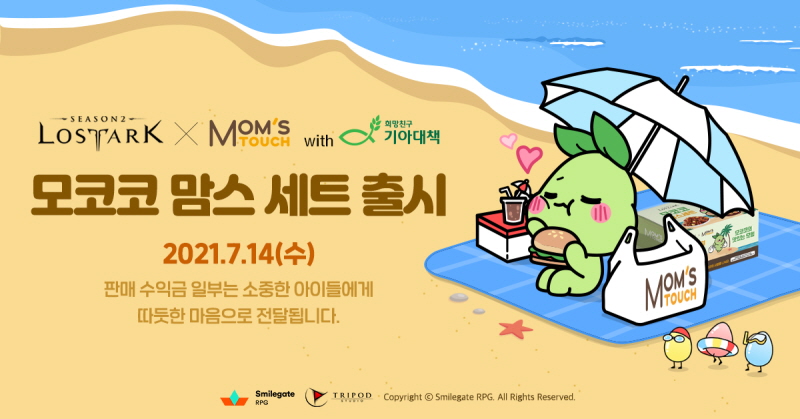 [2021-0714] Smilegate RPG's (CEO Chi, Wongil) MMORPG Lost Ark will hold a collaboration between its mascot "Mokoko" and "Mom's Touch" to release the "Mokoko Mom's Set". In addition, it announced on the 14th (Wednesday) that it will work with "Korea Food for the Hungry International" to donate part of the proceeds to children in need.
"Mokoko Mom's Set" is a limited edition set available through collaboration between Lost Ark and Mom's Touch. The set will be available from July 14th to August 13th. Every adventurer who purchases the set will receive coupons that give various items such as ▲Peons and ▲Certificate of Efon Union in the game. They will also receive a coupon for 40% off orders if they order through the Mom's Touch application. Lastly, special coupons will be given out to adventurers on the event page in commemoration of the launch of "Mokoko Mom's Set".
Smilegate RPG is working with "Korea Food for the Hungry International" to hold a donation campaign in conjunction with the collaboration. The campaign will donate part of the proceeds to children in need, so that they can have happy memories this summer vacation. Smilegate RPG is leading the way in fulfilling corporate social responsibility and spreading good influence through games as part of the "Dear Friends Project" which holds various donation events.
There will also be various in-game events for adventurers to enjoy Mokoko's summer collaboration. Lost Ark's summer festival "Maharaka Paradise" has games and missions where players can earn "chicken thigh" tokens that can be used to make "Dinner: Mokoko Mom's Set" at expedition sites. The item is very useful in combat due to its powerful effect of helping gameplay for a certain period of time.
There is also the "Enjoy Dinner!" lottery event for adventurers who have made the "Dinner: Mokoko Mom's Set" to win a ▲Mom's Touch mobile gift card, ▲Mokoko silicon mood light , ▲NEW Rabbit cushion, or ▲Lost Ark SD Figure.
Smilegate RPG CEO Chi, Wongil said, "I am happy to start the summer collaboration series, "Mokoko's Summer Vacation", with a collaboration between Mom's Touch and Lost Ark. It holds more meaning because it incorporates a donation campaign. We ask for the participation of many adventurers in making happy memories for precious children in need".
For more information on Lost Ark, visit the official website at (http://www.lostark.co.kr).
#Smilegate #Smilegate RPG #Blockbuster Hack and Slash MMORPG #Lost Ark #Mokoko #Mokoko's Summer Vacation #Mom's Touch #Donation Campaign #Korea Food for the Hungry International #Enjoy Dinner Event
Related Contents