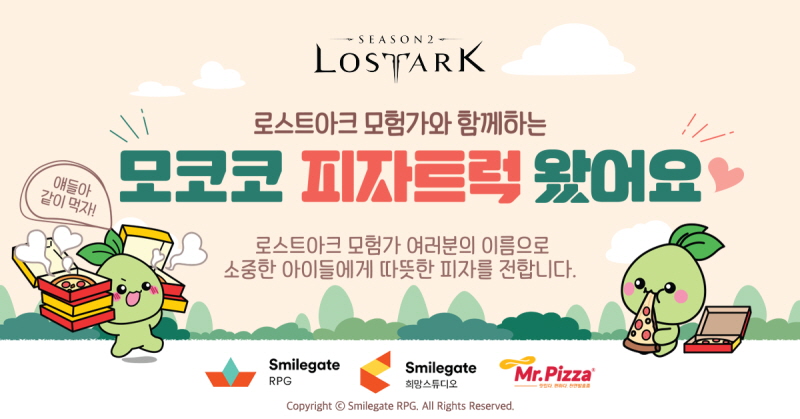 Lost Ark Successfully Completes "Mokoko's Pizza Truck" Donation Event …
2021-07-09
■ 600 pizzas delivered to 19 children welfare organizations nationwide through the participation of Lost Ark adventurers
■ Adventures of "Mokoko's Pizza Truck" shared. Able to participate in writing cheerful comments for the children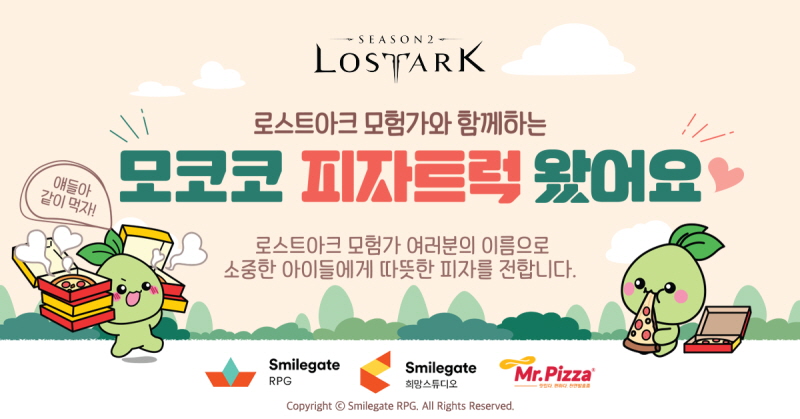 [2021-0709] Smilegate RPG's (CEO Chi Wongil) blockbuster hack & slash MMORPG Lost Ark announced on the 9th (Friday) that it has successfully completed a donation campaign called "Mokoko's Pizza Truck" with adventurers' participation.
The donation campaign "Mokoko's Pizza Truck" was held through a collaboration with Mr. Pizza which donated part of the proceeds of "Mr. Mokoko Pizza Set" in late April. They delivered warm pizza in the name of Lost Ark adventurers to children in blind spots nationwide. From June 9th to July 2nd, they delivered a total of 600 pizzas to 19 children's welfare facilities including Bucheon New Day School, Hongcheon Haemil School, Anseong Lila Children's Welfare Center, and Jeonju Children's Center. The delivery was done non-face-to-face with the minimum number of people to prevent the spread of COVID-19.
Smilegate RPG also opened a special page on Monday to reveal the adventure of "Mokoko's Pizza Truck". On the page, you can check out activities of Mokoko's Pizza Truck through posts and photos, and watch the warm thanks received from facility personnel. Warm, cheerful comments can be left by adventurers which will be delivered to the children later.
This pizza truck campaign was part of Lost Ark's "Dear Friends project", a project based on participation of adventurers. Smilegate RPG plans to expand its social contribution campaign with its summer event "Maharaka Festival", where adventurers will be able to donate just by playing the game through the "Maharaka Tree of Happiness" campaign, beginning on July 7th.
Smilegate RPG CEO Chi Wongil said, "This donation campaign was made possible through active participation of adventurers. I extend my gratitude to everyone who participated. Lost Ark will continue to hold campaigns that support vulnerable children with our adventurers.
For more information on Lost Ark, visit Lost Ark's official website at (http://www.lostark.co.kr).
#Smilegate #Smilegate RPG #Blockbuster Hack and Slash MMORPG #Lost Ark #Mokoko #Mokoko's Pizza Truck #Donation Campaign #Mr. Mokoko Pizza Set #Mr. Pizza #Dear Friends Project
Related Contents