Smilegate AI Center Reveals a 'Human-like' Artificial Intelligence (AI…
2022-04-05
■ AI Center reveals "HuLiC," an AI evaluation platform based on "human-like" conversation data
■ An interactive language model like an actual conversation between people was built, and the scope of conversation is to be expanded to specific topics outside of daily conversation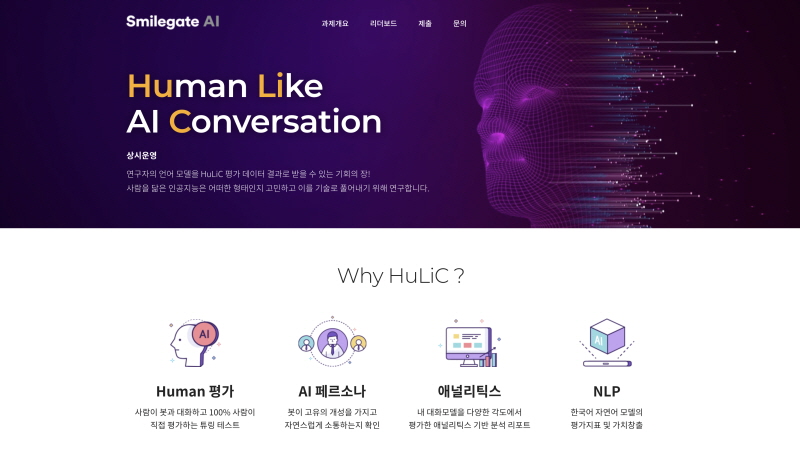 [2022-0329] Smilegate AI Center (Center Director Woo-jin Han, hereinafter referred to as the "AI Center") has revealed the artificial intelligence (AI) language model evaluation platform "HuLiC" (Human-Like AI Conversation) on March 29 (Tue).
HuLiC (https://hulic.smilegate.net/) revealed by the AI Center is an evaluation platform that evaluates and studies various language models based on AI. The purpose of HuLiC is to explore the concept of "human-like" AI and to collect and evaluate data to create a human-like interactive AI language model.
For this, the AI Center has defined appropriate evaluation items and criteria to review the aspects of conversations generated between two parties like a human conversation, and evaluated the conversation data derived from multiple participants through the AI model. Unlike the traditional automated AI language model evaluations, HuLiC is differentiated by the fact that it had experts participating and evaluating the data based on indicators that can only be evaluated by humans. The data collected and evaluated by this system is expected to serve as the cornerstone for research on "human-like" AI models that can interact like conversations between actual people instead of being confined to the mechanical responses of existing AI conversation models.
In particular, HuLiC promotes open domain, and it is designed for external party sharing and referencing, which leads to expectations that it will be able to provide useful information to language model researchers. The AI Center is also planning to continue with language model evaluations on specific topics including ethics, hatred, etc., outside of daily conversations after revealing HuLiC.
AI Center Director Woo-jin Han said, "The existing AI evaluation platforms focus on quantitative evaluation, which is mostly limited," and added, "It's time for us to evaluate the overall capability of AI with modern technological advancement, and this is a necessary process to build a human-like AI. HuLiC, along with other conversation and ethics evaluation data, are expected to become the foundation for AI technology advancement in the future."
The AI Center was founded in August 2020 with the aim to secure key technology for fun and human-like AI and to generate new business opportunities in the entertainment industry. The AI Center intends to build a "fun AI" that researches technology to interpret various human emotions including joy, surprise, and being touched, and a "human-like AI" that researches conversation models interacting like humans based on research on humans including sympathy, adaptation, and memory.
Related Contents