Epic Seven and Guilty Gear collaboration reaches top seven sales in Ja…
2020-05-22
 
■ Sales rank rising all over the world such as Asia, North America, Southeast Asia, etc.
■ Increased communication with users and the collaboration event with Guilty Gear lead the upward trend
 
[2020-0522] On May 22 (Fri), the Smilegate Megaport (CEO Ina Jang) serviced and Super Creative (Joint CEOs Hyungsuk Kim, Kihyun Kang) developed mobile turn-based RPG, "Epic Seven," reached top seven sales in Japan's Google Play Store, propelled by the popularity of the collaboration event with "GUILTY GEAR Xrd REV 2" (hereinafter Guilty Gear).
Epic Seven's collaboration event with Guilty Gear, which lasted from April 30 to May 21, was well received by the global market and ended as a great success. This event was a return of last year's collaboration event with Guilty Gear after consistent demand by users. The previous four-week special sub-story content was reduced to three weeks to increase immersion, and new collaboration heroes were added to provide a new experience.
And with this, the global sales rank also increased. Especially after this collaboration event with Guilty Gear launched, this game that only recently launched in Japan reached top 12 in the Apple App Store on May 8 and reached top seven in the Google Play Store on May 22. Also in Singapore, the game reached top five in both markets on May 8. And in markets outside Asia, such as Canada and France in North America and Europe, the game reached top 10. The game is rising in indexes all over the globe.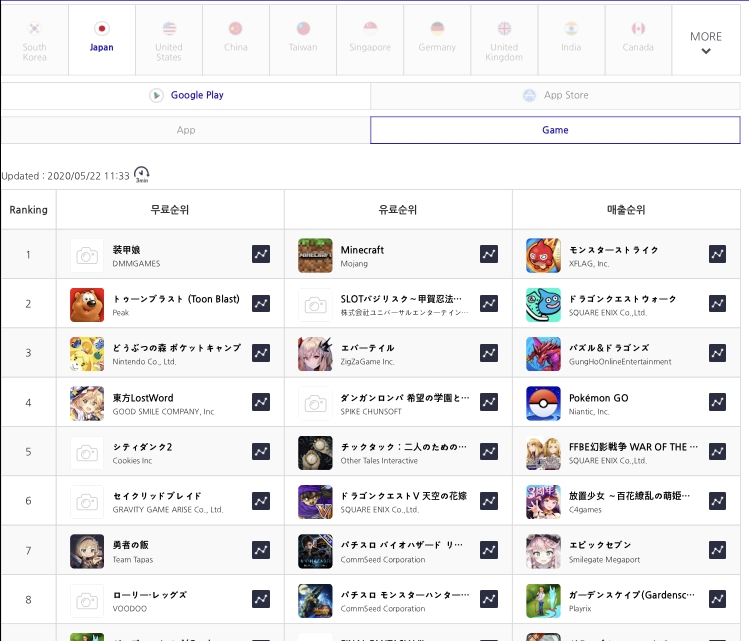 <"Epic Seven" reaches top seven in sales in Japan's Google Play Store>
After Epic Seven's first anniversary conference, in which the company promised to increase domestic sales and strengthen communication with users, the game showed a steady upward trend. Throughout May, when the collaboration event was held, it maintained its rank of top 10 most downloaded game of all time. Today, the game is top 14 in sales in the Google Play Store, which is the highest it has been except immediately after the launch.
"We believe listening to our Epic Seven fans and presenting content that provides a new experience were the driving force behind the recent upward trend in the global market," said Smilegate Megaport Head Sanghoon Lee, "We will return with more diverse and fun collaboration content in the future."
For more information on Epic Seven, visit the official community site(http://page.onstove.com/epicseven/kr) or the official Facebook page(https://www.facebook.com/EpicSevenKR/).
#Smilegate #Smilegate Megaport #Super Creative #Epic Seven #Guilty Gear #Mobile turn-based RPG #Epic Seven Guilty Gear Collaboration #Epic Seven Sales rank #Epic Seven Japan
Related Contents