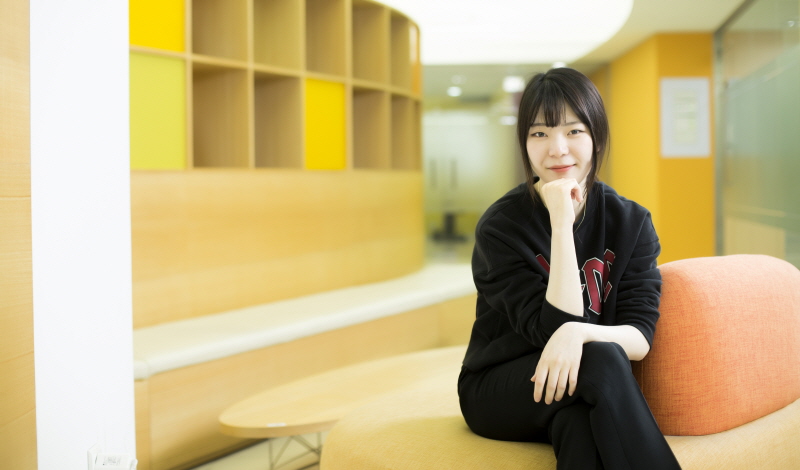 [Orange Farm] DoBrain, Maximizing Your Child's Brain Potential
2019-03-18
Smilegate Orange Farm was launched in 2014 to create and foster a healthy start-up ecosystem for global, small businesses by providing workspace and support programs. Once a part of Orange Farm, you can receive workspace and infrastructure, as well as various support such as business mentoring, investment attraction, and global expansion. We interviewed DoBrain which joined Orange Farm last year.
| Cognitive therapy on a smartphone
DoBrain CEO Yejin Choi has worked with a cognitive development research institute from 2013 to develop cognitive therapy programs for children under the age of 7. After obtaining her cognitive therapist license and observing children who had delayed cognitive development for three years, she created the DoBrain application with a developer she met in 2016 at her university. When you turn on the app, a character named "Art" appears and quizzes your child on memory, spatial perception, logical reasoning, etc. to help increase eight key abilities of the brain.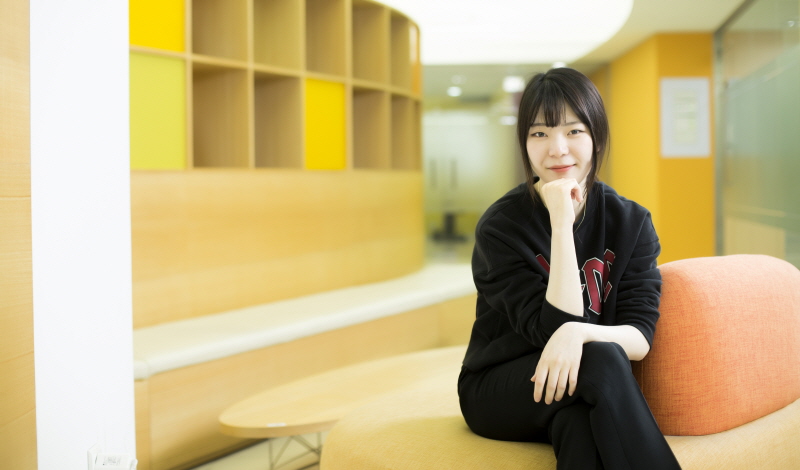 Last September, CEO Yejin Choi created DoBrain, named after her mission and started marketing the application in October. The results were fantastic. Within 6 months, it had over 80,000 users. It also ranked #3 on Google Play Store in the education category and #1 most popular free application for children. The app received many thankful reviews from moms such as "I have a 6-year-old child with autism who could only draw alligators. After DoBrain, he drew something else for the first time, Art (character from DoBrain)". CEO Yejin Choi shared her excitement of when she read the review.
Cognitive therapy at a hospital consists of diagnosis, prescription, and treatment. We are able to provide cognitive therapy content corresponding to the treatment stage through researchers on the DoBrain team who have more than 20 years of experience in cognitive therapy clinical trials. Our goal is to include the stages of diagnosis and prescription in the application as well. DoBrain was well recognized for its capabilities even before its official launch in July. It won the #1 prize at the 2017 UN Urban Innovation Challenge and the Excellence Award at the 2016 Asia Social Venture Challenge. DoBrain is currently providing a test-version of the application to a school in Cambodia.
|
DoBrain and Orange Farm, purposeful companions
"Meeting with partners who shared the same goal helped us a lot" said CEO Yejin Choi, when asked about her secret to success. She often mentioned the words "together" and "collaboration", reminding us that DoBrain is the result of collaboration between experts in fields like AI, pediatric rehabilitation, and cognitive sciences. Orange Farm filled a large role as a partner. "Orange Farm actively tried to connect us to related experts because start-ups do not have an extensive network. They are different in that they think in the shoes of the start-up companies and offer sincere support" said CEO Yejin Choi. Thanks to these efforts, DoBrain has made various connections from animation studios, investors, to educational institutes that all play critical roles in DoBrain's growth.
The DoBrain application is currently conducting clinical trials to be recognized as a formal medical device at Asan Medical Center and other hospitals. DoBrain's goal of providing an FDA approved app for children around the world is accurately in line with Orange Farm's initiative to foster global start-ups. In this way, DoBrain and Orange Farm are purposeful companions.
* The above content has been edited from the Smile Tong: Paper, the Smilegate Group's newsletter.
EDITOR's COMMENT
#Orange Farm
Orange Farm is a youth start-up support program by Smilegate Group. It started in 2010 as a college student support-program and expanded to include the youth in early 2014. It first started at the Seocho Center and has since been opened at the Sinchon Center (April 2015), the Busan Center (August 2015), and the Beijing Center (July 2016). It operates the largest centers in the private sector of Korea to provide workspaces, development environments, mentoring, investment and business connections, networking programs, and opportunities for global expansion to start-ups dreaming to become the next Smilegate.
#Smilegate #Orange Farm #DoBrain #CEO Yejin Choi #Free Application for Children #Start-up #Youth Start-up Support Program
Related Contents