From Soup Kitchens to Smile Houses, Making Hopeful Relationships
2021-04-30
※ The article was written on April 30th, 2021
"Smile House No. 8" has opened at the Lila Children's Welfare Center where Smilegate and SundayToz have been volunteering for the last four years. A group home has been built in the place of a facility more than 30 years old for children to live in a clean and safe environment. Volunteer executives and employees who have a long history with the children were present at the opening ceremony.
| The new Smile House No. 8
The Lila Children's Welfare Center is a facility for children who have no family or relatives. Smilegate and SundayToz have supported by volunteering in soup kitchens, providing aquarium visits, and holding sports day events for the center since the summer of 2018.
The opening ceremony was even more meaningful with team leader Park Kyoung Lyoul, deputy manager Na, Kyoung Chul, specialist Song, Ga yun, and assistant manager Sun-hyo Kim present on site.
Team leader Park Kyoung Lyoul: "I'm proud to see the children growing up. It's been over a year since I saw them, but they remembered my name and invited me to their room. I hope they grow up healthy in this nice place. I remember visiting them by myself with pizza or chicken and having a blast".
Assistant manager Sun-hyo Kim: "I'm happy that the children have a nice place to call home. The separate kitchen and shower are especially nice. This has been a very meaningful experience to me".
Deputy manager Na, Kyoung Chul: "I learned that little things count through this experience. I hope the children are happy and excited about their new home. It's such an upgrade from the old building!".
In addition, the Smile House was provided with appliances, baby products, and necessities from the in-house donation campaign "Smile Supply Store".
Director Kim Doo-sik: "Thanks to Smilegate and SundayToz, we were able to complete the construction of Lila's living space. I can already imagine the children being excited. I sincerely thank you for not only volunteering but also taking care of necessities for the children".
The members of Smilegate who volunteered and donated for the cause. We hope to see the support from Smilegate transform into a healthy future for the children.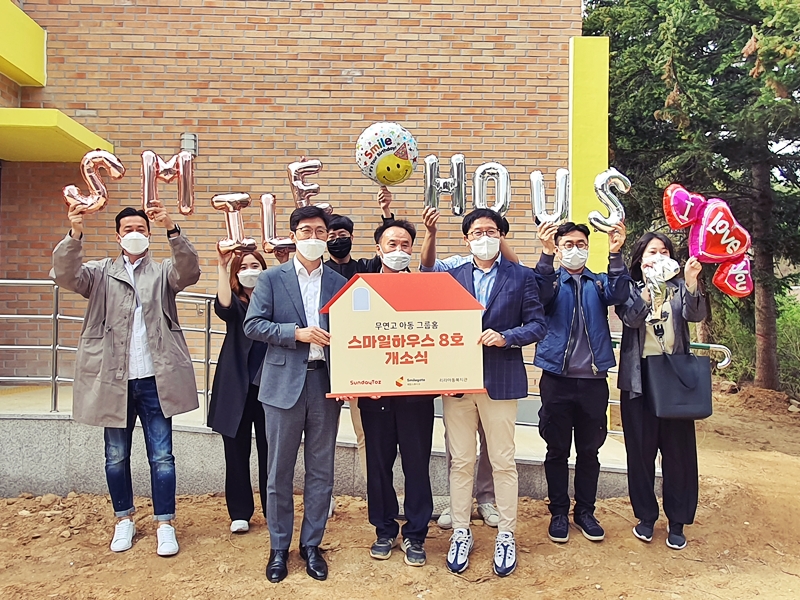 EDITOR's COMMENT
#"Smile House" gifting hope to children in need
Smilegate Foundation has opened 8 Smile Houses in Suwon, Ansan, Pyeongtaek, Sungnam, Gwangju, and Ansung. It is a platform that hopes to support the safety, growth, and independence of abused children for a better future.
#Smilegate #Smile House #Smilegate Foundation #Staff Volunteers #Volunteering #SundayToz #Lila Children's Welfare Center
Related Contents