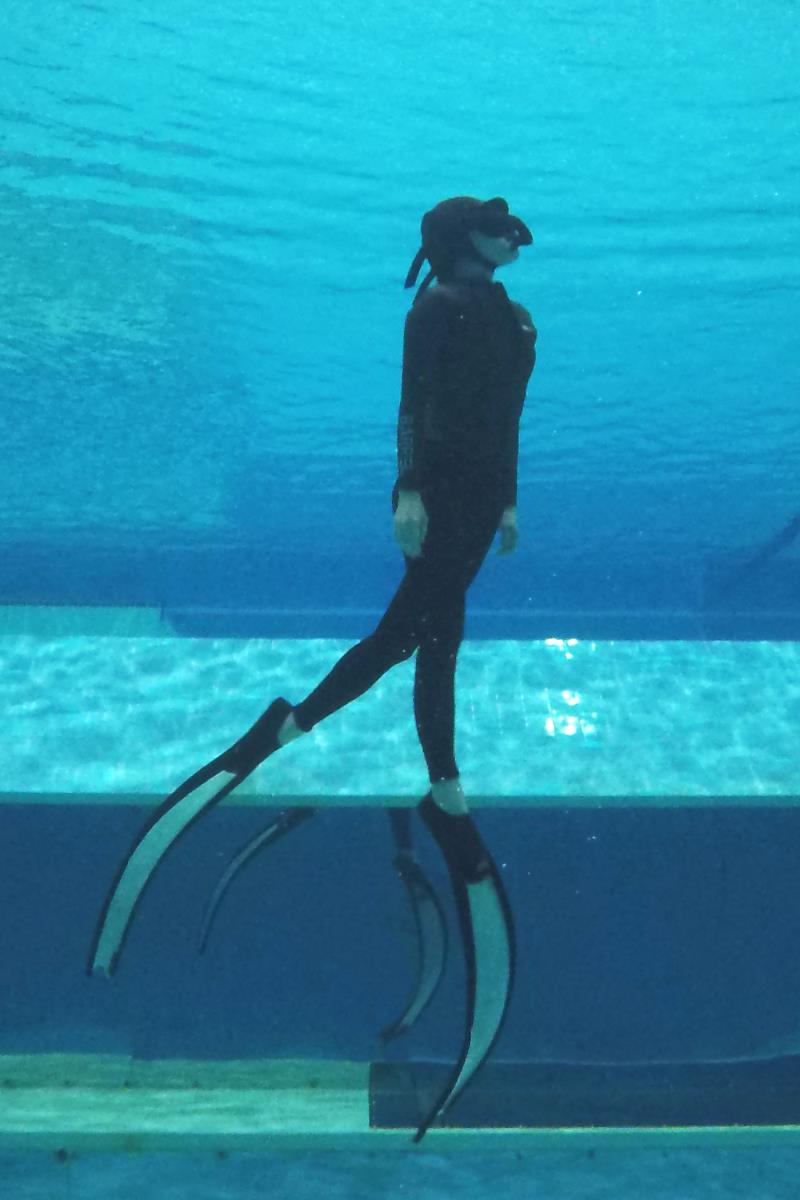 6 pm, Kim Dae-ri Puts on His Flippers
2018-10-06
* Dae-ri is a title of a staff level in a Korean company
6 pm, it's time to leave the office. All office workers have the same thing in mind: going home and taking a break or drink with friends. However, some people go to meet their coworkers again even after work. It's not an official dinner party or a meeting. Actually, they are meeting to have some fun.
The days when 'boss's hobby have to be my hobby' have passed. 'Work and Life Balance', 'YOLO(You Only Live Once)', and 'Small but Sure Happiness' have become keywords these days, and the value of rest is increasing. At the company level, Smilegate fully supports employees' breaks through operating in-house hobby clubs. A total of 55 in-house hobby clubs, including freediving and Gundam plastic model assembly, exist in Smilegate, and more than 900 employees are participating. As colleagues at work and friends outside, they give each other a positive stimulus.
[Interview]
Seon-ah Park, President of Smilegate Free-diving Club
We visited the regular meeting of the Smilegate freediving club 'Sufudong', formed four months ago. On an Autumn breezy Friday night, club members went into the deep, calm waters. What is the attractiveness of freediving? We asked president Seon-ah Park.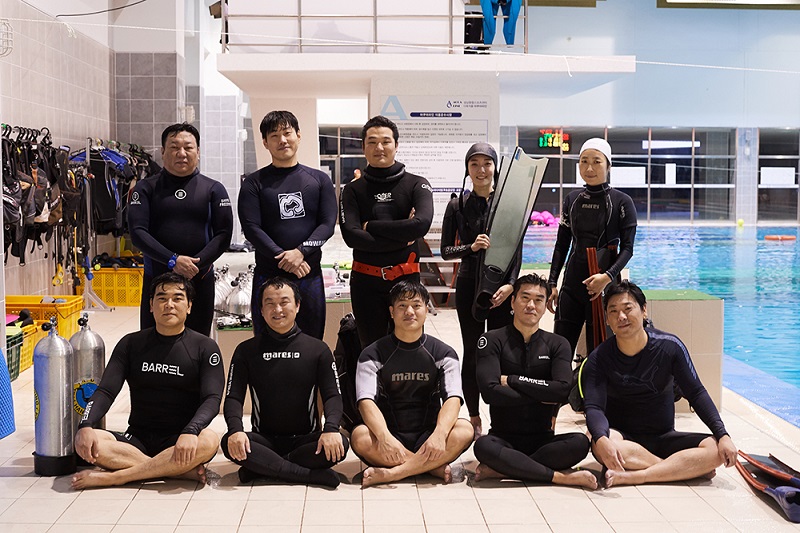 Q. How would you introduce yourself?
I do web design in the Smilegate RPG web part. I joined the company in April 2017.
Q. When did you start Sufudong?
It just suddenly came up to my mind one day. I applied for the opening of a club and have been officially active since last July.
Q. How many members are there in the club?
A total of about 30 members are in the club. We train 2-3 times a week according to the members' schedule.
Q. How did you start freediving?

I once went on a manta ray tour abroad. Everyone wore life jackets and floated on the surface, but one German man dived alone and swam among manta rays. It was very remarkable. I somehow pledged to do that when I return to Korea. That's when I first learned about freediving, and I started learning right away.
Q. What is the charm of freediving? Isn't it dangerous?
When I first started, the instructor made a joke saying, "Free-diving is good to fix a person with quick temper." Now I understand what this means. Unlike scuba diving, freediving requires you to stay in the water with only the diver's breathing control. Naturally, the ability to control breathing is essential. Suppose you hold your breathing in the water for a long time. In that case, your body's carbon dioxide increases and your desire to breathe becomes stronger. Still, you should be able to maintain your composure without losing your mind due to hypoxia. While meditating, I do exercises to keep calm in the water. To me, this is the most beautiful part of freediving.
Like all sports, freediving has risks. When you first begin freediving, you train thoroughly on safety rules and the buddy system (2 people in 1 group). If you keep this part well, it is not very dangerous.
Q. How deep do you usually go down the water? What is the longest dive record?
It is difficult to say the average depth because the criteria that must be met at each level are different. My personal best record is 17 meters deep and 3 minutes and 45 seconds by static (holding breath).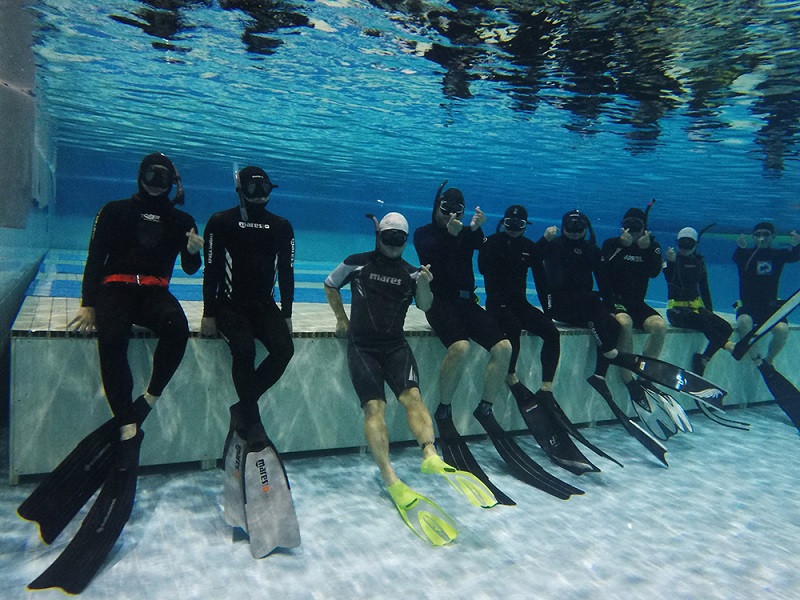 Q. How can you join the club?
There are no conditions. It doesn't matter if you can't swim, or if you are good at it. Most of the members are practising together to get their freediving certification.
Q. Are there any members who have obtained certifications so far? How long does it take to get the certificate?

You must have a license to enter the diving pool. Beginner level can usually be acquired in a couple of days, and many of the members have achieved the beginner's certificate. To reach the higher level, it gets harder and harder, so it takes a lot of time.
Q. Isn't it uncomfortable to meet a coworker outside the company?
Even if you work for the same company, there are many other employees you never get to know. It is rather good that there is a chat window where I can chat with colleagues in other affiliates and departments through the in-house club.
Q. After obtaining the freediving license, is there any place you would like to go with your club members?
The real beauty of freediving can be felt in the sea, so I want to go to the sea with the members. I think overseas will be even better. I would like to plan a freediving tour if there is a chance someday.
EDITOR's COMMENT
#The starting point of 'Small but Sure Happiness', Smile 樂Rock
In March of this year, Smilegate launched a club activity where all employees can participate. More than 60 clubs have been formed and 900 employees are participating in club activities, sharing each other's hobbies and interests. Smile 樂Rock is a way to spend more leisurely life and achieve 'Small but Sure Happiness' by using spare time before and after work.
#Smilegate #Smilegate people #in-house clubs #in-house gatherings #in-house welfare #corporate culture #organizational culture #freediving #smile-rock
Related Contents