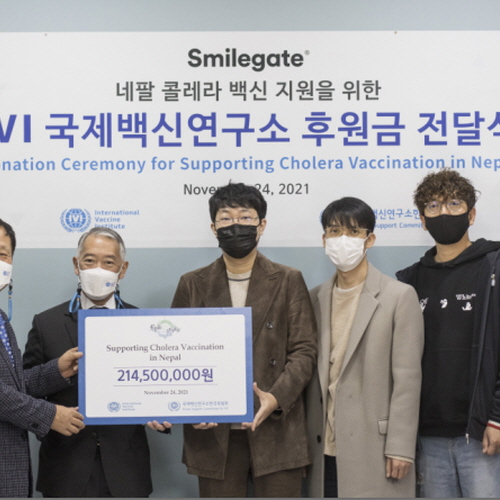 Smilegate Foundation, "Epic Seven" Presents Donations to Support Vacci…
2021-11-25
President of the Korea Support Committee for IVI Prof. Park Sang-chul, IVI Director General Dr. Jerome Kim, Super Creative Co-CEO Kim Hyungsuk/Kang Ki-hyun, Smilegate Megaport Director Kwon Ik-hoon (from the left) participated in the ceremony for infectious disease vaccine donations linked to the game Epic Seven.
[2021-1125] Smilegate Foundation (Chairman Kwon Hyuk-bin), together with the International Vaccine Institution (IVI, Director General Dr. Jerome Kim) presented donations to the Korea Support Committee for IVI (President Park Sang-chul). The support fund was prepared in-game with participation from global users of mobile RPG "Epic Seven." All proceeds from the sales of packages were donated.
The funds raised through the donation campaign will be used to vaccinate Nepalese locals including children and youth against cholera and to support preventative projects. This will benefit about 25,000 people in high-risk areas for cholera.
According to a paper published in medical journal Health Affairs (2016), for every USD 1 spent on vaccines USD 16 is saved in future healthcare costs, lost income, and lost productivity. Considering the socioeconomic costs of prevention, such as death and disability, the vaccine return on investment (VROI) is 44:1. The donation is expected to have an economic impact of up to USD 2.89 million (KRW 3.44 billion won).
IVI Director General Dr. Jerome Kim said, "The collaboration between Smilegate Foundation, IVI, and the Korea Support Committee for IVI can present a better future for children by providing essential vaccines against endemic infectious diseases that pose serious threats in developing countries."IVI Director General Dr. Jerome Kim said, "The collaboration between Smilegate Foundation, IVI, and the Korea Support Committee for IVI can present a better future for children by providing essential vaccines against endemic infectious diseases that pose serious threats in developing countries."
#Smilegate #Smilegate Foundation #Epic Seven #International Vaccine Institution #IVI #Donation #Contribution
Related Contents