Spreading Joy and Hope to Future Generations through Donation! Smilega…
2021-07-20
※ This article was written on July 20th, 2021
There is a game company more sincere than anyone else in conveying hope. It is Smilegate Foundation. Smilegate Foundation is helping future generations grow into healthy members of society who will lead change in the world. There is Future Lab which supports creative activities, Orange Planet, a start-up platform that supports entrepreneurs, and Smile Give, which delivers hope and dreams to children in blind spots at home and abroad, all while creating a new culture of donation.
Smilegate Foundation is designed to present a better future for future generations by supporting children and teenagers in blind spots as well as creating donation culture. Let's take a closer look at the donation activities of Smilegate Foundation.
| Hope platform for children in blind spots susceptible to violence, Smile House
Smile House​ is a hope platform for children susceptible to violence. It has been providing protection, treatment, and independence for children and teenagers to grow into healthy members of society since 2017. It also provides living spaces for children in immediate need. It is a comprehensive welfare support platform that includes psychological treatment, sponsorships, and mentoring.
▲Transformation of Smile House No.8 through staff volunteers
Smile House No.8 opened at Lila Children's Welfare Center in April. Household appliances and supplies were also provided through the in-house donation campaign Smile Supply Store. Smile House No.8 was created out of love and interest of Smilegate Foundation employees through volunteering. Smile House will continue to convey hope to underprivileged children.
| Supporting creative environments for vulnerable children, Palette
Palette provides opportunities for future generations to discover and express their possibilities by using IT content regardless of their economic or social conditions. Once they have become familiar with the process of expressing themselves through creative workshops, they can participate in the Palette challenge to work on independent projects. They can further develop themselves through exchanging feedback with other creators and building relationships with college student mentors of Smilegate membership.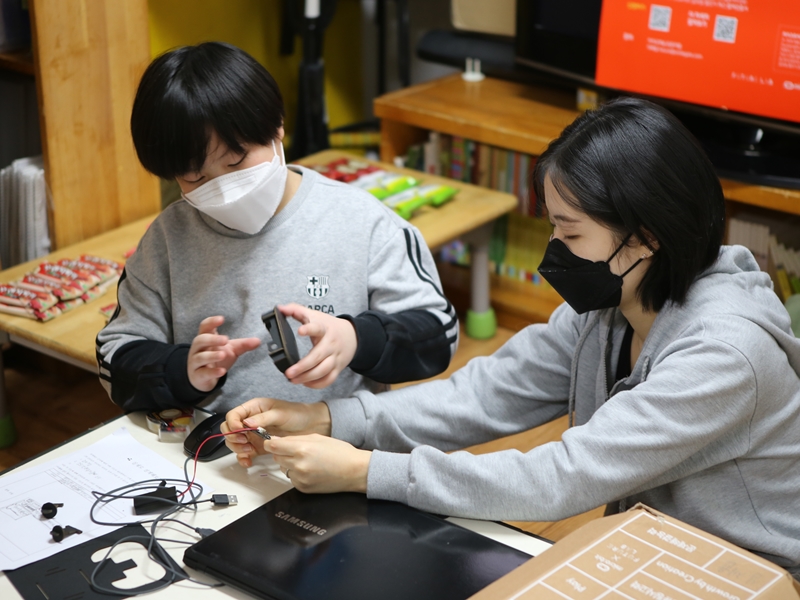 ▲Mentor and mentee working together for the Palette challenge
Palette began as a pilot program called "Rainbow Project" in 2019 to present creative experiences to teenagers at local children's centers based on their interests. It's goal is to create and vitalize a creative local community where independent creative activity is sustainable.
Palette was designed to give children the pleasure of gaining new knowledge and experience. It will continue to guide children in finding their true colors.
| Sustainable domestic and international community development
Smilegate Foundation actively supports vulnerable classes void of opportunities and/or suffering from natural disasters.
In 2019, a large forest fire swept the Eastern Coast in Gangwon-do. Smilegate Foundation staff conducted a fundraising campaign and built temporary wooden shelters for locals who lost their homes due to the forest fire.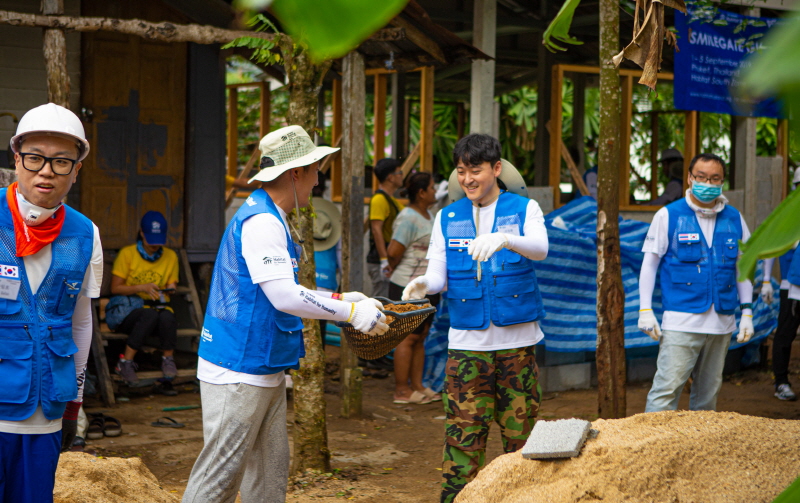 Smilegate Foundation did volunteer work in Thailand to build infrastructure for vulnerable people alongside Habitat Korea, an international non-profit organization, in September 2019. More than 140 executives and employees of CROSSFIRE Live Development Studio volunteered to build 10 homes for those in need at Phuket, Thailand.
It also provided emergency assistance to people affected by COVID-19, which greatly changed our daily lives beginning last year. It supported Korean residents in Wuhan, China, contributed to local communities at Asan and Jincheon, and donated to support children, teenagers, elderly living alone, and the disabled nationwide. A total amount surpassing 1.2 billion won was provided to 20,365 neighbors in the form of groceries, sanitary, and protective goods.
In addition, Global Hope School provides education for underprivileged children abroad, Give for SMILE supports treatment for sick children abroad, and GIVE for Girls provides sanitary goods and safe environments for female children abroad.
| Joyful participation in gamification of donation events, GIVE in Gamification
Smilegate Foundation hopes to build a joyful donation culture. It supports social contribution platforms through donations in gaming and participatory events. Users are able to donate joyfully and many donation campaigns have ended in success.
Lost Ark x Mr.Pizza donation campaign "Mokoko's Pizza Truck"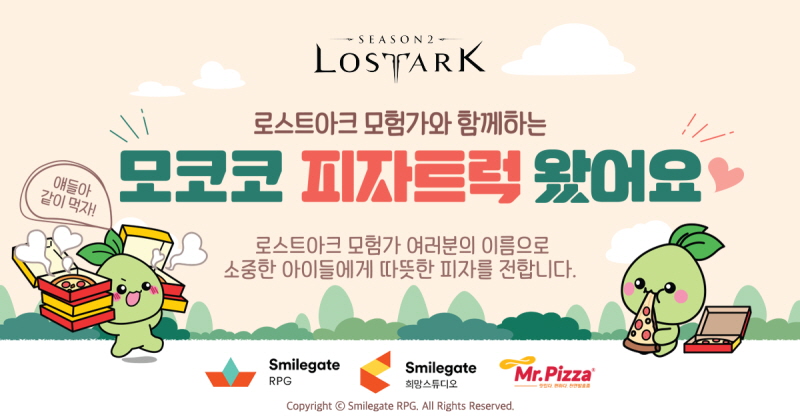 "Mokoko's Pizza Truck" is a collaboration donation campaign between Lost Ark and Mr.Pizza that utilizes part of the proceeds of "Mr. Mokoko Pizza Set". They were able to deliver 623 pizzas to 19 welfare institutions in 15 cities for children in blind spots.
Smilegate x SundayToz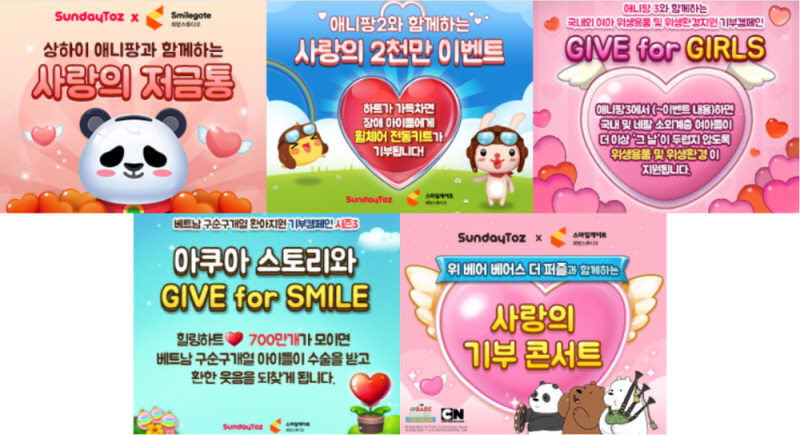 Smilegate Foundation and SundayToz began their donation events through Shanghai Anipang in 2019 which supported artistic education for autistic children. They continue to hold donation events in games like Anipang 2, Aqua Story, and We Bare Bears The Puzzle.
SE:A's 24-hour relay donation campaign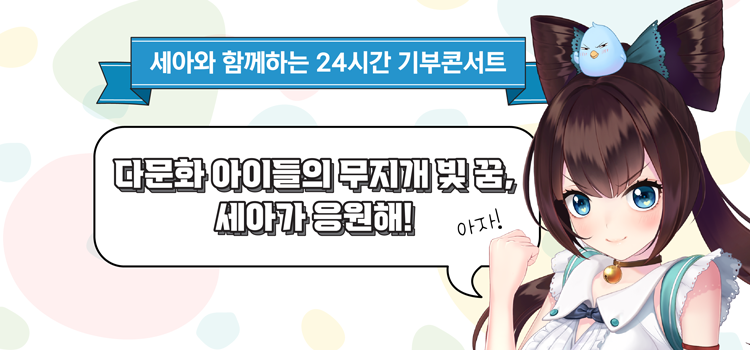 There was an unprecedented donation event by virtual creator SE:A, under the motto "making the world more beautiful". The relay donation concert had a total of 200,000 viewers over the course of 24 hours. It showcased popular content, SE:A's gameplay, and a collaboration live stream with Dotty. The donation amounted to a total of 30 million won with the sponsorship of Smilegate STOVE Indie.
|
Staff participation donation programs
Smilegate Foundation holds various programs for staff interested in projects, community, and social issues.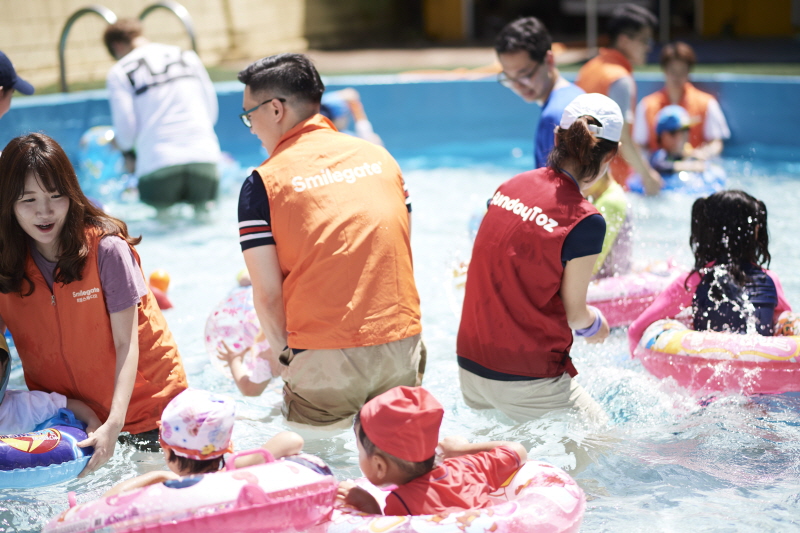 Give Starterz is a non-face-to-face participatory event without time or space constraints. CSR Membership is a social side project that engages in activities to solve social issues. Smile Mentor provides mentoring for Smile House children and small groups. Smile Donor sponsors children in group homes and provides donations to support their future.
In addition, there are campaigns that provide meals for children, animal shelter donation campaigns, and treatment support for child burn victims.
| Donate, GIVE Love
There were no one-time donation events at Smilegate. Smilegate Foundation's new GIVE will continue with hope and sincerity. This makes us anticipate how Smilegate Foundation will instill hope and support those in need in the future.
EDITOR's COMMENT
#Smilegate Foundation
Established in 2002, Smilegate developed the online FPS game "CROSSFIRE" overcoming failures and challenges. CROSSFIRE started its service in China in 2008, surpassing 1 million simultaneous users and became a popular global game. The company started giving back to society for the help it received as a young company, establishing the Smilegate Foundation in 2012. Since then, it has been making efforts to share "hope" for a better society (Better World) where children and teenagers can be respected for their diversity.
#Smilegate #Smilegate Foundation #Corporate CSR #ESG #Donation Platform #Donation Culture #Support for the Underprivileged #Blind Spot Support #Hope Platform #Smile Donor #Smile Mentoring #Palette #Smile House #SE:A #SundayToz #Mokoko #Lost Ark #Global Don
Related Contents