Smilegate "SE:A Story", Picture of the Electronic Subway Sign as a Bir…
2021-07-12
■ Fans of SE:A gift an electronic subway sign as a birthday present on the 7th
■ The production team shows gratitude toward fans on behalf of SE:A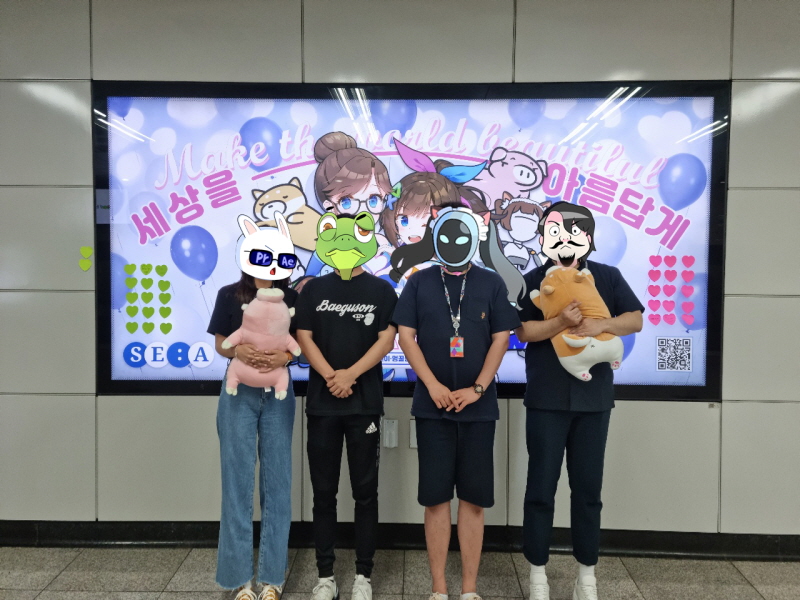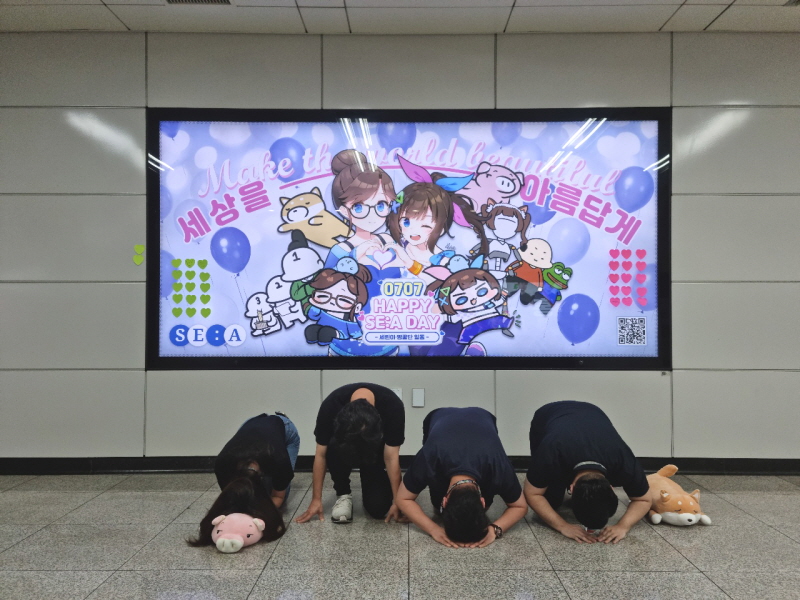 [2021-0712] Smilegate Entertainment's (CEO Ina Jang) "SE:A Story" production team released a photo on the 12th (Monday), of the fans' birthday present congratulating SE:A on her birthday, the first Korean virtual creator.
The production team showed gratitude by taking photos in front of the electronic sign at Pangyo station on the Shinbundang Line on the 9th. The team also plans on airing the photo on SE:A Story to thank fans. The released photos drew laughter as they showed extreme gratitude of the production team members including Feel-chungman, Von Heungseon, Wongeum Noona, and Editor Noona, who are familiar to SE:A's fans.
SE:A Story fans planned for SE:A's birthday present on July 7th through the online platform. The images displayed were also done voluntarily by fans who participated in decorating SE:A's channel images. The images included symbolic characters such as SE:A (MK.02), Kim SE:A (MK.03), Von Heungseon, Wongeum, symbols of fans, and many others.
SE:A started her internet broadcast on July 7th of 2018, after realizing she enjoys communicating with people by understanding human emotions through AI deep learning. Ever since, she has been donating all the donations made to her to the Smilegate Foundation in order to make the world more beautiful.
Smilegate Entertainment PL WonSeok Choi said, "I sincerely thank the fans for SE:A's birthday present. We will continue to try our best so that viewers can enjoy the broadcast even more".
SE:A started as the first Korean virtual creator in 2018 and is "making the world more beautiful" by donating all of Season 2 viewer donations to the Smilegate Foundation. The donation was used to improve the residential environment of vulnerable groups, support and improve IT education infrastructure for multicultural alternative schools.
#Smilegate Entertainment #Virtual Creator #Smilegate Foundation #SE:A #SE:A's Birthday #SE:A's Birthday Present #Electronic Subway Sign Photo
Related Contents