Smilegate's Mentoring Gives Back
2020-11-11
The popular drama <Startup> features young people who dream of starting a business. Behind these passionate individuals are advisors and mentors who support them through business and organization formation.
Smilegate provides a variety of mentoring programs for startups of Orange Planet, young creators of indie games, and college students who dream of becoming an IT developer.
We met with director Yeo Seunghwan, who has received high praise from participants of Smilegate's various creative support programs, to discuss mentoring.
<Yeo Seunghwan, Director of Technical Support at Smilegate Holdings IT Technology HQ>
[Interview] Yeo Seung Hwan, Director of IT Technology Department at Smilegate Holdings
 
Q. Please introduce yourself briefly.
Hello, my name is Yeo Seunghwan. I majored in computer science in college and joined Smilegate in December 2003. Officially, I am the longest-serving employee next to Chairman HyukBin Kwon. (chuckle)
Q. What was the reason you joined Smilegate as a startup?
First, I really liked the people I worked with and creating exciting games interested me. I had a dream of working for a company like Smilegate with a great atmosphere, rather than a large corporation to create a game from start to finish.
Q. What kind of functions are you currently in charge of?
I work as a technical support manager to solve technical issues and support creative programs. In addition, I also review technology that requires prototyping or application in-house. I am also the director of Smilegate's AI Center Data Lab, in charge of setting initiatives for data integration.
Q. How did you start mentoring?
I enjoyed talking to people ever since I was young, and people would come to me for conversations. Naturally, I became used to talking and communicating with people. I listened and sympathized with their concerns and carried out a discussion based on my own experiences and challenges. I started mentoring in hopes of conveying my experiences to others.
Q. Did you have other motivating factors?
Having the opportunity to mentor constituents of the startup was another reason. I thought that they weren't enough opportunities to listen and take care of their hardships as a company representative. In fact, Orange Planet mentoring is focused on providing such mentoring.
Q. Is there a reason why you decided to focus on members instead of representatives?
Representatives face the most challenges but also receive most of the spotlight. I had a lot to share with the members and developers that worked alongside me. I can't say that I am a talented individual, but the least I could do was listen and discuss their issues.
Q. Is there a reason for mentoring various mentees in addition to startups?
The area of mentoring naturally grew bigger. I am currently doing junior mentoring for young talent at Smilegate Membership (SGM) and server development mentoring for engineer students in the entertainment industry.
If it's an area I can relate to, I try to expand my role as a mentor. However, I stay clear of areas I have little or no experience in. I always try to mentor in the mind of someone who has prior experience of the issue at hand.
<Director Yeo Seunghwan mentoring Smilegate Challenge season 1 participants>
Q. Is there a difference in mentoring between Orange Planet, SGM, and the server development camp?
There is no difference in the mentoring itself. However, I approach the participants with their situation, environment, and previous experiences in mind. I visualize myself in the unique cases they are in to think and sympathize with their story.
Q. Mentees from various programs like CEO Lim Taehee of Tapas and VP Choi Yu Jin of Classum have shown appreciation for your mentoring. Do you have any special mentoring tips or know-how?
Many people come to me for mentoring on technical issues that can be solved by searching through developer boards. I am hesitant on providing solutions to such questions because solving one problem does not change the nature of their future issues.
I consult them on why the problem has happened, why such problems occur in this stage, its impact, and how they should view the issue.
To quickly assess the problem and provide advice, it is crucial to pay close attention to the team and its members. I think the mentees are grateful for finding the answer to a much more fundamental question to solve problems together.
Q. What kind of typical questions do you get from mentees, and how do you usually respond?
Common concerns I get are "I want to pick a good developer" and "I cannot communicate efficiently with developers because I majored in liberal arts".
There is no right or wrong answer to this. However, these types of concerns mainly arise from small experiences in the beginning stages. I provide advice on noticing changes in the minds of developers, understanding each other, and understanding the world of development. Sometimes I go a little further to guide decisions to be made where teamwork can get out of line during the recruitment process.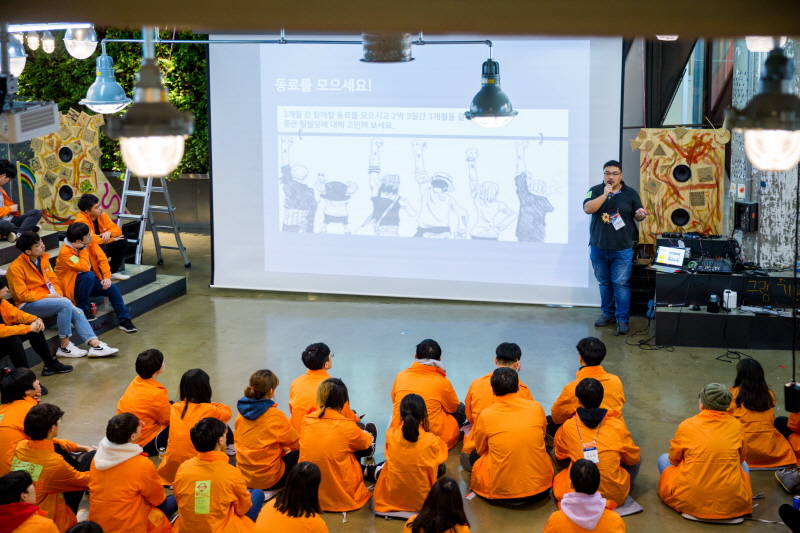 <Director Yeo Seunghwan giving a lecture at Smilegate Challenge season 1>
Q. Tell us about a memorable mentoring episode.
The most memorable episode happened recently at the online server development camp. A participant said his dream was to become a visual effects engineer. In truth, this profession requires a lot of repetitive hard work and is challenging to recognize. Because of these reasons, he had given up and joined the server development camp. He wanted to change his career path because he was a good coder, and VFX is also used in games.
But after receiving mentoring, he decided to go back to what he wanted to do, become a visual effects engineer. When I asked him about his future plans, he said he was going back to the movie VFX field to stay true to his dream. He made a memorable impression on me, and I knew that he had taken our conversation very seriously.
Q. What kind of mentoring did you give him?
I taught him the know-how on getting a job. Don't fool yourself when you are applying for a job. You have to explain to the other person about your efforts, achievements, and reasons. I told him that whether they see the possibility or ability in him, they will take notice.
After some thought, he told me that he would be fooling himself if he applied for the gaming industry. I had a moment of doubt about what I said because I had not yet seen his level of skill. (chuckle)
Q. What is the hardest part of mentoring?
Mentoring is the hardest when there is no feedback. Occasionally I get mentees who already have their minds made up. These are the most complicated situations when mentoring.
Q. Please let me know of any memorable or well-received lectures/mentoring.
We held a 10-hour SGM boot camp under the topic <Starting Creation Team>. Most projects start of interest but often lack in power to prolong them. They stray away into a wide variety of issues because of the lack of experience. Therefore, we invited an instructor to speak on project management.
I expected the lecture to help with agile software development and project management, but I was worried that the 3-hour course and activity could seem dull.
I was pleasantly surprised that the participants of the boot camp selected that lecture as the most helpful and memorable lecture. I thought again not to judge a lecture based on the participants' reactions alone.
Q. What drives you to continue mentoring?
As I said before, I like to talk to people. I often find answers of my while talking to people. Above all, I also had mentors to guide me through my journey as a developer.
I mentor to share my experiences so that others may have more time to focus on their dreams.
Q. What are some takeaways as a mentor for various mentoring programs at Smilegate?
I am able to organize my thoughts and rejuvenate myself through mentoring. It takes a lot of effort, but rather than feeling burdened by it, I think of it as an experience to theoretically or conceptually put my thoughts in order. Sometimes it is an opportunity to reflect on the past and organize myself further.
Q. Any last remarks?
Through mentoring, I am reorganizing my outlook on life and gaining motivation. I hope employees at Smilegate Group will have many opportunities to participate in mentoring to support and take back positive outcomes.
EDITOR's COMMENT
#Smilegate's Creativity and Creation Program
Smilegate provides a variety of support programs for anyone who dreams of creativity. Programs include Smilegate Membership for college students, Orange Planet for business startups, Smilegate Challenge in the form of game jams for creators of games and services, and Future Lab for creative education for children and teenagers.
#Smilegate #Smilegate Membership #Orange Planet #Smilegate Challenge #Future Lab #Creative Challengers League #Smilegate Mentoring #Yeo Seunghwan #Startup Mentoring
Related Contents